Indira ignored: BJP belittles other icons as it has none of its own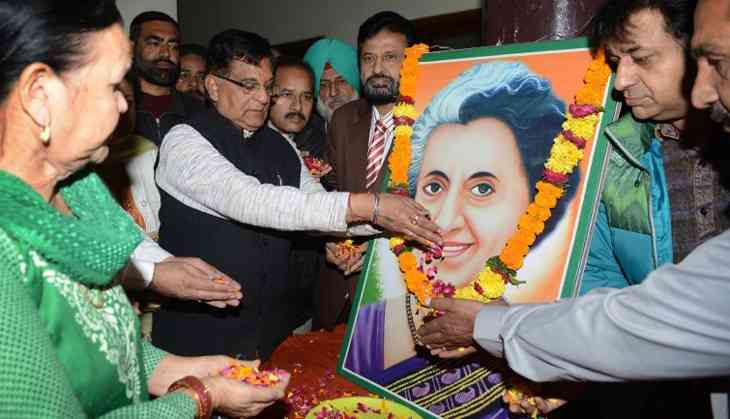 Is it election season that is responsible for the Narendra Modi government's neglect of the birth centenary of former prime minister Indira Gandhi? November 19 was Gandhi's 100th birth anniversary and the Union government did not organise any special event to commemorate the occasion, an honour usually expected in the memory of a former and long-serving prime minister.
Modi himself did not even tweet about the anniversary, from his official handle @PMOIndia. He only sent out a formal tweet from his personal handle @narendramodi, offering "Tributes to former PM Mrs. Indira Gandhi on her birth anniversary".
Tributes to former PM Mrs. Indira Gandhi on her birth anniversary.

— Narendra Modi (@narendramodi) November 19, 2017
His other tweets about the World Toilet Day, observed on the same day, had much more warmth.
On World Toilet Day we reaffirm our commitment towards improving sanitation facilities across our nation. pic.twitter.com/nteYOD6wND

— Narendra Modi (@narendramodi) November 19, 2017
I compliment all those individuals and organisations working towards building more toilets in various parts of India. Their invaluable contribution adds solid momentum to Swachh Bharat Mission.

— Narendra Modi (@narendramodi) November 19, 2017
He was also not present in the Parliament where a function had been organised to enable MPs to offer tributes to Gandhi. Her portrait adorns the iconic Central Hall of Parliament.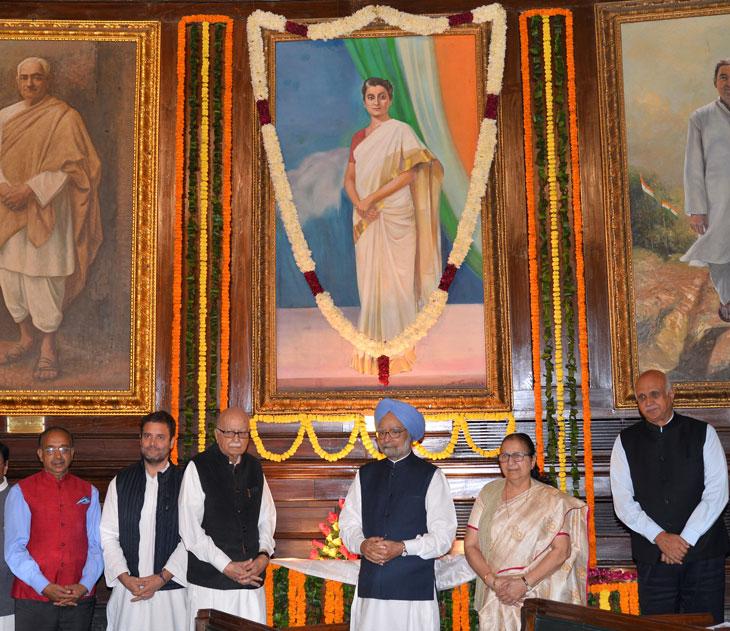 Lok Sabha Speaker Sumitra Mahajan, former Prime Minister Dr. Manmohan Singh, Minister of State for Parliamentary Affairs Vijay Goel, former Deputy PM LK Advani and Congress Vice-President Rahul Gandhi after paying tributes to Indira Gandhi in the Central Hall of Parliament on her birth anniversary on 19 November.
Led by Lok Sabha Speaker Sumitra Mahajan, the function was duly attended by MPs from across the political spectrum. Former Prime Minister Manmohan Singh and Congress vice-president Rahul Gandhi, Indira Gandhi's grandson, were also present.
The BJP was represented by senior leader LK Advani, a regular at all such functions, while the government was represented by Minister of State of Parliamentary Affairs Vijay Goel. It is not that the prime minister doesn't attend such functions in Parliament. Earlier this year, Modi was present at the celebration of anniversaries of father of the nation Mahatma Gandhi, former prime minister Lal Bahadur Shastri and the first home minister of India Sardar Vallabhbhai Patel.
Has Modi been especially terse towards the memory of Indira Gandhi this year given her status as a Congress icon and the party's tussle with BJP ahead of the assembly polls in Gujarat? That could be the case, but Modi has never shared warm tributes for the former PM earlier too.
Tributes to Mrs. Indira Gandhi on her death anniversary.

— Narendra Modi (@narendramodi) October 31, 2016
Tributes to former Prime Minster Smt. Indira Gandhi on her birth anniversary.

— Narendra Modi (@narendramodi) November 19, 2016
However, the fact that 2017 marks Gandhi's birth centenary makes this year special. The Congress has taken note of the Union government's neglect, with senior leader P Chidambaram saying it was "a shame that the country is not celebrating the centenary of its only female Prime Minister".
Chidambaram compared it to the government of Russia not observing the centenary of the Russian revolution. While Gandhi is widely imagined as an anti-democracy leader because she is the only PM in Indian history to have imposed Emergency, her 15-year tenure wasn't short of a revolution in itself.
Her achievements - nationalisation of banks, abolition of privy purses, a major poverty-alleviation campaign under the "Gareebi Hatao" slogan, defeat of Pakistan in the 1971 war, enabling the birth of independent Bangladesh, the Green Revolution, the Pokhran nuclear test, among others – are simply far too many to ignore.
Modi may be trying to belittle Gandhi's contributions in pursuance of his dream of a "Congress-mukt bharat" but this vindictiveness is short-sighted. It only exposes BJP's lack of self-esteem and frustration at not having a record comparable to that of leaders of the Congress party. Why is it so hard for BJP to understand than Congress did not become what it is today overnight?
For BJP to produce icons comparable to those of the Congress, the party will have to be in power for a long time and do things that will make history judge the party favourably. Appropriating some icons and trying to demolish some other ones indicates the BJP thinks it may not get a chance again. This lack of confidence in its potential indicates BJP is aware of the limitations of its approach to politics. If this realisation is indeed there, will it lead to a change in this approach? There is no indication, so far.