India's biggest security problem: Rajnath Singh's bovine fantasies
Catch Team
| Updated on: 10 February 2017, 1:40 IST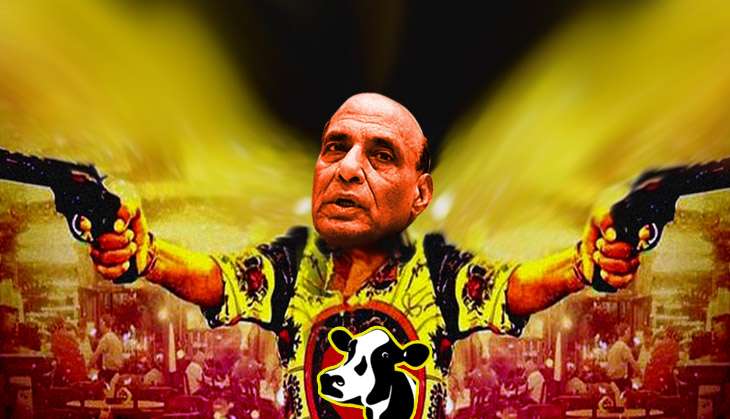 He knows no fear. He knows no danger. In fact, he knows nothing. Meet the man in charge of India's internal security - Home Minister Rajnath Singh.
He creates imaginary enemies and scares the living daylights out of them, while pretending that the real ones don't exist.
On Monday, Rajnath bravely threatened "
hum dekhenge usne kitna ma ka doodh piya hai". The literal translation would be "we will ascertain how much mother's milk they (imaginary enemies) have consumed".
Only a day earlier, Singh asserted
on the basis of his own scientific research, that cows were 80% human.
Taking the two statements together, it seems Rajnath is referring to the rising consumption of cow's milk in Western Uttar Pradesh.
Rajnath's anger isn't surprising, given his own bovine
inclinations
.
Young Madhubala playing with Rajnath Singh, Gorakhpur. (1958) pic.twitter.com/OnyiBiCPzc

— History of India (@RealHistoryPic) November 7, 2016
Pandit Nehru & Edwina Mountbatten taking young Rajnath Singh for a ride.(2016) pic.twitter.com/PG4YVEwRHp

— History of India (@RealHistoryPic) November 7, 2016
But this is still an important issue and Rajnath needs to be commended for taking it up in the best way he knew - by spouting Bollywood dialogues of the 1970s.
Ladies and gentlemen, presenting 'Ma Ka Doodh' Minister of India. pic.twitter.com/OZltksqNJQ

— Pratik Sinha (@free_thinker) November 8, 2016
After all, a lot of what this government is doing is a throwback to the 1970s -
from the curbs on the media to attacks on Opposition leaders.
Here's Rajnath in 70s mode again, saying "we'll ensure such strict border security that even a rat wouldn't dare to cross".
Border ki security hum aisi ensure karenge ki chooha bhi ghusne ki koshish na kare: HM Rajnath Singh pic.twitter.com/J57zuT9SRO

— ANI (@ANI_news) March 22, 2015
This was in March 2015. Since then, Pakistan-sponsored terrorists have crossed the border and conducted the attack on the Pathankot air base, besides infiltrating through the Line of Control on numerous occasions.
Rats, probably, haven't had such luck given Rajnath's tough pest control measures.
When it comes to real terrorists, Rajnath's responses are, at best, bovine.
In fact he wasn't even aware if Hafiz Saeed organisation's Jamaat-ud-Dawa was declared a terrorist organisation in India or not.
When he's angry with Pakistan, his response is "ninda". When he's very angry, it's "kadi ninda". He says these words so often that there's a joke that even when people eat kadi chawal, Rajnath eats kadi ninda. Here are some of his exploits as Ninda Mama:
#NindaMama in action, A Must Watch - Pic credit: FB Post pic.twitter.com/4eP9LvMWAr

— NostradamusSezالشاهد (@nostradamuspeak) August 7, 2016
#NindaMama in action, A Must Watch - Pic credit: FB Post pic.twitter.com/4eP9LvMWAr

— NostradamusSezالشاهد (@nostradamuspeak) August 7, 2016
#NindaMama in action, A Must Watch - Pic credit: FB Post pic.twitter.com/4eP9LvMWAr

— NostradamusSezالشاهد (@nostradamuspeak) August 7, 2016