Independence Day: There has been a steady dip in democratic values – Jagdeep Chhokar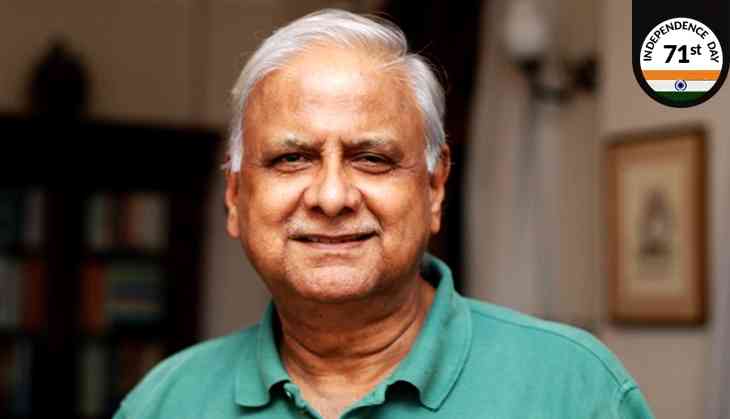 It wasn't merely independence from subjugation by a foreign power that India achieved 70 years ago. With an independent democracy, its citizens also won the right to shape their own destiny. Seventy years later, where does that freedom – the freedom to move forward on the path of democracy - stand?
Seventy years ago, India began with aspirations of achieving an ideal democracy. Seventy years later, how much has it moved towards that ideal?
Catch spoke to Professor Jagdeep Chhokar, Founder and Trustee of Association for Democratic Reforms, on the fate of democratic values in India 70 years after Independence. ADR has been at the forefront of civil society's push for reforming the electoral process in the country. Deeply involved with many continuing struggles to reform the way politics is conducted in the country, Chhokar feels what the country has witnessed is a sharp deterioration in democratic ethos. Here, he explains why -
Charu Kartikeya: What do you feel about the India's relationship with democratic values in the 70th year of its Independence?
Jagdeep Chhokar: There has only been marked deterioration over the last 20-30 years. The latest example is the Union government telling the Supreme Court in an affidavit that voters cannot have the right to decide the manner of casting votes. This is such a shocking case of governments forgetting that they owe their existence to voters. How can a party that came to power because of its voters try to take away the rights of the same voters?
This is similar to what a politician once told me during a TV debate that once people elect a government, they should leave everything to that government after that. Elected representatives think they are more powerful and intelligent than the people and this, to me, is a sharp deterioration of democratic ethos in the country.
Have elections been reduced to a strategy game that needs to be merely managed and what does that say about the country's democratic ethos?
Well substantially, our election process is just not fine. The most pertinent example to illustrate this is the case of the None Of The Above button in Electronic Voting Machines. In the landmark Supreme Court order that led to its introduction, the top court said that NOTA will eventually force political parties to put up better candidates. Note that the court didn't say that parties will be 'encouraged', rather they will be 'forced'.
It shows that an authority no less than SC believes that our political parties cannot be expected to reform the political process on their own, unless they are forced to do it. That they are loath to reform even after that is evident in the NOTA concept still being unable to make a difference. The broad direction behind that judgment was to give choice to the voter. Inherent in that understanding is the extension that that choice should have some value.
Election Commission has only complied with the SC order by providing NOTA button on the EVMs, but there have been no change in rules. Presently, even if 99% votes polled in a constituency are in the name of NOTA, the candidate who has won the remaining 1% wins. The concept of NOTA has to be made operational by changing election rules but no government is willing to do it.
And then there is the transparency issue.
Transparency appears to have gone for a complete toss. RTI is still not applicable to political parties, we still do not know about the source of their funds and this system has been made further opaque by this year's announcement of electoral bonds. It's such an incongruity that these bonds are supposed to encourage 'transparency' in electoral funding by keeping the donor's identity 'anonymous'. I have been asking people for a dictionary that could explain to me if 'transparency' and 'anonymity' are complementary words.
Why do political parties do this? Why do they think reforms are not in their interest? What do you think is their instinct?
Frankly, I am baffled. Look at what the latest Rajya Sabha polls in Gujarat have shown. Parties obviously do not trust the general public, as is evident by their refusal to empower the people. These polls have shown that parties do not trust their own members. The voting legislator has to show his vote to the party's chief whip, apparently, thoroughly violating the secret ballot concept. The whole thing is based on mutual distrust and self-aggrandisement.
We have studied that politics is the art of acquiring power to do service for the society. What is in practice in India 70 years after winning Independence seems to define politics as an instrument to acquire power and to keep it forever for yourself and those close to you.
What impact do you think this has had on democratic values in the country?
The credibility of political parties has hit an all-time low and I will tell you why that is a monumental tragedy waiting to happen. If this credibility crisis is transferred to democracy as a form of governance, you can't imagine how dangerous that will be. It will lead to social strife which will eventually give way to dictatorship. We can see a lot of social strife in the country already.
Is there a solution? Electoral reforms?
Not just any electoral reform. A lot of people are pushing for a thousand things under that ambit, but they are missing the woods for the trees. Only two changes are key – demonstrable internal democracy in political parties and transparency in electoral funding.