In defence of demonetisation: 8 genius analogies BJP & Co. have produced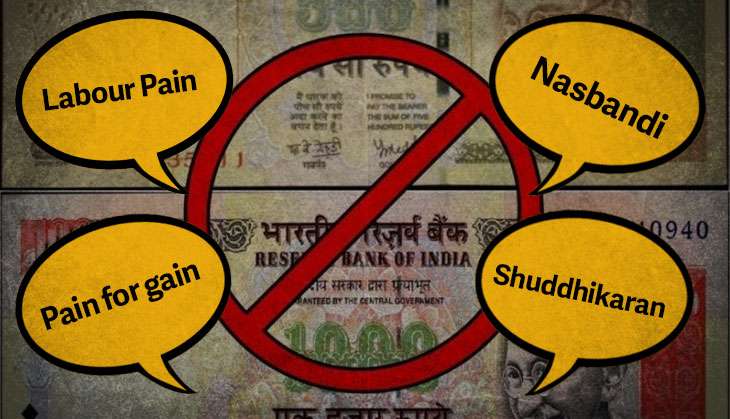 Union Minister Venkaiah Naidu\'s penchant for using acronyms, abbreviations, similes and metaphors is unmatched. And of late, most of it has been reserved for Prime Minister Narendra Modi and his initiatives.
In the past, Naidu has called Modi the \'poor man\'s messiah\', \'gift to India\' and even \'Maker of Developed India (M.O.D.I.)\'.
Now, he has hailed the demonetisation drive as \'chemotherapy\', which was needed to tackle the \'cancer\' of corruption and black money in the country.
Apprehending rebuttals, he himself added that some people were saying that chemotherapy leads to hair fall, but if \'hair doesn\'t fall, you will fall\'.
While the minister has taken his penchant for analogy to a new level, this time he has competition. Demonetisation has seen such a strong backlash from various quarters that it has sent Union ministers and BJP leaders into an overdrive to defend the move and hail it as a revolutionary initiative.
Here\'s a look at the malapropisms that BJP leaders have indulged in to defend demonetisation in the last few days:
Naidu's cabinet colleague Ravi Shankar Prasad nearly outsmarted him by comparing demonetisation to labour pain. "People will face a little problem. But the pain is like the one that a woman in labour undergoes. Eventually, one will experience the joy like one does upon hearing the first cry of a baby," Prasad said recently.
Defence Minister Manohar Parrikar's imagination failed to fly out of South Block, thereby limiting his analogy to a 'defence' term popularised by his own government earlier.
Demonetisation is a 'surgical strike', which the Prime Minister has performed on black money, terror funding and drug money, Parrikar said in Goa.
Home Minister Rajnath Singh probably took WhatsApp jokes seriously and went on to compare demonetisation with vasectomy. 'Notebandi' is 'nasbandi' for "terrorists, Naxalites and people who hoard black money", he said in Jammu and Kashmir.
For BJP chief Amit Shah, demonetisation is like a great flood.
"During a flood, the cat, the snake, the mouse, all cling to the upright banyan tree... They all wait for the flood to recede," he said in Odisha.
Naidu appears to be the minister most enthusiastic about the drive, and excited to make analogies. Demonetisation is akin to 'shuddhikaran' (purification), he said in Goa.
This was another gem from Naidu. Getting poetic about it, he said in New Delhi that demonetisation is a "short-term pain for long-term gain" or "a bitter pill for a long-term ill".
BJP spokesperson Sambit Patra was the only one who followed party tradition in explaining the benefits of demonetisation. He stuck to mythology. Participating in a television programme on the issue in Uttar Pradesh, Patra reportedly said demonetisation was similar to the 'samudra manthan' that, according to Hindu mythology, initially troubled gods as well as demons, but eventually sweet nectar came out from it.