In Amanullah Khan's death Kashmiri separatism lost its champion
Catch Team
| Updated on: 10 February 2017, 1:50 IST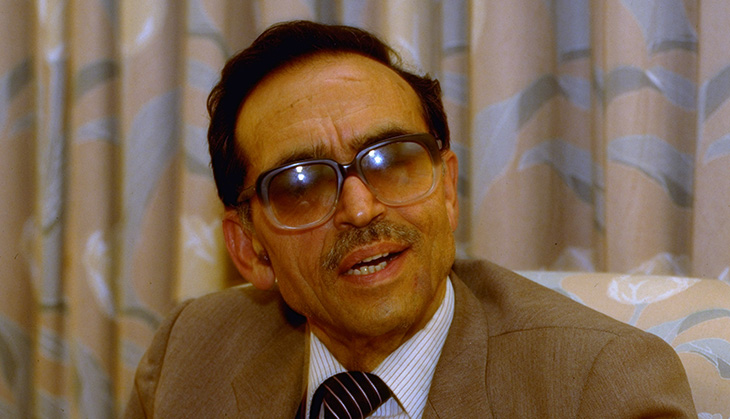 In his last days, Amanullah Khan, 86, had retreated into shadows. His name had little play in the prevailing discourse on Kashmir. But that hardly detracted from his position as a pre-eminent leader of Kashmiri nationalist politics, which graduated into a full-blown militant separatist movement in 1989.
In his death at Rawalpindi on Tuesday, Kashmiri separatism lost one of its tallest champions who espoused a secular post-resolution vision for the state's future.
It all began with him and Maqbool Bhat, who was hanged in Tihar in 1984, following the abduction and killing of Indian diplomat Ravindra Mahtre in London by Jammu Kashmir Liberation Front (JKLF).
The two together founded JKLF in Birmingham on 29 May, 1977. They established the organisation's branches in several cities and towns of the United Kingdom and other countries of Europe, the United States and west Asia.
In 1982, a branch was established in Pakistan-occupied Kashmir. And in 1987 another was set up in the Kashmir Valley - two years before the launch of an armed secessionist movement.
Jamaat-i-Islami-led Hizbul Mujahideen and scores of the other Islamist militant outfits followed a year later, seeking a merger with Pakistan - against JKLF's pursuit of an independent Kashmir.
Based in Muzaffarbad, Amanullah Khan positioned himself as the vocal advocate of Kashmir's independence, speaking against both Islamabad and New Delhi.
"Nawaz Sharif, as far as I am concerned, is no better than Narasimha Rao, just as there is no difference between Sardar Qayoom (the then prime minister of Azad Kashmir) and Girish Chandra Saxena on your side. They are both our enemies," he said in an interview in the early '90s when militancy in Kashmir was at its peak. "We have to fight Pakistan, the ISI and the RAW."
The person
Khan, however, was an unlikely leader for a Kashmiri secessionist movement.
He was not a Kashmiri, not even hailing from Pakistan controlled 'Azad Kashmir', but from Gilgit where he was born, in Astore, on 24 August, 1931.
His brush with Kashmir's troubled politics began early in his life, when in the '40s his father Jumma Khan sent him to Kupwara to his Kashmiri son-in-law Hashmat Ali Khan. He went to the local primary school. For high school, he went to Handwara.
He stood first among Muslims in the matriculation exam and got admission to SP College, Srinagar with the help of the noted National Conference (NC) leader Moulana Muhammad Syed Masoodi, who even arranged for him to stay at Mujahid Manzil for nearly six months.
"I got into political activism right in school," he told in his last interview. "I was a staunch supporter of Pakistan and was chosen general secretary of the students union in high school."
However, it was his holding of a protest in Srinagar when the then Pakistani prime minister Liaquat Ali Khan was assassinated in Rawalpindi, that he came under the cross-hairs of the local administration, forcing him to leave the state. He fled to Jammu from where he crossed over to Pakistan on 4 January, 1952.
It was the time when NC founder Sheikh Abdullah was at the peak of his popularity. He was the Prime Minister of J&K and was soon to be dismissed by his friend Jawaharlal Nehru for allegedly seeking US help to make Kashmir an independent country.
Sheikh would go on to launch his 23-year-long political struggle for the right to self-determination, in which Khan actively participated in PoK. He was elected the first secretary general of Sheikh's Plebiscite Front in 1964.
"I watched many of his rallies, but I didn't participate in any," Khan said, recalling his time in Kashmir. "Sheikh Abdullah was so popular that no political movement could stand before him."
Seeds of JKLF
However, the Sheikh's 1975 accord with Indira Gandhi, which brought him back to mainstream Indian politics, stunned Khan.
"Reading the very first paragraph of the Indira-Abdullah Accord, I was shocked at Sheikh Abdullah's about-turn; he was someone who had led this struggle from the front, even offered sacrifices," he said in the interview. "By siding with India, he greatly harmed the freedom struggle."
This is what led him to found JKLF in London with Bhat. He was most active in the '90s, supporting the militant movement in Kashmir from Muzafferabad and Rawalpindi.
In 1993 he was arrested in Belgium, where he had gone to participate in a conference on Kashmir that was also attended by Farooq Abdullah and George Fernandes. Both condemned the arrest.
The Belgian court rejected the Indian government's demand for his extradition to India and released him after about three months. In October 1999, he was arrested by Pakistan after he tried to cross the LoC with his supporters.
Pakistan also arrested him for allegedly being a part of the conspiracy that on 30 January, 1970 led to the hijacking of an Indian Airlines Fokker F27 Friendship aircraft, named Ganga, flying from Srinagar to Jammu by two Kashmiris - Hashim Qureshi and his cousin Ashraf Bhat.
Amanullah Khan was released after protests broke out in Gilgit against his arrest. The rest of his colleagues were tried and 13 of them were sentenced to 14 years in prison. But they were released after a year.
"Jammu Kashmir has lost its most valiant son and hence this day will always be remembered as a sad day for Kashmir. Aman Sahib's demise has closed a glorious chapter of our history," said Yasin Malik, his successor in JKLF.
"His death has created a void in the freedom struggle of Kashmiris. He made a lot of effort to project the legitimacy of the freedom struggle of Kashmir at the international front," Mirwaiz Umar Farooq said in a statement.
JKLF asked people to participate in funeral in absentia to be held for the deceased at Lal Chowk on Wednesday.
In the family
Interestingly, Khan is the father-in-law of Sajad Gani Lone, a separatist turned mainstream politician in Kashmir.
Lone is an ally of the Bharatiya Janata Party in its coalition government with People's Democratic Party. He will not go to Pakistan to attend the funeral ceremony, but his brother Bilal Lone - who is in the Hurriyat - will attend.
Amanullah Khan didn't reveal his opinion about Sajjad's decision to join mainstream politics and contest elections. He continued to advocate the separatist boycott of the electoral system in Kashmir.
"Elections are not a substitute to our struggle for freedom or the right of self-determination," he said in his last interview. "New Delhi uses the elections to falsely claim that the people of Kashmir are using their vote to show their allegiance to India. India uses these managed elections to confer benefits on its puppets".
Edited by Joyjeet Das
More in Catch:
Debarring Sehajdharis from polls will strengthen Akali hold on SGPC
Target Sonia: AgustaWestland helps BJP gun for Cong in Parliament
Spoilers ahead: Game of Thrones is back in full form, and we're officially hooked
BCCI a 'punching bag'? Anurag Thakur's business is divorced from his politics