In accusing Nitish of minority appeasement, BJP ignores own majority appeasement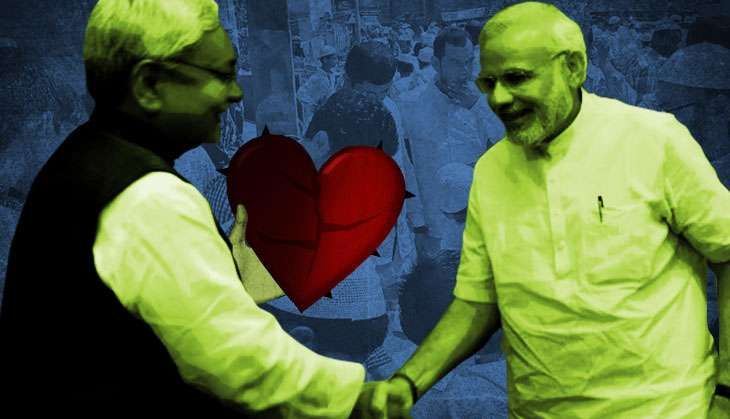 In recent weeks, many projections have been made highlighting the growing proximity between the Janata Dal (United) [JD(U)] and the Bharatiya Janata Party (BJP). But in the midst of this, there has been once instance where the JD(U) has snubbed the BJP quite emphatically.
The issue is the BJP and the Rashtriya Swayamsevak Sangh's (RSS) cherished goal of a Uniform Civil Code (UCC). And this time, Bihar Chief Minister Nitish Kumar has decided to stick to his roots. The Bihar government has refused to answer the Law Commission's questionnaire on the UCC and has, instead, written to the commission to clarify "what it proposes to do".
Additionally, Nitish has also written a letter to the commission's chairman Justice BS Chauhan, arguing that discussions, first of all, should be held with various sects and communities who will be affected by such a code. Nitish has reportedly said in the letter that his government was unable to form an opinion on the UCC, in the absence of specific details on its 'contours', as well as lack of consensus on it among various communities.
The BJP lost no time in responding to Nitish's views, deploying the choicest of remarks to accuse the CM of indulging in minority appeasement. The Leader of Opposition in the Bihar Legislative Council, Sushil Kumar Modi, has asked Nitish that by opposing UCC, is he supporting the exploitation of Muslim women at the hands of triple talaq, nikaah halala and polygamy?
समान नागरिक संहिता के मुद्दे पर नीतीश ने कठमुल्लों के आगे घुटने टेके
Click on the link to read full Press Release: https://t.co/xQSUu9wMTS

— Sushil Kumar Modi (@SushilModi) January 12, 2017
Problematic questionnaire?
Nitish reportedly raised questions as per the format of the questionnaire itself in his letter, saying it seemed to have been framed "in such a manner so as to force the respondent to reply in a specific way".
"These are leading questions with a limited number of choices given as probable answers, and thus, denying the respondent enough scope to frame his own independent replies," his letter reportedly stated.
The questionnaire has 16 questions and was put out by the commission in October 2016.
The commission sent it to all state governments and also issued a general appeal to "all concerned" to respond to it.
Bihar has become the first state to essentially reject the questionnaire in this manner. Through the rejection, JD(U) sought to spell out its stand on the issue in no unclear terms.
Not possible to form opinion on #UCC : @NitishKumar to Law Commission https://t.co/YmUIoB49QS

— Janata Dal (United) (@JanatadalU) January 13, 2017
Bihar became the first state to reject the questionnaire the Law Commission of India had sent on uniform civil code.https://t.co/EtmRK1WJTL pic.twitter.com/hmrIrwyive

— Janata Dal (United) (@JanatadalU) January 12, 2017
Nitish, also the JD(U) national president, is believed to have told Justice Chauhan that there is "a delicate balance" in the country between laws for different religions and ethnic groups.
"Imposition of the UCC," he warned, "(will) create social discord and lead to erosion of faith in the Constitutional guarantee of freedom of religion."
Significantly, Nitish also raised a key distinction between the personal laws of Hindus and those of other faiths, pointing out that "only personal laws of the Hindu religion have been codified".
"Other religions are bound by their separate rituals and rules, and none of them have raised the issue of changes or amendments in them," he added.
BJP's acerbic attack
Sushil Modi's attack on Nitish is in sync with views that his party and its ideological fountainhead, the RSS, have long held.
BJP MP Sakshi Maharaj's latest comment, for which he has been pulled up by the Election Commission, is connected to the issue. He had said "four wives, 40 children and three divorces are unacceptable".
Though he did not blame any community specifically by name, he did say that non-Hindus were responsible for this.
It stems from the RSS school of thought's perpetual attempt to discriminate against Muslims based on what it considers as the general image of all Muslims.
Sushil Modi also betrayed this deep Islamophobia in his comments against the Bihar CM. He said Nitish's government did not reply to the UCC questionnaire in fear of "kathmullahs", a derogatory reference to Islamic preachers.
BJP doesn't see the irony behind it accusing Nitish of minority appeasement, because its own campaign for the UCC is an attempt at majority appeasement.
Edited by Shreyas Sharma
More in Catch
What exactly is the Uniform Civil Code in India? Here's your guide
Uniform Civil Code: India's coercive search for a common code
Women don't need a uniform civil code, but better access to courts: Flavia Agnes