Impatient with his 'alaap', people waiting for Modi to sing: Sankat Mochan Mahant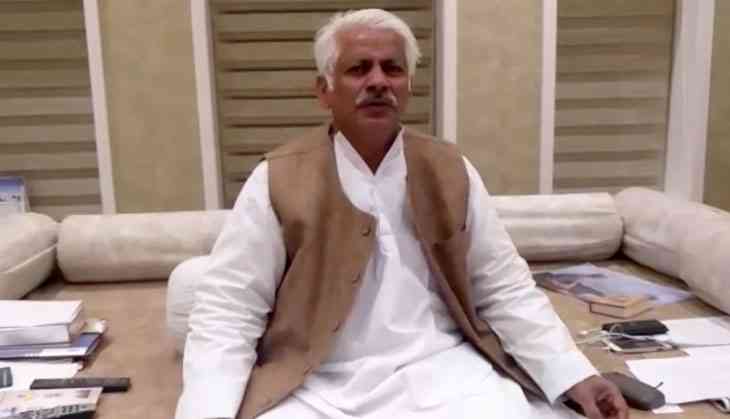 The Mahant of Varanasi's Sankat Mochan Temple, Vishwambhar Nath Mishra, said that people are getting impatient with a lack of development and they cannot only live only on promises. He suggested that this is what the Modi government at the Centre has been trying to do for the last two and half years.
Mishra said that half-way through its term the government has only been in the "alaap mode" and has not reached the second stage of singing – 'gatkari'. The first is an improvisation that sets the stage for the development of a 'raga', and 'gat' is the speed of a rhythm when the musical composition is in full swing.
Besides being the High Priest of the iconic Sankat Mochan, Mishra also has the distinction of being the professor of Microelectronics at Indian Institute of Technology (IIT) at the Banaras Hindu University (BHU). He is also at the forefront of a movement for cleaning the Ganges through his Sankat Mochan Foundation.
Without any direct reference to the Narendra Modi government, Mishra said, "With your 'alaap' you ready yourself and the audience. The audience can then appreciate your singing talent. But what is happening now is that we have been only moving in the 'alaap mode' since the last two and half years. But you have not learnt music, so what are you going to sing?"
"Everyone is hoping that now the singing – the 'gatkari' – will begin. But it is quite possible that the five-year term will get wasted in 'alaap' alone because you have not learnt 'gatkari'," the Mahant said.
Mishra feels that the government may have many good ideas but it does not have the talent to implement them.
Mishra said that people are now impatient; they cannot give anyone (the government) five years to learn on the job.
"You have got five years and if you are only learning about the job for that entire term, then when will you deliver? After all, the people also have some dreams and aspirations. When will they be realised? Should those aspirations always stay in suspended animation?" he asked.
Mishra predicted that the impatience of people will manifest itself in the ongoing election results.
Demonetisation blues
Highly critical of the demonetisation move, he claimed that it has led to the pauperisation of people. From saree weavers and daily wagers to housewives, everyone has suffered.
"And then you claim that since this is a novel move and even eminent economists cannot understand it. Very good. So (the situation is that) Amartya Sen and Manmohan Singh cannot understand (the rationale for) demonetisation but Ramdev can do so much better than them. And even a great man like Amitabh Bachchan says he feels good about demonetisation!" Mishra commented wryly.
The Mahant says the government has cottoned on to the fact that while everyone has been affected by demonetisation, people derived satisfaction from the perception that those who are better off than them are bound to have suffered more. This is what is being cashed in on by the government.
"Anybody who speaks out against demonetisation is immediately suspected as a black money hoarder. So out of fear of being branded, no one wants to speak out."
Mishra said that housewives and their savings which were the "backbone" of households had been exposed and destroyed.
"We were never desirous of knowing what our mothers or wives were saving. We knew, however, that when the household was in crisis, this money would come in handy. Now even that safety net has been exposed."
"You cannot take a drastic decision and say that whatever is in your pocket is black money and what you put in the bank is white," he argued saying that if the tax has been paid, people should be free to keep their money as they like.
Mishra harshly criticised the cashless economy and the fact that people were pushed depend on web-based transactions. "If you think a cashless economy is possible, then why do have a Reserve Bank of India and why do you waste money printing currency notes? Then you can tell people to eat rotis from the net also. You should also eat (virtual) rotis in that case," he said sarcastically.
Watch the outspoken Mahant of Sankat Mochan Temple discuss why the BJP communalises elections by talking about "shamshaan and Qabristan" and where we are eventually headed: