If attacks on Dalits continue, we'll teach Modi a lesson in 2019: Jignesh Mevani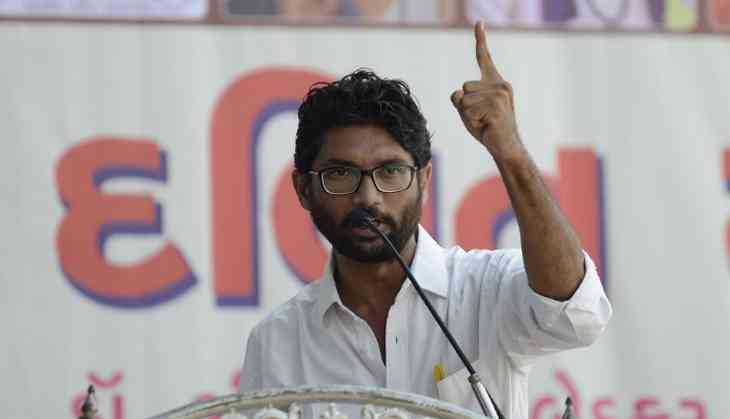 Going on the offensive against the BJP-RSS, Dalit leader and Gujarat MLA Jignesh Mevani questioned Prime Minister Narendra Modi's continued silence over the anti-Dalit violence in Bhima-Koregaon.
Describing as "childish" the FIR against him for allegedly instigating the Bhima-Koregaon violence, Mevani warned of a befitting reply if the BJP-RSS continued to attack Dalits and tried to tarnish his image.
'Why is Modi silent?'
"A self-proclaimed Ambedkar bhakt, the Prime Minister must clarify his position as to whether Dalits have the right to peacefully assemble and take out a rally in a legal manner," asked Mevani addressing a press conference in the national capital.
"Since he became the Prime Minister, the institutionalised killing of Rohit Vemula happened, the Una incident, attacks on Dalits in Saharanpur and now the attack in Bhima Koregaon".
"In all these incidents, what is common is Modi's silence and lack of action against the perpetrators. It's time for the Prime Minister and this government to clarify their stand whether they have any commitment towards Dalit welfare. Whether they want to eradicate the caste system as envisioned by Babasaheb Ambedkar," he said.
"When we took out a rally from Ahmedabad to Una, it was attacked and protestors assaulted, the protest rally in Saharanpur was also subjected to same treatment and now the attack on the rally in Bhima-Koregaon. Why isn't the Dalit safe in India? This question is now of paramount importance, that the Prime Minister, who calls himself an Amberkarite, an Ambedkar bhakt, why is he silent?" asked Mevani.
'Time for a casteless society'
"Today we remember Ambedkar as the framer of our constitution, but his motto in life was annihilation of the caste system from the country. The PM talks about 'Make in India', about digital India about cashless society. We too want that but simultaneously we also want a casteless India".
"Today when we are exploring the possibility of Mars having water or whether moon can be inhabited, why is the demon of caste still alive?" he asked.
FIR to tarnish image
The police have registered a first information report against Mevani and JNU student leader Umar Khalid for instigating the violence in Bhima-Koregaon that left a youth dead. The FIR is on the basis of a complaint that the duo during an event in Pune on December 31 made inflammatory speeches that led to violence. The Centre's ruling BJP and its ideological mentor RSS also have indicted Mevani and the JNU brigade for the violence.
But the independent Gujarat MLA asserted he was neither present at the site nor was his speech inflammatory or provocative. He also ridiculed the police action against him.
"The first thing that I want to clarify is that I was not present at the location (Bhima-Koregaon), secondly my speech which is available on the internet, no part of it was inflammatory or provocative in any way. In fact it was my most progressive speech.
"Moreover, despite being present in Maharashtra, I did not participate in the shutdown that was called in protest against the attack. So when I was neither present nor my speech was inflammatory so how could I instigate violence?" argued Mevani.
The shutdown was called by Dalit groups in protest against the attacks during the celebration of the 200th anniversary of the Bhima-Koregaon battle in Pune district.
He said the police action against him was indicative of BJP's nervousness after the Gujarat polls where it struggled to retain power winning 99 seats.
"The way RSS-BJP' pride has come crashing from their dream of 150+ to 99, coupled with my increase in popularity, they are nervous and they are trying to target me in this childish way".
"When the Maharashtra government should look towards making amends, they have targeted me. Filing a frivolous case against a Dalit leader, won't that worsen matters? We want rule of law in Maharashtra but at the same time, the way Dalits were targeted in Bhima Koregaon, action must be taken against the attackers," he said
'Indians are victims of Gujarat model'
Going hammer and tongs against the RSS-BJP over Dalit atrocities, Mevani sounded a stern warning.
"The RSS-BJP's agenda has been targeting Dalits and Muslims. But now they have moved to targeting farmers and workers as well. And finally through GST and demonetisation, they are targeting traders. To sum up, we the people of India have all become the victims of Gujarat model," he said.
Expressing his angst over the police denying him the permission for an event in Maharashtra, Mevani said: "MPs/MLAs have the duty to raise issues in Parliament or the Assembly. But when it comes to issues like caste, peaceful people's movement on the streets is equally important.
"So when an elected representative is not allowed to participate in a people's movement it speaks volumes about Modi's conduct.
"But, I want to say one thing in clear terms. If the atrocities against Dalits in Gujarat and Maharashtra continue and there are attempts to tarnish my image, we will teach you (Modi) a befitting lesson in 2019," asserted Mevani.