How to make JNU more 'nationalist': here are 7 suggestions from Hindutva stable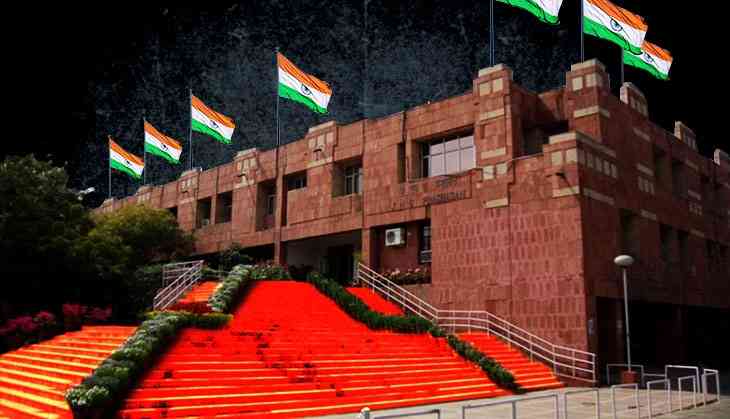 Jawaharlal Nehru University (JNU) has become a political battleground since the protests held on 9 February last year. Hindutva outfits have worked overtime to present the University and its students as "anti-national". The then JNU Students' Union president Kanhaiya Kumar and two other students Umar Khalid and Anirban Bhattacharya were arrested last year on charges of sedition for allegedly taking part in the event in which the controversial slogans were raised.
Since then several right wing leaders have been coming up with suggestions, including some rather bizarre ones, to "inculcate patriotism" among JNU students. Here are some of these suggestions:
01
Teach Sant Kabir to students who raise Azadi slogans
Chhattisgarh Chief Minister Raman Singh is the latest politician to offer free advice on patriotism to JNU. Speaking at a symposium on 'Kabir Sahitya me Samrasta aur Sanchaar' (Harmony and Communication in Literature of Sant Kabir) in Raipur on 11 June, he said, "Teachings of Sant Kabir should be taught to those who raise 'anti-national' slogans and programmes on the mystic poet should be organised in JNU."
Refering to the last year's row over alleged raising of controversial slogans at JNU, Singh added, "Those who raise slogans of Azadi and talk about disintegrating the country should be taught Sant Kabir. Misguided youth should be given knowledge of Kabir's thoughts."
Of course, Raman Singh ignores the fundamental fact that Kabir's teachings were against organised religion and religious bigotry and thereofore are the complete antithesis of Hindutva.
In a meeting with JNU V-C M Jagadesh Kumar last year, some army veterans suggested that JNU should construct an army memorial to commemorate soldiers who lost their lives in combat. The JNU administration told The Indian Express that it was considering installing a battle tank or a wall of fame of soldiers who died in battle. In fact last month, the University unveiled a wall with photographs of 21 Param Vir Chakra recipients on campus.
03
Hoist the national flag
What can be a more visible way to showcase chest-thumping nationalism than hoisting the national flag? After last year's controversy in JNU, the government ordered universities to prominently display the country's flag in its campuses. All 46 centrally-funded universities agreed to display the flags after a meeting chaired by the then HRD Minister Smriti Irani.
04
JNU needs BSF camps and an anti-narcotics bureau
When it comes to offering advice on right wing nationalism, how can one forget Subramanian Swamy, the maverick BJP leader? Swamy has always been critical of JNU having called it a 'breeding ground of anti-national elements like Naxals, jihadis, and supporters of Tamil Eelam. His obsession with JNU was such that there was speculation that he would be made the VC of the University.
But Swamy rejected the post even before being offered it. Tweeting on the issue, he said, "PTs are overwhelmingly against my accepting JNU VC post. No question of my considering unless allowed to rusticate anti-national students". He went on to say, "I think JNU needs an anti-narcotics bureau campus branch office to raid dorms and arrest Naxals, jihadis and Elis (LTTE supporters). BSF camp also."
He didn't explain the link between drug addiction, Naxalism and Jihad. But then often only Swamy and friends understand what he means.
05
Regular interactions between defense personnel and students
After last year's controversy, the JNU administration has been quoted as saying that the University was planning regular interactions between students and defence personnel. Since then, war veterans have been invited regularly to speak at the university.
TV Mohandas Pai, former CFO of Infosys, wrote an open letter to JNU students titled "Dear JNU Students, We Fund Your Studies, Not Your Politics".
In the letter he called JNU "a bastion of the Left" where "alternate views were not encouraged and sometimes hounded out". He suggested - not so discreetly - that the govt should stop funding JNU with tax-payers' money. Soon petitions were initiated at Change.org and ipetitions.com to stop government funding of JNU. Even voluble TV anchor Arnab Goswami hounded JNU students and supporters for not demonstrating "proper patriotism", despite being "beneficiaries of a subsidised Indian education".
According to some, the best way to turn an "anti-national" institution into a "nationalist" one is to shut it down. In February 2016, Chandan Mitra, journalist and former BJP MP, suggested to the government that they 'Should Take This Chance To Shut Down JNU', in an op-ed published in NDTV.
Mitra wrote, "The self-destructive agitation at JNU has given the government the best opportunity to shut it down for ever, cut its financial losses, and get rid of a factory that produces only spongers and malcontents".
Many BJP leaders supported Mitra's opinion including Yogi Adityanath, who is now the Chief Minister of Uttar Pradesh
Commenting on the 9 February protest Adityanath said, "It has become a habit there – running with grants provided from the tax paid by the people, JNU has become a blot on education".
"Whether it is a beef party or celebration of Mahishasura Jayanti, if any education institution facilitates such events in the name of progressiveness, such institution should be closed down in the interest of the nation."
Despite being labelled "anti-national" by the Hindutva brigade, JNU won the Visitor's Award for the best university in the country.