How Modi govt brought Achhe Din for Gadkari's family business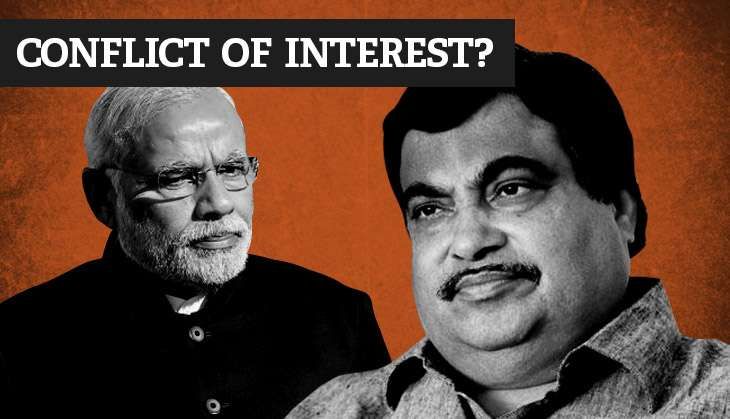 The mission
Nitin Gadkari has promised a massive push by the govt to make Ethanol from biomass
Purti Group, founded by Gadkari, has a factory making Ethanol
Gadkari was earlier under fire for promoting E-rickshaws, manufactured by a Purti subsidiary
More in the story
Is there a conflict of interest?
Does this represent a pattern for Gadkari?
Business and politics have been closely linked in the rise, fall and resurrection of BJP leader Nitin Gadkari. It was his success as a businessman that led to his political rise in Nagpur and it was the alleged irregularities in his Purti Group that nixed his second term as BJP president.
This link between business and politics doesn't seem to have left Gadkari in his present stint as Minister for Road Transport, Highways and Shipping in the Narendra Modi government.
Gadkari's Ethanol mission
On 31 July, Gadkari announced in his hometown Nagpur, that the Union government is going to start the process of making Ethanol from biomass that would create "tremendous demand for farm waste".
He said that a Cabinet note on making Ethanol out of biomass like wheat, cotton and rice straw will be moved, which will allow blending of Ethanol into petroleum to 22.5% as against 10% done currently. The government is also planning to increase the blending quantum for diesel to 15%.
Promoting Ethanol is a key mission for Gadkari. No one can dispute the desirability of using cleaner sources of fuel. But promotion of bio-fuels falls is the responsibility of the Ministry of New and Renewable Energy, headed by Piyush Goyal. So what explains Gadkari's love for Ethanol? Is it driven purely by green concerns?
Gadkari has repeatedly urged industry to increase production of Ethanol and promised that the government would be willing to "purchase the entire quantity of Ethanol produced". Needless to say, this would prove to be beneficial to Ethanol manufacturers. One such company is the Purti Group, founded by none other than Nitin Gadkari himself.
Though Gadkari dissociated himself from the group some years back, Purti remains a largely family run enterprise. His son Nikhil Gadkari is listed as the director of Purti Power and Sugar Limited (PPSL), the most important entity of the group.
Interestingly, Gadkari's Ethanol thrust has coincided with the Purti Group's efforts to increase the production of Ethanol. In June 2014, less than a month after Gadkari became a Union Minister, PPSL announced its plan to set up a new plant to make biomass based Ethanol at Bela near Nagpur in collaboration with Pune-based Praj Limited..
According to reports, until 2014, PPSL's original Ethanol making plant at Bela was producing half of its installed capacity, because the demand was low.
India had set a target of 5% Ethanol blending in petrol in 2013. As soon as he became minister, Gadkari began lobbying for increasing the quantum of Ethanol blending in petrol to 10-15% even though India hadn't succeeded in achieving even 5%.
Now based on his statement on 31 July, this will be further increased to 22.5%. Clearly, low demand will no longer be a problem for PPSL. And with Gadkari promising that the government will buy all the Ethanol that is produced, good days are here for PPSL.
Another major initiative that Gadkari took to increase the use of Ethanol was to start Ethanol-run public transport buses. Gadkari inaugurated the project in August 2014, barely 3 months after becoming minister. And the pilot city chosen for Ethanol-run buses was, unsurprisingly, Gadkari's constituency Nagpur.
Sensing that the project would lead to an increase the demand for Ethanol, Purti decided to treble its production from 45 kilo litres per day to 135 kilo litres per day. In addition to the Ethanol run bus project, Purti also supplies Ethanol to Hindustan Petroleum Corporation Limited for blending with petroleum. Ironically, it's Bela plant -- where "eco-friendly" Ethanol is being produced -- has been accused of polluting the Vena river.
Gadkari's e-rickshaw dream
Ethanol isn't the only product manufactured by the Purti Group that Gadkari has been promoting. In 2014, again barely a few months after assuming office, Gadkari said that the government would overturn the ban on electronic rickshaws in the national capital. He also announced the Deen Dayal scheme under which potential e-rickshaw buyers would get a loan at 3% interest.
Clearly, this was great news for e-rickshaw manufacturers, which included a company called Purti Green Technologies Private Limited, reportedly a subsidiary of the Purti Group.
After the Indian Express brought this to light, the Aam Aadmi Party was quick to accuse Gadkari of a conflict of interest. Remember, it was the AAP's allegations of irregularities in the Purti Group, that eventually culminated in the scuttling of Gadkari's second term as BJP president in 2012.
"It is shocking that Mr Gadkari has tried to mix his family business with his ministry's official functioning, which is a clear act of impropriety,"AAP said.
Gadkari denied the allegations and the BJP issued a statement saying that "neither Shri Gadkari nor any member of his family is associated with any e-rickshaw manufacturing firm".
This doesn't seem to have been the case. The director of Purti Green Technologies is Gadkari's brother-in-law Rajesh Totade, who even told the Indian Express that the "rickshaw project has been a dream of Gadkari ji". Totade's sister is married to Gadkari.
The other director of Purti Green Technologies, Prasad Prabhakarrao Kashikar, is also listed as a director in Chaitanya Constructions and Builders. And one of the directors of Chaitanya Constructions is Gadkari's son Sarang. Therefore, there are clear links between Gadkari's family and Purti Green Technologies.
The case of IRB
The big break that brought Gadkari into prominence was his stint as the PWD minister of Maharashtra from 1995 to 1998. He oversaw a huge construction spree in Maharashtra and became champion of the build-operate-transfer (BOT) model.
One of the firms which got a large number of BOT contracts was a company called Ideal Road Builders (IRB). IRB got its first BOT project in 1995 - the first phase of construction of the Thane-Bhiwandi bypass. This was the same year Gadkari took over as PWD minister.
Interestingly, in the same year, Gadkari founded the Purti Group and he was given a loan of Rs 164 crore by Dattatreya Pandurang Mhaiskar, the founder of IRB. Mhaiskar claims that he gave this loan out of "his personal savings" and there was no quid pro quo involved.
IRB completed Thane-Bhiwandi project within 2 years and subsequently bagged contracts such as the construction of a bridge over Patalganga river, the Khambatki Ghat project, the Kaman Paygaon project and the Bhiwandi Wada project during this period.
In 1999, the then Prime Minister Atal Bihari Vajpayee made Gadkari the chairman of the National Rural Roads Development Authority. He was the brain behind Vajpayee's Pradhan Mantri Gram Sadak Yojana (PMGSY). IRB got a number of road construction contracts under PMGSY.
Gadkari, on his part, denies giving any special favours to IRB but doesn't deny getting a loan from Mhaiskar. "There is nothing wrong if IRB invested in Purti," Gadkari told this reporter in 2012.
As the Union Minister for Highways, Gadkari is now in an even more powerful position with much bigger contracts at his disposal. And IRB is now one of the largest BOT road developers in the country.
In January this year, IRB bagged a massive Rs 10,048 crore contract for the construction, operation and maintenance of the Zojila pass tunnel in Jammu and Kashmir. This is the biggest national highway project in India in terms of project cost.
However, the Congress raked up Gadkari's links with IRB and accused him of giving undue favours to the company. Congress General Secretary Digvijaya Singh said that Gadkari had violated CVC norms in awarding the contract, a charge which the minister denied. However, questions continued to be raised and two months later Gadkari was forced to cancel the contract to IRB and order rebidding for the project.
Gadkari is a smart politician and a clever businessman. Above all, he has immense faith in his abilities to get things done. His instinctive response to controversies is to brazen it out, just as he tried to when the alleged irregularities in the Purti Group came to light in 2012. But given the widespread anti-corruption sentiment in the country at that time, Gadkari had to back down.
The case of the Zojila pass tunnel project seems to be similar. Gadkari couldn't afford any controversy given the the enormous scale and strategic importance of the project.
However, he might just get his way on Ethanol. Few questions will be asked since it involves the fight against pollution. The government's Ethanol mission is bound to bring Achhe Din for the Purti Group.