How Chandrababu Naidu is getting his son into power through the backdoor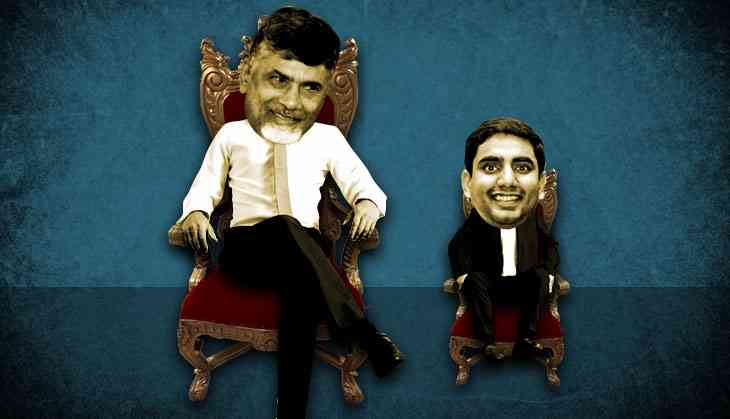 (Arya Kumar Sharma/Catch News)
Guess the hottest topic in Andhra Pradesh politics currently? The impending "election" of Nara Lokesh, the son of Chief Minister N Chandrababu Naidu, to the Legislative Council.
The "prince" of the ruling Telugu Desam Party is set to be "elected" to the Upper House on 20 March from the MLAs' quota, that is, he will be elected by some of the legislators.
Now, there is no point picking holes in how political parties perpetuate dynastic politics. There's hardly a major party in the country, save perhaps those of the communists, that do not indulge in this practice. Mostly, though, politicians want their progeny to secure popular mandate and "blessings of the people" as the first step to their ascendancy to the helm of affairs. That means contesting elections. Naidu has chosen a different tack.
Also Read: Chandrababu paves for son Lokesh's elevation into Andhra Cabinet. Is it the best move?
Naidu, who usurped power from his father-in-law NT Rama Rao, has long nursed the ambition to anoint Lokesh as his heir apparent. But quaint as his ways are in executing his plans, they are usually long drawn.
Naidu doesn't go by emotion, he applies a scientific method to most of his political decisions. He trusts math more than chemistry. A complete absence of chemistry doesn't bother him much, but numbers must add up to yield what he desires.
He had the dexterity to kick out his brother-in-law Daggubati Venkateswara Rao when he was angling for the post of deputy chief minister as a quid pro quo for helping Naidu topple NTR in the infamous palace coup of August 1995. After six months, he nudged Dr Venkateswara Rao, without directly admitting him into the party, to file his papers for the Rajya Sabha election and got him elected through a meticulous calculation of second-preference votes, defeating the independent T Venkatram Reddy, chairman of Deccan Chronicle group, in 1996. That is the story of math-chemistry. Same way, he showed the door to his brother-in-law N Harikrishna from his cabinet by not getting the latter elected to the assembly.
Naidu could have easily got any of his party MLAs, many of whom are more than willing to sacrifice their seats (of course, with an eye on a bigger pie at a later stage), and get Lokesh elected from that constituency to the assembly. But he is in no mood to conduct that "costly experiment" for very obvious reasons.
A litmus test of Lokesh's personal political acumen has already produced a disastrous result. He was entrusted with the responsibility of leading the party in the Greater Hyderabad Municipal Corporation election a year ago. Though Naidu himself campaigned, the onus was largely on the young scion.
Had the TDP been able to manage a decent number of seats in the GHMC, the dynamics of Telangana politics would have been different. But the party ended up winning a solitary seat across the 150 municipal divisions, whereas the Telangana Rashtra Samithi, whose campaign was led by K Taraka Rama Rao, the minister and son of Chief Minister K Chandrasekhar Rao, posted a resounding victory in 99 of the 150 divisions.
Lokesh was almost immediately withdrawn from Telangana even though he had been touted as the party's leader in India's newest state. Naidu had since been planning to get him into a full-time role in his government. In his typical style, Chandrababu Naidu wangled demands from his party men to have Lokesh inducted into the state Cabinet. Every time, such a demand was made, he used to sport a smirk on his face and remark cryptically that "everyone will get an opportunity and there is an appropriate time (if not timing) for everything".
Also Read: Fallen apart: KCR arrests one-time comrade Kodandaram for raking up old demands
What's intriguing here is that Naidu, who had forced NTR to withdraw his own statement of desire to anoint his actor-son Balakrishna as heir apparent as far back as in 1986 made at a public meeting in Chittoor district, surreptitiously has brought his own son into politics through the "backdoor", as his detractors have described the move. This is the easiest possible way for anybody to get "elected".
While some social media activists of the TDP have serious objections to Lokesh's very entry into the legislature, what with his "limited political acumen", a few others feel the "34-year-old boy" still has some more time to take the plunge. Certain YouTube videos of Lokesh's political speeches too projected him in poor light, as he seemed to take a jibe at his own TDP, though inadvertently.
Some senior leaders are averse to the idea of getting Lokesh into the cabinet through the Legislative Council. They are piqued because the council itself was once done away with (abolished on 30 May 1985) following steps taken by the NTR government.
Apart from boycotting the inauguration of the council on 8 April 2007, when the YS Rajasekhara Reddy regime revived it, Naidu had claimed "it would be nothing but a rehabilitation centre for politically unemployed people" during a debate on 8 July 2004 when the then Andhra Pradesh Legislative Assembly took up the resolution.
There is severe criticism from within the TDP itself over this move, as the party wanted "Lokesh babu garu" to enter the precincts of power through the main gate – a popular election.
Undivided Andhra Pradesh saw several chief ministers getting their sons elected to the lower houses of either the assembly or the parliament. For instance, Marri Sashidhar Reddy (Marri Channa Reddy's son), Kotla Surya Prakash Reddy (Kotla Vijayabhaskar Reddy), Nadendla Manohar (N Bhaskar Rao), PV Ranga Rao and PV Rajeshwar Rao (PV Narasimha Rao), Jalagam Prasada Rao (Jalagam Vengala Rao), YS Jaganmohan reddy (YS Rajasekhara Reddy), and, of course, the son and daughter of KCR, KT Rama Rao and K Kavita, respectively.
At the national level, Lalu Prasad Yadav's children Tej Pratap Yadav, Tejaswi Yada and Misa Bharati (Bihar); Devi Lal's son Om Prakash Chowthala and his son Abhay Chowthala (Haryana); Mulayam Singh Yadav's son Akhilesh Yadav (UP); Biju Patnaik's son Naveen Patnaik (Odisha); Farooq Abdullah's son Omer Abdullah (J&K); HD Deve Gowda's sons HD Kumara Swamy and HD Revanna (Karnataka); Mufti Mohammed Sayeed's daughter Mehbuba Mufti (J&K); Shibu Soren's daughter Durga Soren (Jharkhand); and many of this ilk had contested direct elections and won their seats.
In fact, KCR justified the entry of his children into politics and their ascension to positions of power saying they had played an active role in the Telangana movement and that they were elected to the posts by the people.
Naidu may not be able to claim the same about his son, but Lokesh's becoming an MLC and a minister is certain.
Also Read: Narcissist Naidu? Chandrababu under fire for naming schemes after himself