How a new caste calculus helped SP-BSP defeat BJP in Phulpur and Gorakhpur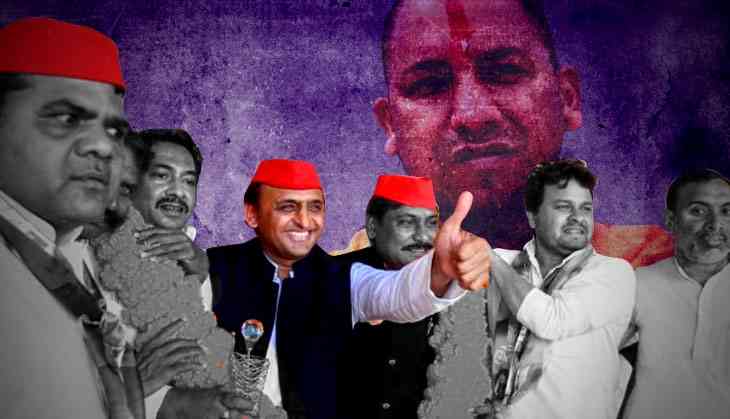 A new caste calculus in Uttar Pradesh has handed one of the most embarrassing defeats to BJP and its poster boy Chief Minister Yogi Adityanth in his own backyard. One-year-old Adityanath government suffered a major setback after SP-BSP combine won by-polls for the two Lok Sabha seats in Gorakhpur and Phulpur which fell vacant after the chief minister and his deputy Keshav Prasad Maurya resigned to take over responsibilities in the state government.
The twin victories have come as a major embarrassment for Adityanath who has just finished one year in office and had represented Gorakhpur for five consecutive terms. The twin victories are likely to have far-reaching consequences considering it could see arch rivals SP and BSP joining hands during the 2019 General Elections to defeat the common enemy – BJP.
Having failed to cobble up a similar understanding during the 2017 Assembly elections, the two parties gave up their differences to take on the BJP which was unprepared for such an eventuality. In fact, soon
after the dates for the by-polls were announced, BJP leaders were brimming with confidence on winning the two seats with considerable ease.
However, their confidence came crashing down once BSP decided to lend its weight behind SP just few days before the polls.
A panic-stricken BJP leadership had no answers to this caste calculus which saw the coming together of two regional powerhouses in India's most politically significant state in the country. In fact, UP was
crucial to Prime Minister Narendra Modi's emphatic win in 2014 where his party and its ally managed to win 73 out of the 80 seats on offer.
However, the truce was not easy to come by and it took hectic parleys from the leaders of the two parties to come to an understanding and cobble up a winning formula. In fact, the bitter relations between the two parties started to thaw during the Budget Session of the UP Assembly in February when the two joined hands on multiple occasions to take on the Adityanath government over its handling of law and order and the spate of alleged fake encounters.
"Leaders of the two parties would sit together and discuss issues that could help corner the BJP government. Slowly, we developed a bonhomie. Thereafter, our leadership began discussing the upcoming Rajya Sabha elections and we decided to support the BSP's candidate. One thing led to
another and eventually BSP decided to support our candidates for the by-polls," said MLC Udaiveer Singh, who is particularly close to Akhilesh Yadav.
Being hailed as one of the architects of this alliance, Udaiveer was given the crucial responsibility of holding discussions with his party cadres and that of the BSP in Gorakhpur and Phulpur. The idea was to get a sense of how effective such an alliance could be. "When we were in power, there was little time to collect genuine feedback about candidates and possible alliances. However, after the defeat, we were
far more organised and began working towards adopting a strategy to defeat BJP," he added.
This strenuous process of consultations with local leaders led to SP zeroing down on candidates of certain caste groups who could tilt the balance in their favour. During his conversations with local leaders, he found that even BSP cadres too had a soft spot for SP.
Udaiveer said, "They were tired of this horse trading business and how BJP was trying to finish their party by poaching local leaders. The voter and worker felt that these cosmetic damages by BJP were not healthy for democracy and their party. Once we shared the feedback with the BSP leadership, they too became interested in having some sort of understanding."
When questioned about the possibility of two parties chalking out a similar strategy during the 2019 polls, Udaiveer said how the twin victories have come as a shot in the arm for the two parties which could set the agenda for future. "We have nothing but respect for BSP whether this works out or not. Sometimes, one plus one is only two, sometimes could be 11. Sometimes it could also be zero. Today, it is 11. So, we have to work on many fronts before zeroing down on an alliance. However, it would be wise to come together if BJP has to be stopped."
Speaking on the bitter relations between the two parties, Udaiveer called it a thing of the past and even accepted how ego of their local level leadership added to the bitterness. "Netaji and Kanshiramji had no
such conflict. Cracks in our relations happened because of local contradictions and it can happen with anyone. It can happen within a party. However, it was BJP that hyped these differences and even made it personal because they knew if these two come together, they will be wiped out from the state."
Does this also meant wiping out of the Congress from the state as well?
Udiaveer disagreed but questioned the rationale behind Congress contesting these elections. According to him, Congress had no stakes in the region and would have lost anyways. Blaming Congress' local
leadership for being removed from reality, he said, "I don't know what feedback they gave to their top leadership. It was certainly a wrong move. In 2017, they contested a seat from Gorakhpur with support
of SP and they should have realised where they stand," he pointed.
When asked whether the SP-BSP understanding has made the Congress irrelevant in the state, Udaiveer gave a measured response. He stressed that Congress still remains a force to reckon with and would
play a crucial role in dethroning Modi in 2019. However, he does have a suggestion for the Grand Old Party: "Let top leaders of the party communicate with others. Their mid-rung leaders do not share honest feedback. If they would have consulted us, we would have given them reasons for not contesting."
Elated with the victory, Udaiveer finds major takeaways from these results with the prominent one being how BJP has no answers to this new caste calculus in the state. "There is no way they can defeat this arithmetic. With four years still left to rule, BJP has lost polls in the constituencies of its chief minister and deputy chief minister despite having government at the Center and state. They had all the resources and star campaigners and yet they lost which speak volumes about our strategy. Earlier, they used to brag how there is not even one seat from where they can't win. Now, there is not even one seat from where they can win."
According to him, these elections have exposed BJP's doublespeak, particularly on Muslims. He claimed that it was the saffron party that prodded don Atiq Ahmad to contest as an independent from Phulpur to cut into SP's vote share.
"Their main plank of anti-Muslim campaign was exposed. If Atiq was used for political gains, what are you telling your core voters? People are not fools, they now know the true colours of BJP and its
leadership. They can no longer use communalism to hide their failures."