House vs House: How govt negated Opposition's token victory on Aadhar Bill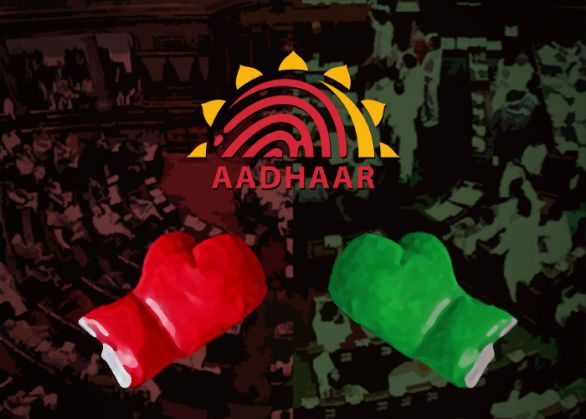 The tussle
Opposition introduced 4 amendments to the Aadhar Bill in RS
But govt had introduced it as a Money Bill. The amendments were rejected by the LS
The Bill
Aadhar is integral to govt\'s Jan-Dhan Aadhar Mobile Number
Opposition slammed govt for taking the Money Bill route, saying it undermined Rajya Sabha
More in the story
Who said what
The features of the Bill
War of words in the House
Ever since the NDA government came to power riding on a brute majority that it won in the Lok Sabha, the Rajya Sabha has been a constant challenge for its parliamentary agenda.
Nearly two years later, the government seems to have successfully implemented a clever strategy to carry forward its legislative agenda, bypassing the Opposition's superior numerical strength in the Upper House. The Aadhar Bill, which the government had introduced in the Lok Sabha as a money bill, was passed on 16 March, with Lok Sabha rejecting amendments recommended by the Rajya Sabha.
Also read - Opposition condemns 'bypass' method used for passing Aadhar Bill in Lok Sabha
The government has been pushing Aadhar as an integral component of its JAM (Jan Dhan-Aadhar-Mobile number) trinity strategy. Acknowledging the idea as the UPA's, it has accepted its utility as an instrument of good governance and has been wanting to give it legislative cover. However, it was afraid that the Opposition, led by Congress, will scuttle this effort just as it has been stalling the GST bill.
This is why the government brought the Aadhar bill as a money bill, which can be introduced only in Lok Sabha. In the Constitutional scheme of things, after the lower house passes a money bill, it is transmitted to the Rajya Sabha which must return it within 14 days with or without its recommendations. In case the Upper House makes any recommendations, Lok Sabha is empowered to accept or reject them.
Tough fight in Rajya Sabha
In this case, Opposition members in Rajya Sabha succeeded in punching 4 amendments in the bill, but Lok Sabha promptly rejected them and passed the Bill as it was while transmitting, within two hours of return. At the end of the day, the Opposition was left to be content with token victories of symbolic amendments. It did try its best, thought, to register as much protest as possible.
Earlier in the day, as the upper house prepared to take up the bill for consideration, Samajwadi Party's Naresh Agrawal urged the Chair to consider that the Bill was not a money bill. Agrawal said Article 110 of the Constitution lays down many criteria for a bill to be money bill and if any of them is not fulfilled then the bill can not be considered a money bill. He emphasised that even if the Lok Sabha Speaker rules that it is indeed a money bill, the Rajya Sabha can challenge it because it was an independent house and was set up much before the lower house.
Govt was afraid Opposition would scuttle Aadhar Bill in RS. That's why it took the Money Bill route
CPI's D Raja also argued that it was not a money bill, but Deputy Chairman P J Kurien eventually ruled that it was indeed the Speaker's prerogative and no member of the upper house, including the Chair, had the authority to judge the Speaker's ruling. CPI (M)'s Sitaram Yechury too argued that the bill was ultra-vires of the Constitution as it infringed on citizens' privacy, which was a part of fundamental right to liberty.
Yechury also reminded the Chair that since the Supreme Court was also hearing the matter, the House didn't have the legislative competence to take it up. Kurien responded to this by saying that this argument is not valid anymore since the Bill has already been passed by Lok Sabha and transmitted to this House.
Jaitley: Parliament can not give up power to legislate
Finance Ministry Arun Jaitley, also Leader of the House in Rajya Sabha, refuted Yechury's argument by saying this was an unprecedented argument that Parliament should give up power to legislate on a matter because a court was hearing it.
The minister then explained that the government had brought the bill as a money bill because it essentially seeks to ensure that money drawn from national exchequer reaches its targeted beneficiaries. He quoted Sub clause C of Article 110 (the custody of the consolidated Fund or the Contingency Fund of India, the payment of moneys into or the withdrawal of moneys from any such Fund) to argue that was indeed a money bill.
Lok Sabha rejected the 4 amendments to the Aadhar Bill passed by the Rajya Sabha
He further said that Clause 3 of Article 110 (if any question arises whether a Bill is a Money Bill or not, the decision of the Speaker of the House of the People thereon shall be final) clearly says satisfaction of the Speaker was the final word.
Jaitley responded to the privacy argument by saying that even if we assume that privacy is a part of right to liberty, it is not an absolute right and can be restricted under procedure established by law. He added that such a procedure has to be just and fair, which was not the case so far since the previous government had set up the Unique Identification Authority of India (UIDAI) and was running it only by executive authority, not a law. If anything, we are tightening the privacy aspect, Jaitley asserted.
Minister cites 'liberal democracy' America
Regarding concerns about sharing of private and sensitive data of individuals, the minister said that the only ground on which data can be shared was is national security. That will be done by a single authority that will be set up in Delhi and will be headed by cabinet secretary. Even this sharing will be time bound, only for a maximum of 3 months.
On questions over national security as a valid ground for sharing such data, Jaitley gave the example of US' social security number. He said the government's powers to collect and share private data under it has been repeatedly challenged in last 80 years and on every occasion, American courts have upheld national security as a valid ground. If a liberal democracy like America can believe in this, why can't we, he asserted.
Jairam: Striking a nail in Rajya Sabha's coffin
Congress leader Jairam Ramesh called the limiting of Rajya Sabha's role on a critical legislation a nail in the House's coffin. He informed the House that he had received an advice running into 10 pages by a former Attorney General of India, who was also a nominated member of Rajya Sabha, explaining how this was not a money bill.
A heated exchange took place between Ramesh and Jaitley after he accused the finance minister of misleading the Parliament with his statement in Lok Sabha that African Development Bank Bill 1983 and Juvenile Justice Bill 1986 were passed as money bills. Ramesh said the Rajya Sabha secretariat had informed him in writing that none of these were money bills.
Opposition fears sweeping powers have been given to govt under the new Aadhar Bill
Jaitley pleaded his case by arguing that he had received the information from the Lok Sabha's website. He admitted that the website might have incorrect data, in which case the Lok Sabha secretariat should be accused of misleading everybody. Kurien too subsequently ruled that if Jaitley got the info from Lok Sabha's website, he could not be personally accused of misleading the House.
Ramesh: Sweeping powers under national security
Ramesh went on to list his other objections, saying Aadhar was proof of identity and did not determine who was eligible for subsidies, wages and pensions. He also suggested changing the phrase 'national security' to 'public emergency and public safety' in the Bill because sweeping rights were given under the cover of national security. Jaitley responded to this later, saying national security was a much narrower concept than public emergency or public safety.
Ramesh also demanded amendments that every individual must be given the flexibility to opt out of Aadhar and that whatever data UIDAI wants to collect should be approved by Parliament. He also gave credit to Congress president Sonia Gandhi, former Prime Minister Manmohan Singh and Congress vice-president Rahul Gandhi for backing Aadhar when it was just an idea.
Several other members too proposed amendments, including independent member Rajeev Chandrasekhar, Biju Janata Dal's Bhupinder Singh, and Congress' T Subbarami Reddy. Kurien wanted to negative all amendments with a voice vote, but Ramesh insisted on electronic voting on five of his Amendments. The Chair relented because of which it was for everybody to see that the House voted in favour of the amendments in large numbers.
Eventually, the Bill was returned to Lok Sabha with the amendments recommended. The rest, as they say, will be history.
More in Catch - Aadhar Bill passed in LS despite protests; opposition flags privacy issues
Explained: Here's why Arun Jaitley's Aadhar bill has been tagged as a money bill