Here's what you promised Chief Minister Nitish Kumar. We will watch you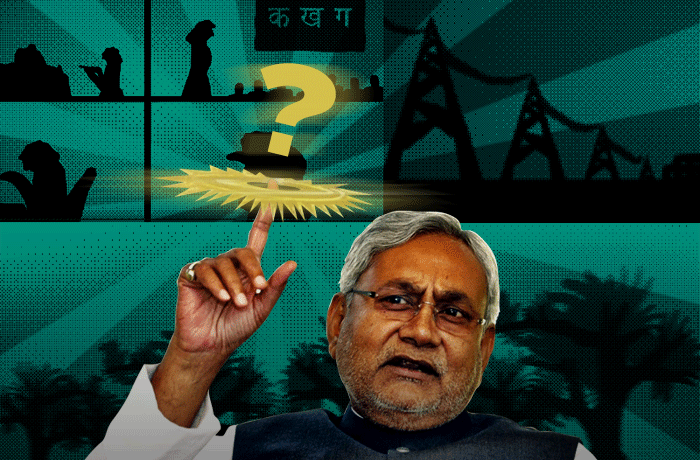 All's well that's ends well they say. And what an end!
When Nitish Kumar walked out of the NDA before the General Elections, political pundits stared at him in dismay. When the Modi juggernaut routed his Janata Dal (United) last year, they smirked: "See, we told you so!"
All that became past when the Mahagathbandhan - the Grand Alliance of the JD (U), Lalu Prasad's Rashtriya Janata Dal and Congress - registered a thumping victory on 8 November. From Bettiah to Bhagalpur, Arrah to Arraria -- the victory was complete. The dismay was back; in reverse.
READ: Of course the Grand Alliance won. Here's why
As somethings end, some others begin and here Nitish stands today, with his third straight mandate to govern Bihar. As he readies to read his oath as chief minister one more time, can there be a better moment to remind Nitish Kumar of all that he has promised to the people of Bihar during a colourful campaign!
Do take a look:
This clip reminds voters how thousands of tubewells were installed in Nitish's 10-year tenure. It then goes on to promise piped water to ALL households if he is voted back to power.
The ad promises more than a thousand medical, engineering, ITI and polytechnic institutes so that Bihar's youth don't have to leave the state for higher education.
Power-cuts have been a recurrent theme of Backward Bihar. This one tells you how electricity has reached village after village in the state.
And the next step will be to connect every house to the grid; that too at the government's expense. And then supply them power 'round the clock.
Nitish has already collected enough praise for making Bihar's roads actually motorable. His next promise is concrete village lanes and drains.
ALSO READ: BJP's #BiharResult postmortem report: don't blame Modi, Shah, RSS
The BJP may have sought the youth votes badly, but Nitish's promise was killer:
A thousand bucks every month for a year and a half if you are unemployed and between 20 and 25
Education loan up to Rs 4 lakh without collateral, via a low-interest students' credit card
As Narendra Modi still tries to sell 'Swachh Bharat', his bete-noire has laid out the gameplan for a 'swachh' Bihar: Toilets to be constructed in all houses to make the state free of open defecation.
No one can stress enough the importance of this especially after the statistics that the clip throws up: 80% of Bihar's women have to defecate in the open.