Has Rahul Gandhi defamed RSS? SC to hear the case on 23 August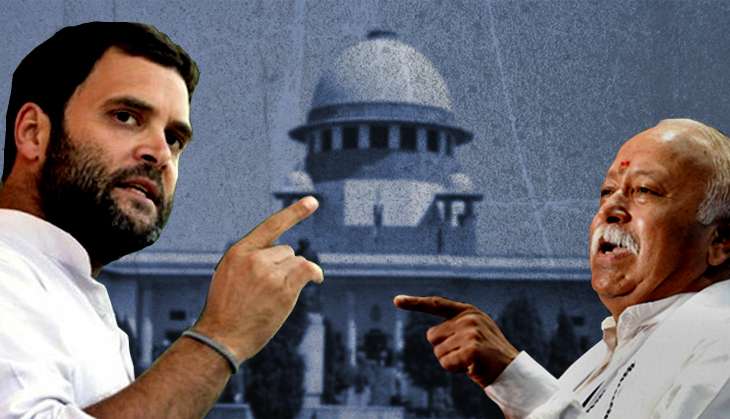 Hearing the case on Congress Vice-President Rahul Gandhi's alleged defamation of the RSS, the Supreme Court on Wednesday decided to adjourn the matter till 23 August.
The case was filed against Rahul Gandhi for his remark that the RSS was behind the assassination of Mahatma Gandhi.
Also read:Exclusive: RSS chief Golwalkar threatened to kill Gandhi - 1947 CID report
At the last hearing held on 19 July this year, the apex court observed that Rahul Gandhi must either apologise for his comments or face trial for criminal defamation.
How strong is the case against Gandhi?
The Indian law of defamation - as contained in Section 499 of the Indian Penal Code, is applicable only to specific individuals, not random organisations or collective groups. So why did Rajesh Kunte, An RSS functionary from Mumbai, going hammer and tongs at Rahul Gandhi in Writ Petition (Criminal) 3749 of 2015? More importantly, on what grounds did the apex court entertain his petition?

After all, the Justice Kapur Commission which investigated the Gandhi's assassination

This has also been stated by senior advocate and jurist AG Noorani in his book

Savarkar and Hinduva- The Godse Connection

. Therein, he has laid out in elaborate detail how the RSS and the Hindu Mahasabha played an active role in the planning and execution of Gandhi's assassination.

Also read: Did RSS kill Mahatma Gandhi? Parties raise questions following Golwalkar expose

In May last year, the Supreme Court held, in the case of

How does this ruling affect the present case ? Vinayak Damodar Savarkar and MS Golwalkar have no dearth of followers. But who decides who is a "historically respectable person"?

In his book What is History, EH. Carr demonstrates how history is such a politically fraught subject, and all definitions are open to conflicting interpretations. Does the court's criticism of Rahul Gandhi not encroach upon the fundamental right to freedom of speech and expression ?

Therefore, even if the Supreme Court has adjourned the hearing till 23 August - because Kunte's lawyer didn't turn up in court, it would be worthwhile to think about the intersection between history, its interpretation, and the freedom of expression, and where the trio can meet.