Harping on quota again, is Nitish Kumar sowing seeds of a life after BJP?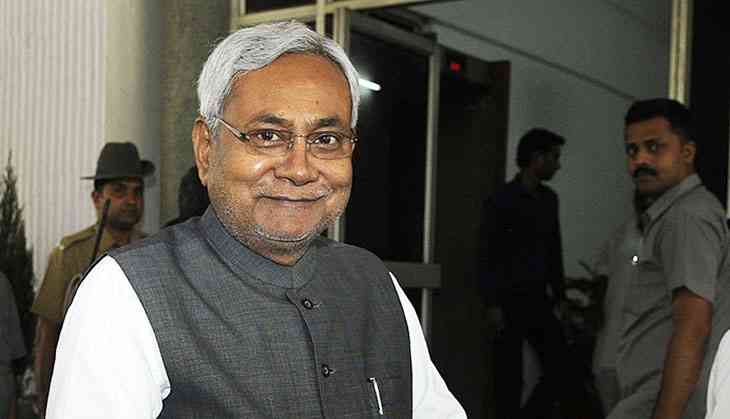 (Photo by Sonu Mehta/Hindustan Times via Getty Images)
Two years after attempting to initiate a nation-wide debate on prohibition, Bihar Chief Minister Nitish Kumar has set another proverbial cat among the pigeons. Reservation in the private sector is an issue that Kumar is committed to as a leader of the backward classes, but his current ally, the Bharatiya Janata Party (BJP) is deeply uncomfortable with it.
Rashtriya Swayamsevak Sangh (RSS) Chief Mohan Bhagwat's comment on the need for reviewing reservation policy had rocked the BJP's boat in Bihar in the Assembly polls in 2015. Kumar's then-ally Rashtriya Janata Dal's Chief Lalu Prasad Yadav left no stone unturned in telling people that Bhagwat's statement was a clear indicator of BJP's intent to do away with reservations.
Bhagwat's statement was not a spur of the moment remark. RSS and BJP have had a long history of opposing quotas. What then explains Kumar's grand-standing on the issue knowing fully well that it will put his ally on the mat?
The unpredictability of his political manoeuvres is only one part of it.
Nitish said during a public interaction programme on 6 November that he was of the opinion that "there must be reservation in private sector too" and that "there must be a debate on this at the national level".
His statement came in the wake of a minor stir created by his cabinet's decision to make it mandatory for any government department outsourcing work to a private company to have a 50% quota in hiring the workforce.
Kumar's stress on altogether extending the quota system to the private sector is an extension of the premise on which the Cabinet order is based. He himself explained that the provision was in keeping with the Bihar Reservation Act and that those who were criticising it had "very little understanding" of the issue.
The suggestion has been supported by the opposition. Rashtriya Janata Dal (RJD) has long been a votary of quotas in the private sector and the party's national spokesperson Manoj Jha told Catch, "Though Nitish Kumar is not with us, we are glad to note that he has learnt something from us. Its a cause that we whole-heartedly support, along with the demand to release caste-related data of Census 2011."
Interestingly, census caste data is an issue on which the JD(U) is not as vocal as it should be, given BJP's obvious discomfiture with releasing it. If Kumar is not vocal about that because of the BJP, what calculation has he made to publicly back the idea of quotas in the private sector?
An RJD leader in Bihar told Catch on condition of anonymity that Kumar doesn't appear as much at ease with his present allies as he was in the Grand Alliance. That's something that Yadav had also said a day earlier, asserting that the CM had "no say" in his own government and he had fallen into BJP's "trap".
A source in Bihar Congress also confirmed that BJP ministers are indeed forcing Kumar to cede ground to them. He specifically cited a recent function where an essential service, launched by Kumar a few months ago, was re-launched by a BJP minister in his cabinet.
Kumar, the Congress leader said, has been reduced to a stamp-sized photograph in posters of state government departments held by BJP ministers. Large images of Prime Minister Narendra Modi are now found on such posters, he added.
The RJD source said though Kumar's future moves are hard to predict, it seems that dejected by his own plight in his new alliance, the CM may have started preparations for a life after BJP.
For now, Kumar does not appear to be dropping hints at new alliances. In the same interaction, he expressed support for GST and questioned the RJD chief's "mental balance". However, his call for a pan-India debate on reservation in the private sector is certainly an indicator that something is brewing in his calculative mind.
Edited by Jhinuk Sen