Harish Rawat's masterstroke: choosing Kiccha in the plains as his second seat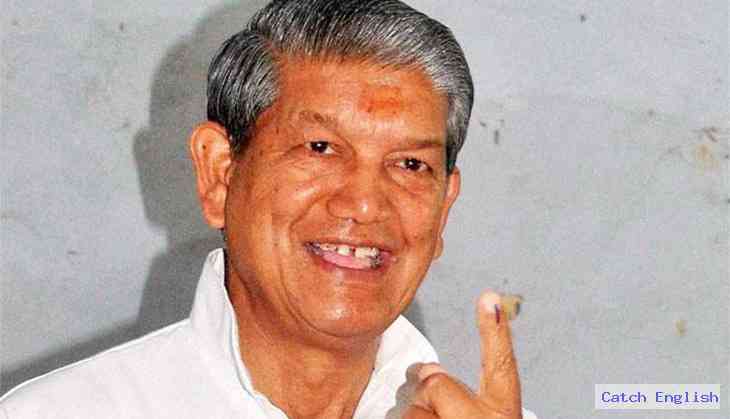 Uttarakhand Chief Minister Harish Rawat is almost single-handedly leading the Congress charge in the poll battle for the state Assembly. A sharp politician who has risen from the Congress ranks, he knows the pulse of the people very well.
That is why he has descended from the mountainous Dharchula constituency to make a great tactical move and contest from Haridwar (Rural) and Kiccha constituencies in the plains and the Terai region of the state. He is the first chief minister of the state to contest from two Assembly constituencies.
While Haridwar has been his political home since 2009, when he won the Lok Sabha poll, Rawat is also going strong on his new turf.
A strategic choice
Rawat's choice of Kiccha can only be described as strategic. The Congress wants to gain maximum mileage in the 20 seats that fall under the Haridwar and Udham Singh Nagar districts. While Haridwar district has 11 seats, Udham Singh Nagar has nine.
It's obvious that Rawat's presence will have an impact on the neighbouring constituencies as well. His presence in Udham Singh Nagar is the most important for the Congress, because it had managed to win only two seats out of nine in the district in 2012, and a third only through a by-poll.
But now, all three MLAs from these seats – Yash Pal Arya from Bazpur, Shailendra Mohan Singhal from Jaspur and Vijay Bahuguna from Sitarganj – are in the BJP camp.
This means that this all-important district was bereft of any senior Congress leaders. And that's why Rawat has landed in Kiccha, to try and defeat sitting BJP MLA Rajesh Shukla, who had defeated SY Khan of the Congress last time.
Congress insiders also say that the party is confident of retaining its hold over the Kumaon region (Rawat's actual home turf), and wants to supplement it with seats from the Terai and the plains. By doing so, it can offset the slight advantage the BJP seems to be enjoying in Garhwal.
The demographics of Kiccha
Kiccha is a cosmopolitan constituency, which features a large number of Muslim voters, a considerable number of Punjabis, as well as migrants from the hill districts of the state.
Rawat has the advantage of having a strong support base among the Muslims, who number around 31,000 of the total 1,19,000 voters. The constituency also has around 19,000 Dalit voters.
Mayank, a Congress worker leading Rawat's campaign in Kiccha, says: "Had he not contested from here, the BSP candidate Rajesh Pratap Singh had a strong chance to win this seat."
Kiccha is primarily an agriculture hub – it has several rice mills and also a sugar mill. The area has seen industrial development since the state came into existence, but requires a push on various other development parameters. This is the reason that the people are supporting Rawat in a big way. "They know that they would be voting for a Chief Ministerial candidate," says Mayank.
People want better educational institutes, so that the local youth can get employment at executive levels in the industries that have come up in the area. They want better health facilities so that the practice of patients being referred to hospitals in Bareilly in Uttar Pradesh and Rudrapur and Haldwani in Uttarakhand itself comes to an end. This is what Rawat has promised them.
This seat once was part of the Rudrapur Assembly seat, which was represented by another Congress heavyweight, Tilak Raj Behad. He is contesting from Rudrapur this time too, but is extensively campaigning for Rawat in Kiccha.
Pramod, a tea seller, says: "It is expected that Rawat will sail through comfortably. After all the people would be voting for a Chief Minister. If he wins, the scenario of the constituency might change for good."
BJP's claims
BJP's Shukla has been playing up Rawat's failure to deliver on the 19 promises that he had made in the constituency in the last 30 months.
Shukla says Rawat ignored Kiccha as it was represented by an Opposition MLA. He claims that despite all this, he managed to get a bridge built on the Gaula river to link villages, and also got roads constructed in the villages. Shukla also claims to have got several schools upgraded.
Shukla is a former Samajwadi Party leader who had reportedly led a campaign for the inclusion of the Udham Singh Nagar district in Uttar Pradesh. But, when the district became part of Uttarakhand, he joined the BJP. In 2007, he contested unsuccessfully from the Rudrapur seat against Behad.
The BJP has been trying its best to corner Rawat by fielding its star campaigners here. Rawat, too, is leaving nothing to chance. He has got Behad as well as SY Khan carrying out an extensive door-to-door campaign here.