Gujarat results: Why turnout data may tell us more than exit polls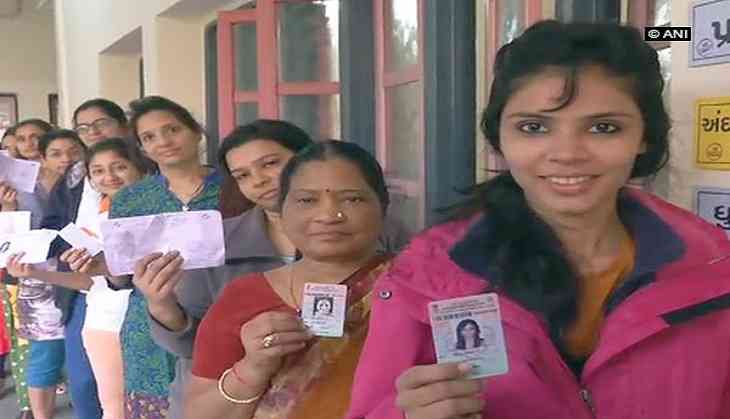 The Election Commission on Friday released the complete constituency-wise turnout data for the Gujarat Assembly elections. The final turnout combining both the phases of polling was 68.4%, a fall of 2.9% from the 2012 figure of 71.3%.
The fall in turnout is surprising, given that this was a toughly fought election between the ruling Bharatiya Janata Party and a rejuvenated Congress.
However, the fall wasn't uniform. It was particularly drastic in parts of rural Saurashtra – for instance the turnout fell by 13.4% in the Bhavnagar Rural constituency and in Gondal by 11%.
On the other hand, the highest increase in turnout was 5.1% in Rajkot West, where Chief Minister Vijay Rupani is contesting.
Minor increases or decreases in turnout often take place in a particular constituency. But if the dip or increase is inordinately high or spread across several constituencies in a certain region, it could be of political significance.
Let's take a look at some of the constituencies that witnessed either a drastic fall in turnout or a significant rise.
Turnout fell in Leuva Patel & Koli dominated seats
In 26 out of 48 constituencies in Saurashtra, the turnout fell by over 5% compared to the 2012 Assembly elections. All of these are rural or semi-rural constituencies.
The fall in turnout is particularly acute in seats that are dominated by the Patidar community.
Gondal
District: Rajkot
Patidar population: 50%
Fall in turnout: 11%
Dhoraji
District: Rajkot
Patidar population: 44%
Fall in turnout: 7.5%
Kalavad
District: Jamnagar
Patidar population: 22% Leuva Patel
Fall in turnout: 7.8%
Jamjodhpur
District: Jamnagar
Patidar population: 27%
Fall in turnout: 9.3%
Lathi
District: Amreli
Patidar population: 27% (22% Leuva Patel)
Fall in turnout: 8.7%
Manavadar
District: Junagadh
Patidar population: 32%
Fall in turnout: 7.3%
Amreli
District: Amreli
Patidar population: 21% Leuva Patel
Fall in turnout: 5.9%
Dhari
District: Amreli
Patidar population: 31% (24% Leuva Patel)
Fall in turnout: 7%
Savarkundla
District: Amreli
Patidar population: 26%
Fall in turnout: 5.6%
Botad
District: Botad
Patidar population: 21%
Fall in turnout: 10.9%
Dhrangadhra
District: Surendranagar
Patidar population:25%
Fall in turnout: 5.5%

Most of these seats are dominated by the Patidar community, particularly Leuva Patels. Agrarian unrest is extremely high in these seats, especially regarding the supply of water and the condition of cotton farmers.
The fall in turnout in rural areas isn't restricted to Patidar dominated seats. This could be seen even in areas dominated by the OBC Koli-Patel community.
This was most evident in Bhavnagar district where out of 16 lakh voters, Kolis are a little less than 4 lakh, which means close to 25%.
A cluster of seats in the rural parts of Bhavnagar district witnessed a dramatic fall in turnout. It fell by 13.4% in Bhavnagar rural, 10.9% in Palitana and 9.3% in Gariadhar, all seats where Kolis are present in significant numbers. Besides Kolis, the seats also have a presence of Karadiya Rajputs who were on the warpath with the BJP in the run-up to the polls.
Another Koli-dominated seat where the turnout dipped was Jasdan in Rajkot district. Kolis are around 40% in this seat and the turnout fell by 7% compared to 2012.
Some of the seats where the turnout dipped are ones where Keshubhai Patel's Gujarat Parivartan Party had significant support in the last elections. For instance, GPP's Gordhan Zadafiya got 40% of the vote in Gondal, where he lost to BJP's Jayrajsinh Jadeja.
In Dhari, GPP got 31.6% votes and actually won the seat with a narrow margin.
It got substantial votes in Kalavad (24.6%), Amreli (9.7%), Lathi (10%), Savarkundla (10.7%), Khambalia (9.9%), Gadhada (8.7%), Palitana (8.2%), Talala (7.5%), Dhrangadhra (7%) and Manavadar (6.9%) as well, seats which saw a significant fall in turnout this time.
The fall in turnout in Leuva Patel dominated seats and GPP's areas of influence is related as Leuvas were the main support base of the party.
Therefore it appears that BJP has lost a chunk of its Leuva Patel votes, but it hasn't necessarily gone to the Congress. It seems that several older Leuva Patels and women chose not to turn up to vote. Many of these constituencies also have a huge gap in the turnout of men and women. For instance in Jamjodhpur in Jamnagar district, the turnout for men is 70.6% but for women it is 59.9%, a gap of almost 11%. Compared to 2012, the turnout for women fell by 12% in this seat compared to 8% for men.
It is no coincidence that the turnout has fallen in the other Leuva Patel stronghold: Surat city. Many of the traders, particularly in the diamond polishing business, are Leuva Patel migrants from Saurashtra who have retained their linkages in the villages. This reflects in their political choices as well. Here are some of the Patidar dominated seats in Surat city where the turnout has fallen compared to 2012.
Kamrej
Patidar population: 61% (51% Leuva Patel)
Fall in turnout: 7.1%
Varaccha Road
Patidar population: 60% (40% Leuva Patel)
Fall in turnout: 6%
Karanj
Patidar population: 43% (30% Leuva Patel)
Fall in turnout: 8.8%
In certain seats, changing party loyalties of candidates could also have resulted in a fall in turnout.
In Balasinor in Mahisagar district, sitting MLA Manish Chauhan defected from the Congress to the BJP and is contesting on a BJP ticket, whereas in Sidhpur in Patan the sitting Congress MLA Balvant Rajput shifted to BJP but wasn't given a ticket. In these seats the turnout fell by 8.1% and 6.5% respectively.
Similarly in Morva Hadaf in Panchmahal district, the turnout fell by 7.8%. In 2012, the seat was won by Congress' Savita Khant who died on the day the results were declared. The Congress lost the bypoll to Nimisha Suthar of the BJP. But BJP has denied the sitting MLA the ticket. Congress on the other hand has given the seat to Chhotubhai Vasava's Bharatiya Tribal Party instead of fielding Khant's son Bhupendrasinh, who is now contesting as an independent.
Where the turnout increased
The highest increase in turnout is in Rajkot West where CM Rupani is contesting. It is possible that the prestige factor of electing a CM may have driven many voters, which is good news for Rupani.
However, he is also facing a strong fight from a strong Congress candidate Indranil Rajyaguru, who is a popular figure in Rajkot city. The seat also has 27-28% Patidar voters and this was reflected in Hardik Patel's huge rally in the area in the end of November.
Interestingly, the turnout has increased in a few Kadwa Patel strongholds in Mehsana district, which is sharp contrast to the Leuva Patel dominated seats in Saurashtra.
Unjha
Patidar population: 42% Kadwa Patel
Rise in turnout: 2.3%
Visnagar
Patidar population: 29% Kadwa Patel
Rise in turnout: 1.1%
The only Leuva Patel dominated seat where the turnout has increased is Dabhoi in Vadodara district, where senior Congress leader Siddharth Patel is contesting against Sailesh Sotta of the BJP. Leuva Patels are over 20% in the constituency.
Then there are several seats where the OBC Thakor community is dominant that have witnessed an increase in turnout.
For instance, in Kheralu in Mehsana district where Thakors are almost 30% and Kadwa Patels are also present, the turnout increased by 3.3%.
Another Kshatriya and Thakor dominated seat where the turnout increased substantially – by 3.4% - is Dahegam in Gandhinagar district. The Congress has been winning in the area since 2002, except for a bypoll in 2010.
Other Kshatriya and Thakor dominated seats where the turnout increased are Vav (3.7%), Kankrej (4.4%) and Tharad (0.6%) in Banaskantha district and Prantij (2.3% increase) in Sabarkantha district.
Similarly, it also increased in the OBC and Patidar dominated Viramgam and Sanand seats in Ahmedabad district by 3.7% and 3.5%. Last time, both seats were won by the Congress, which has relied on OBC Koli Patel, Thakor and some Patidar votes.
The turnout increased in several seats reserved for STs.
Dangs
District: Dangs
Increase in turnout: 3.9%
Khedbrahma
District: Sabarkantha
Increase in turnout: 2%
Jhagadia
District: Bharuch
Inrease in turnout: 0.5%
Mandvi:
District: Surat
Increase in turnout: 0.4%
Kaprada:
District: Valsad
Increase in turnout: 0.4%

Jhalod
District: Dahod
Increase in turnout: 0.4%
Dahod
District: Dahod
Increase in turnout: 0.4%
Chhota Udaipur
District: Chhota Udaipur
Increase in turnout: 0.3%
Tribal dominated seats are in complete contrast to rural Saurashtra in terms of female turnout. Here the turnout for women is more or less the same as men. In fact, in ST reserved seats like Umergaon in Valsad district, Morva Hadaf in Panchmahal district, Jhalod in Dahod district and Dangs, more number of women turned up to vote than men.
The turnout also increased in a few pockets with a sizable Muslim population.
Wankaner
District: Morbi
Muslim population: 24%
Increase in turnout: 0.6%
Mehmedabad:
District: Kheda
Muslim population: 15%
Increase in turnout: 0.7%
Danilimda
District: Ahmedabad
Muslim population: 48%
Increase in turnout: 0.9%
Surat West
District: Surat
Muslim population: 12%
The increase in voting percentage in these seats could be due to higher voting in Muslim pockets or due to a counter polarisation. The latter could be the case in Surat West and Wankaner, where the Congress fielded Muslim candidates and there was a communal whisper campaign.
Two seats in Ahmedabad rural with around 15% Dalit population – Dholka and Daskroi – also witnessed an increase in turnout of 1.9% and 3.0% respectively.
What could this mean?
The fall in turnout in Leuva Patel dominated areas of Saurashtra but an increase in the Kadwa Patel dominated areas of Mehsana could indicate that the Patidar Anamat Andolan Samiti has been more successful in mobilising Kadwa Patel votes for the Congress. This could indicate a few reverses against the BJP in Mehsana.
In the Leuva dominated seats of Saurashtra, the BJP's vote share seems to have fallen, but it hasn't moved towards the Congress as much as in North Gujarat. The party may be able to wrest a few closely fought seats from the BJP in this region.
The fall in turnout in areas dominated by Kolis and other OBCs in Saurashtra isn't good news for the BJP as the party was counting on a counter mobilisation of these communities to offset its losses among Patidars. This counter mobilisation doesn't seem to have taken place to the extent the BJP would have wanted.
There is a definite consolidation of Kshatriya and Thakor votes towards the Congress, which can be seen from the increase in turnout in seats dominated by the community. However, the presence of rebels in seats like Kankrej, Vav and Tharad could make its fate uncertain.
Tribal dominated areas have continued to register high turnouts across Gujarat, with the exception of Morva Hadaf due to poor candidate selection by both parties. Whether the tribal vote has stayed with the Congress as predicted by most pre-poll surveys or moved to the BJP, as predicted by the exit polls, could decide who wins Gujarat in the end.