Gujarat polls: Javadekar made more than one faux pas defending BJP on the jobs front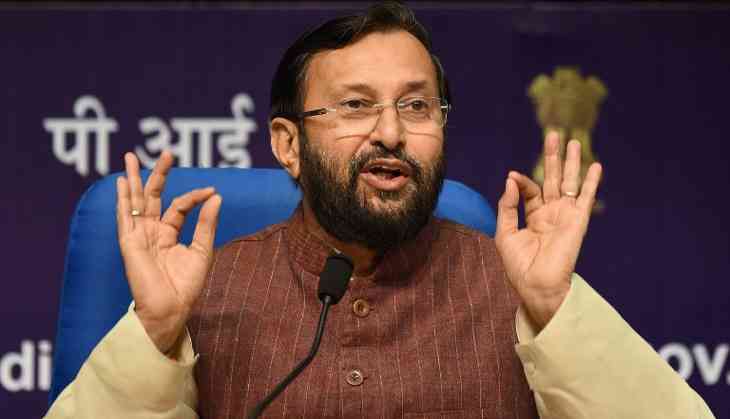 (AFP PHOTO/SAJJAD HUSSAIN)
The BJP should think twice before sending Union Minister Prakash Javadekar on election campaigns again. His comments made at BJP's Gujarat Gujarat Gaurav Maha Sampark Abhiyan in Ahmedabad on 12 November were nothing but a long list of factual inaccuracies and diversionary interpretations. If exposed by the Opposition, such slips could prove to be costly for the party at such a crucial juncture.
Bad data
Trying to defend the Narendra Modi-government's miserable track record on generating jobs, Javadekar devised a pretty novel indicator of employment generation – provident fund accounts. He said that in the last one year itself, one crore new provident fund accounts had been opened and this meant that at least one crore new jobs were created.
What is novel about this is that the Ministry of Employment has a Labour Bureau whose data is usually cited to throw light on the jobs scenario in the country. That a union minister is citing provident fund statistics instead of those put out by the Labour Bureau can mean only two things – either the Bureau is not doing its job under this government or its findings are not favourable.
The Bureau's three quarterly reports estimate that between 1 April 2016 and 1 January 2017, the number of workers in the country increased by a total 2.31 lakh.
The Economic Survey 2016-17 also cited the Bureau, saying that between December 2014 and December 2015, "overall employment increased by 1.35 lakh. Interpreting the Bureau's findings, the survey said "employment growth has been sluggish". The aggregate employment rate stood at 5%.
An analysis done by IndiaSpend says the total number of jobs created in the first three years of the Modi government would be only 15.11 lakhs, nearly 39% less than the 24.7 lakh jobs created during the three previous years.
The think-tank Centre for Monitoring Indian Economy has already talked about the poor job scenario.
It is disingenuous on the part of Javadekar to ignore all this evidence and talk about PF accounts to support a fallacy that his government wants to sell.
Among his other defences put out at the event was the claim that the government has started a "national career portal" and "introduced apprenticeship programme for youths". How launching a website and "apprenticeship programmes" can be presented as evidence of employment generation is anybody's guess.
His third statement was actually shocking, making one wonder if it was a slip of the tongue. The minister reportedly stressed on the importance of jobs created in the "informal" sector. This sector is home to about 90% of the country's workforce but no government takes pride if its numbers swell. That's because, as the name suggests, this sector does not offer formal jobs.
Jobs in this sector are contractual or temporary and do not offer any protection to the workers, including regular salary, job security, leaves, insurance and provident fund. Further, demonetisation and the introduction of the Goods and Services Tax (GST) are widely believed to have caused a widespread decline of jobs in this sector from November 2016 onwards.
Off the mark
Javadekar's political jibes were also off the mark. Trying to hit out at Congress Vice-President Rahul Gandhi, he said, "If anybody who has become unemployed in Modi's rule, it is people like the Congress vice-president."
Politically, Gandhi has only gained in stature in the last few months and it is Modi and his party men who should be thanked for it. These days, it is common to find half a dozen union ministers issuing press statements to counter one statement made by Gandhi.
Javadekar also alluded to the UPA government awarding the Gujarat government (under Modi's leadership as chief minister) for employment generation. Unwittingly, this comparison showed BJP's present leadership in poor light by harking back on the times under Modi. It also ended up showing Congress in positive light, diluting the allegation of bias against Gujarat under Modi that the latter regularly cries foul about.