Gujarat polls: How Congress has made BJP face the music this Navratri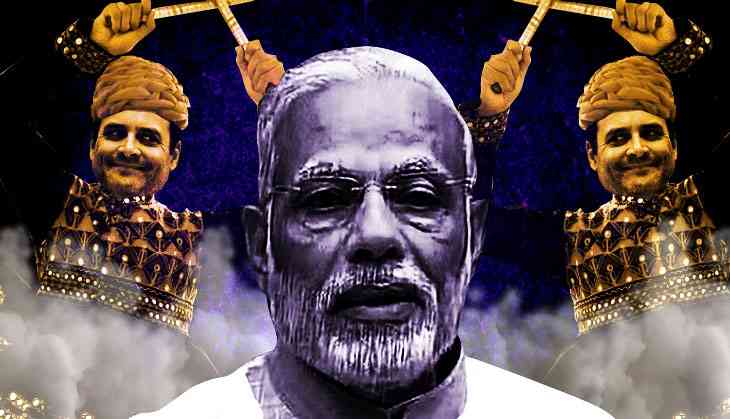 This time around, Navratri has been different in Gujarat as politics has kept pace with revelry. Blame it on the excitement or a change in strategy, parties have decided to depart from the precedent of avoiding politics during Navratri.
To begin with, Congress held a three day trip of its vice-president Rahul Gandhi to the politically important region of Saurashtra that accounts for almost one-third of Gujarat's Assembly seats. And during these three days, he addressed the people, interacted with them and also made it a point to visit five major religious sites that draw maximum devotees during Navratri.
These include climbing 1000 steps to the Chamunda temple on the hilltop in Chotila, Khodaldham in Kagvad village of Jetpur where Leuva Patels have built a grand temple of their community deity Khodal Ma, Jalaram Bapa temple in Virpur, Dasi Jivan temple in Ghoghavadar village near Gondal which is a pilgrimage centre of Dalits and the Lord Krishna Temple in Dwarka.
Observers say that when the Congress had organised his trip during Navratri, it was being seen as a wrong move given the fact that politics has always taken a break during the festive season. But he managed to draw a 'good response' and the Congress' effort did not go as a waste.
Traditionally, politicians have restricted themselves to either planning out their strategies during Navratri or making appearances at Garba events. They know that with the festivities on, there is no point organising public rallies that are seen as a show of strength. Hence they show up at the Garbas in their respective constituencies trying to establish a direct contact with their voters. Quite often they are known to attend no less than ten Garbas on daily basis.
Even when Modi was chief minister, he was known to visit several Garba venues. Ever since his victory in 2002, he used Navratri as a major image-building event for Gujarat and his government. His government organised Vibrant Gujarat Investor's Meets during Navratri and Modi often participated in Maha Aartis.
But the turbulent political scenario this time has kept the BJP government led by Vijay Rupani on its toes. The officials were called on a Sunday during Navratri to declare an enhanced Minimum Support Price (MSP) for groundnuts to woo the farming community. The government also scheduled a meeting with stakeholders from the Patidar community on Tuesday in its effort to bring back the agitated Patels to their fold.
Even the Patidar leader Hardik Patel is going around addressing the public during the Navratri this time around.
"On the last three occasions, people were clear about the BJP having a distinct edge over the Congress and knew that Modi was invincible. Hence, they gave precedence to celebrations. But with the political scenario changing fast, over the last few weeks, no one wants to miss the action," said a political observer.
Meanwhile, politics has made its presence felt amid the revelry also albeit with a difference that it is the BJP that stands at the receiving end this time.
Last time, BJP had made use of folk singer Arvind Vegda's 'Garibi Hatao' song to hit out at the UPA 2 government at the centre. The song said that while giving the slogan of Garibi Hatao (remove poverty), the alphabet 'I' had been put wrongly and it was the poor that were being removed. It went on to say that life in Gujarat was the best.
There was another one by Vegda named 'Monghwari no paro' that had talked about rising prices where the singer pointed that the UPA leaders had tackled the impact of inflation on themselves by indulging in scams while the people have been left to fend for themselves.
The Congress had come up with a parody of Vegda songs later and used them for a radio campaign but it did not yield any results.
This time it is a role reversal. The social media campaign on 'Vikas gando thayo chhe' (Vikas has gone mad) that hits out at the development claims of Modi and the BJP, has gone on to take the form of a Garba song.
A social media campaign has been unleashed with the tagline 'Maara haala chettri gaya' (I have been duped)
These garbas are going viral across Gujarat as well as the other states putting the BJP leadership to a lot of embarrassment. Alongside these two Garbas, the song Why This Kolaveri Di?' that had gone viral six years back has also come back to haunt the BJP in the form of a parody that goes 'Why did Vikas gando thayo ji' (Why did Vikas go berserk?).
It remains to be seen how the BJP and its social media army tackle this onslaught in the run-up to the polls. Till then, Navratri in Gujarat moves towards the pinnacle of revelry surrounded by political tunes.