Gujarat polls: BJP's losses in Saurashtra reflect a bigger picture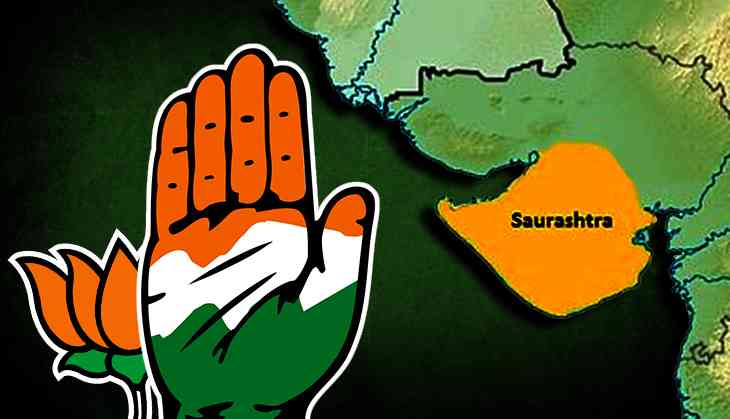 The Saurashtra region in Gujarat has predominantly been a BJP stronghold. Even though the BJP has clearly won the state with at least 100 seats out of 182 in the legislative assembly, the Congress has managed snatch away a late number of seats in the BJP bastion.
Of the 48 constituencies in the Saurashtra region, the Congress was able to win 29 and BJP 18. One seat was won by the Nationalist Congress Party (NCP) in Kutiyana. The Congress was also able to convert 16 previously BJP won seats.
In turn, the BJP was able to convert only four of Congress's previously won seats. The Congress party was also able to convert two seats that had been previously won by Gujarat Parivartan Party (GPP).
A breakdown of how the vote was divided in Saurashtra's 11 districts:
Amreli:
In Amreli district, the Congress defeated BJP in all five constituencies. In two of these constituencies - Savarkandla and Rajula, where the BJP won in the 2012 legislative assembly polls - it was Congress that came out on top. Moreover, senior Congress leader Paresh Dhanani retained his seat of Amreli by beating BJP's Bavkubhai Undhad by 12,029 votes.
Junagadh:
In Junagadh district, Congress has defeated BJP in four out of five constituencies. Congress won the seats of Junagadh, Manavadar and Mangrol that were previously with BJP. It also won Visavadar, where Harshadkumar M Ribadiya of Congress beat Balubhai Kirat Patel to win a seat which had previously been with GPP. In Keshod, BJP's Devabhai Malam beat Congress and retained his seat.
Jamnagar:
In Jamnagar district, Congress won three out of five constituency seats. In Kalavad and Jamjodhpur, Congress's Pravinbhai Narsibhai Musadiya and Kalaria Chiragbhai Rameshbhai won previously BJP won seats respectively. Dharaviya Vallabhbhai Veljibhai retained the Congress seat from Jamnagar Rural. However, in Jamnagar North, Jadeja Dharmendrasinh Merubha retained his seat but this time from the BJP. He previously won the constituency from the Congress in 2012.
Bhavnagar:
In Bhavnagar district, Congress was able to win two out of seven constituency seats in Talaja and Garidhar. BJP was able to retain four seats it won previously in 2012 in Mahiva, Bhavnagar Rural, Bhavnagar East and Bhavnagar West. In Palitana, BJP's Baraiya Bhikhabhai Ravajibhai beat Congress's Rathod Pravinbhai Jinabhai who had previously won the seat in 2012.
Porbandar:
Senior BJP leader Babubhai Bokhiriya, who was accused in an illegal mining scam, retained his seat from Porbandar by beating Arjunbhai Modhvadiya by a margin of just 1,855 votes. Nationalist Congress Party's only win in the region came in the form of Jadeja Sarmanbhai's second-time win in Kutiyana.
Rajkot:
Congress was able to retain two of its seats out of the eight constituency seats in the Rajkot district, in Jasdan and Dhoraji. In Dhoraji, Hardik Patel close aide and former Patidar Adolan Saurashtra convener Lalit Vasoya beat BJP's Haribhai Patel by 25085 votes. Senior Congress leader Kunvarjibhai Bavaliya beat Dr Khodabhai Boghara by 9277 votes in Jasdan. However, the BJP was able convert two previous Congress seats in Rajkot East and Jetpur.
Surendranagar:
Congress was able to convert three BJP seats in the district in Cholita, Dhrangadhra and Dhasada. Congress' Bhalajibhai Solanki was able to closely defeat BJP's Speaker Ramanlal Vora in Dhasada. In Limbdi, Senior Congress leader Somabhai Gandalal Koli Patel was able to retain his seat by defeating the BJP by 14,651 votes.
Morbi:
In the three constituencies in Morbi district, the Congress was able to win all three seats, two of which they were able to convert from BJP in Morbi and Tankara. In Wankaner, senior Congress leader Mahamadjavid Pirzada was able to retain his seat.
Dwarka:
Out of the two constituencies in Dwarka district, Congress's Vikrambhai Ahir was able to convert a previously-won BJP seat in Khambalia. Virambha Pabubha of the BJP was able to retain his seat in Dwarka constituency.
Gir Somnath:
The Congress won all four constituencies in Gir Somnath district. Malabhai Mohanlal of Congress beat BJP's Rambhai Vadher by 14,535 votes in Kodinar. In Una, Congress's Panjabhai Vansh retained his seat by winning with a margin of 4,928 votes.
Botad:
In the two constituencies in Botad district, Congress's Pravinbhai Maru won the Gadhada seat which was previously won by the BJP in 2012. In Botad constituency, BJP's Saurabh Patel is leading against Dhirajlal Kalathiya of the Congress party with a margin of 906 votes.