Gujarat polls: AAP roadshow attracts crowds but it is little more than a spoiler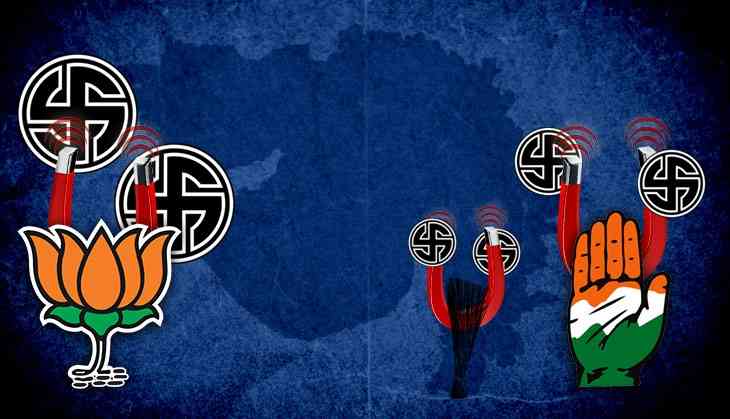 After suffering major setbacks in Punjab, Goa and the Delhi civic polls, Aam Aadmi Party (AAP) is hoping to reverse its electoral fortunes by contesting the upcoming Assembly elections in Gujarat due to be held in December this year. With only two months left for the elections, AAP launched its election campaign in the state with a roadshow on Monday to mark the 148th birth anniversary of Mahatama Gandhi.
Reports suggest that the party is also expected to name its first list of candidates for 20-odd seats during the course of this week. Though Monday's road show turned out to be a massive show of strength for AAP but experts and political analysts are not convinced whether this would necessarily translate into votes and predicted the party will face a Goa like rout in the western state.
Earlier in 2017, AAP contested all seats in Goa and failed to win even a single seat with 38 of its 39 candidates even losing their security deposits. "It would be a great feat for AAP if even 10 of their candidates manage to secure their deposits," said Yatin Oza who was previously with BJP and then joined AAP only to quit it later.
Blaming AAP for its flip flop policy over contesting Gujarat elections, Oza said that party had "big momentum" till last year but the strings of defeats in Goa and Punjab forced them to give up their plans. Earlier, AAP had decided to not contest Gujarat polls but changed their decision on the insistence of its local leadership.
"This confusion has made people look for alternatives and the senior leadership is to be blamed for this mess. With only two months left for polls, AAP is dreaming of making a significant impact in these polls. If they would have not taken their foot off the accelerator in July last year, they would have been able to create some sort of following. But people of Gujarat no longer see them as a political force that can take on BJP," Oza pointed.
Former JNU professor and Ahmedabad based political analyst Ghanshyam Shah too is of the view that AAP has failed to mobilise support and create its political presence in the state. Shah said, "Theoretically, AAP's support comes from the middle class but this class is very negligible in Gujarat. Moreover, AAP is seen as an anti-corruption outfit but corruption is not an election issue at all."
Shah claimed how people have just lost faith in BJP government and there is lot of dissatisfaction amongst voters and AAP has not offered any positive programmes that the people of Gujarat can look forward to. "It seems they are contesting elections just for the sake of it," said Shah while adding that AAP's presence will only benefit BJP as it would divide anti-BJP votes.
Experts remain divided over who would win the elections but unanimously agree that a divided Opposition can be the deciding factor in these elections. "BJP will win with less votes and less seats," said another Ahmedabad-based political analyst Prakash Shah. Explaining his stand, Shah pointed how the likes of AAP, NCP, Shankersinh Vaghela's Jan Vikalp will eat into votes that could have gone to Congress.
"If the Opposition was united, it would have been a direct contest between BJP and the Opposition with the former sure of losing its iron grip over the state. BJP has reached a saturation point in Gujarat but the Opposition parties are ensuring that the saffron party returns to power despite people being so anti-BJP," he added.
Blaming Congress for not playing the role of a responsible Opposition party, Shah said that it should have ensured that there was a united front to take on the BJP which is certainly on back foot. He said, "To defeat BJP in its bastion would have had a great impact on 2019 but these parties are squabbling amongst themselves and do not see the bigger picture." he added.
Ghanshyam Shah too agrees with this assessment that it would have been ideal to have some sort of political understanding but "politics doesn't work like this". He too is of the opinion that a divided Opposition certainly makes it easy for BJP to register yet another win in the state.
However, Oza is convinced that Congress will form the government winning more than 50% of the seats in the 181 member Assembly. According to his assessment, Congress would have crossed 120 seats if AAP, NCP and Jan Vikalp had not been in the fray.
"These parties will play spoiler in more than 20 seats. However, BJP will still lose Gujarat. There is lot of dissatisfaction amongst the people against the central government and not particularly against the state government," he informed.
His argument rests on the fact that Congress has gained significant hold in Saurashtra, Kutch and north Gujarat which alone will see the party getting 90-odd seats. He cited Congress' social media campaign and its decision to rope in tribals, Dalits, Pattidars, minorities, among others in its fold to topple BJP's two decade long rule in the state.
Meanwhile, after the success of the first leg of his election campaign in the state, Congress vice president Rahul Gandhi will tour central Gujarat from October 9 to 11. Rahul's three day yatra will start from Mahemdavad, Ahmedabad and end in Vadodara.