Goa polls look rocky for BJP as it ends long alliance with MGP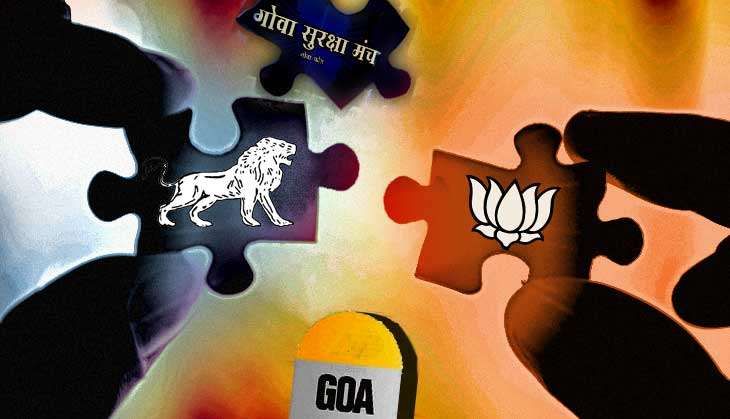 The BJP has brought the curtains down on its four-and-half-year long alliance with Maharashtrawadi Gomantak Party (MGP) in Goa that goes to poll early next year. In a significant move, Goa Chief Minister Laxmikant Parsekar sacked two MGP ministers from his cabinet over their outbursts directed at him.
The Goa chief minister faxed a communication to Governor Mridula Sinha seeking removal of PWD Minister Ramkrishna Dhavalikar and his brother Factories and Boilers Minister Pandurang Dhavalikar under Article 164 (1) of the Constitution of India. Parsekar has kept the portfolios with him for the time being.
The uncertainty over the alliance began with MGP leader Sudin Dhavalikar accusing Parsekar of pushing the state backwards by 10 years during his two-and-a-half year rule. Seeking immediate removal of Parsekar, Dhavalikar also threatened not to fight elections with BJP under the leadership of the incumbent chief minister.
Responding to it, Parsekar has asked the MGP leader to "resign and go" if he feels suffocated in the alliance.
Speaking to reporters in Goa, Parsekar said, "Sudin Dhavalikar is no one to set the agenda for me. If he feels suffocated in the state government, he should resign and go, and then make a public statement against us."
Track record
Interestingly, the MGP is considered to be a habitual offender when it comes to withdrawing support from alliances. In fact, it was part of the 2007 Congress-lead government and withdrew support just prior to polls.
The Dhavalikar brothers are known for holding crucial portfolios in successive governments. In 2012, MGP contested assembly elections in alliance with BJP and won three of the 40 seats.
Political pundits claim there is more to the rift than meets the eye. Blaming the MGP for the feud, BJP leaders accused Dhavalikar for punching above his weight.
"MGP was arm twisting the BJP for more seats. Moreover, if they come to power, they will take Goa back to the stone age," said BJP legislator Micheal Lobo who also hinted at possible back door talks between MGP and newly formed Goa Suraksha Manch (GSM).
In fact, GSM had proposed an alliance with MGP for the forthcoming assembly polls but nothing has materialised as yet. But, the likelihood of the two joining hands is not being ruled out considering they share a similar political agenda.
The MGP agenda
MGP survives on its non-Brahmin Hindu votes and its politics revolves around uplifting the economically deprived Hindus. Having been in the shadow of the BJP and the Congress for the last 14 years, MGP was the first party to rule Goa after it gained independence from Portuguese in 1961.
With support of non-Brahmin Hindus, who make for a large part of the poor Goans, the party ruled the state for 17 years after liberation and then lost out to the two national parties who had far greater resources.
Between 1999 and 2005, most Hindu voters began supporting the BJP leading to a drastic drop in MGP's electoral fortunes. Alliance with the BJP gave the saffron party a chance to eat into MGP's vote share and the party has since been a shadow of its former self.
Widely considered to be an ultra nationalist party, MGP has time and again raised the issue of promoting regional languages in schools and also withdrawal of grants to English medium schools.
The GSM agenda
Even the GSM has made this their agenda for the upcoming elections after its founder, Subhash Velingkar, revolted from the RSS over these differences.
Velingkar, Goa's former RSS chief, then persuaded many RSS leaders to quit in protest over the language issue and join GSM.
With the intent of eating into BJP's vote share in the upcoming elections, GSM had been wooing the MGP to join hands to ensure BJP's ouster in the coastal state.
Confirming these developments, former RSS leader and North Goa chief Krishnaraj Sukerkar, now with GSM, informed Catch about the ongoing discussions. He, however, claimed that Dhavalikar has become over ambitious and has his eyes set on the chief minister's berth.
"He has been a powerful minister in the last four governments and now dreams of becoming the chief minister. We have been trying to tell him that whoever wins more seats will get the chief ministerial berth, but he is adamant. He is saying unlike the GSM, the MGP is an established party and that it should have a major say in decision making. We obviously disagree," Sukerkar said.
However, he agreed that the coming together of the two parties could spell doom for the BJP's ambitions of staging a comeback.
Losing support
What is causing further discomfort to the BJP is how majority of RSS cadres are tacitly backing Velingkar - which was evident in his rallies across Goa. Absence of these foot soldiers responsible for wooing voters at the booth level will certainly hurt the BJP.
"Just like BJP is dependent on Shiv Sena for votes in rural Maharashtra, BJP in Goa was banking on MGP which is still widely respected. With RSS cadres extending support to GSM, BJP will witness a drastic drop in its vote share," said Sukerkar.
If this wasn't enough, AAP's rising clout in Goa is also causing heartburn to the BJP - especially in the urban pockets. Even Sukerkar acknowledges that AAP is gaining wider acceptance amongst urban Goans. However, he ruled out any marked impact in the rural areas.
He added, "They have made significant gains in urban Goa largely because of their social media campaigning and radical views. The rural areas are still dominated by caste based politics where AAP has failed to make inroads. At the district and taluka level, local leaders have significant hold and since AAP has dearth of such leaders, it is unlikely to have any impact."