Goa Assembly polls 2017: The hot seats, the names you need to know & the numbers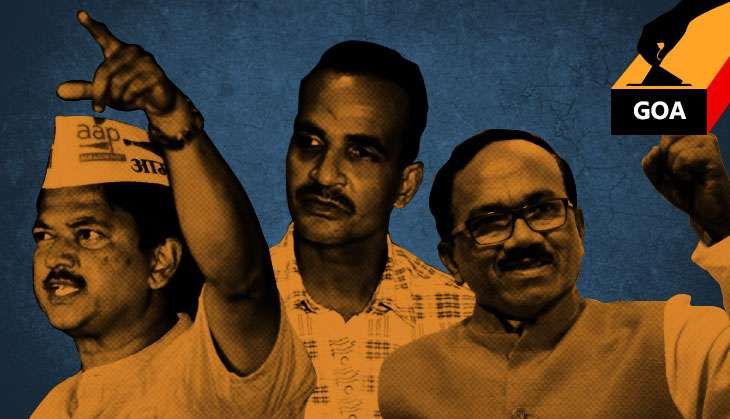 Elections to the 40-member Goa State Assembly are scheduled for 4 February 2017. This election is like no other in Goa's history.
The ruling Bharatiya Janata Party (BJP), which has 21 seats, will battle not just the principal opposition, the Congress, which it had decimated in the 2012 elections, but also the Aam Aadmi Party (AAP) and its own former allies.
AAP is a major player in the state, presenting itself as an alternative to the lacklustre tenures of the Congress and BJP.
The BJP will also fight its (former) Hindutva friends, the Mahrashtrawadi Gomantak Party (MGP), Shiv Sena and Goa Suraksha Manch (GSM), a party set up by rebel volunteers from the state's Rashtriya Swayamsevak Sangh (RSS).
The 2007-2012 Congress and 2012-17 BJP governments, though, have been the most stable in Goa, where governments have frequently fallen because of shifting alliances, horse trading, and a number of opportunist independent MLAs.
The politics
- Subhash Velingkar, an influential leader of the RSS, rebelled against the organisation in mid-2016 by declaring that he would form a political party to defeat the BJP. He was unhappy that the BJP did not follow up on a promise to stop funding to English-medium schools. Velingkar was sacked from the RSS and now runs the Goa Suraksha Manch.
- The BJP's alliance with the Maharashtrawadi Gomantak Party, the state's oldest regional outfit, broke after MGP withdrew its support last week.
- MGP leaders Sudin and Deepak Dhawalikar, who were cabinet ministers, had begun publicly criticising Chief Minister Laxmikant Parsekar, blaming him for taking the state back by 10 years. Sudin is an aspirant for the CM's chair.
- MGP has teamed up with Velingkar's Goa Suraksha Manch, besides the Shiv Sena, naming Sudin as their CM candidate.
- The Bharatiya Janata Party has remained quiet about naming Chief Minister Laxmikant Parsekar as their CM candidate.
- Congress, which has just nine seats in the current assembly, has reluctantly agreed to a tie-up with the Nationalist Congress Party and two regional outfits Goa Forward and United Goans Party (UGP).
- Goa Forward is headed by Vijai Sardessai, a former Congress legislator. UGP is led by Atanasio alias Babush Monserrate, an MLA whom the Congress had recently expelled.
- Two influential Congress MLAs joined the BJP ahead of the elections: Mauvin Goudinho (once called corrupt by Manohar Parrikar) and Pandurang Madkaikar (political enemy of Siddesh Naik, son of union AYUSH minister Shripad Yesso Naik.)
The numbers
- Goa has around 11 lakh or 1.1 million voters. That's just about one-tenth of Delhi's electorate and 1% of Uttar Pradesh's.
- Each constituency has just around 30,000 votes. A candidate needs about 10,000 to win.
- In the 2012 elections, there were more women than men who voted. Still, only one woman MLA was elected, Jennifer Moserrate, who contested from her husband Babush Monserrate's seat.
- In the last elections held in 2012, BJP won 21 of 40 seats with a 34% vote share. Congress won 9 seats but with a 30% vote share.
- BJP's then alliance partner MGP had won 3 seats, while 5 independents were elected - at least three were supported by the BJP.
- Of the 40 seats, only one seat, Pernem, is reserved for candidates belonging to the Scheduled Caste. It is currently represented by BJP minister Rajendra Arlekar. He hasn't been re-nominated, yet.
Hot seats
Panaji
The state capital was once held by then-CM Manohar Parrikar. After his elevation as the Defence Minister, BJP's Siddharth Cuncolienkar won it. Now, political strongman Babush Monserrate of United Goans Party has declared his candidacy for the seat, in a possible Congress alliance. AAP's candidate is Valmiki Naik. Parrikar's former aide Krishnaraj Sukerkar is contesting from Goa Suraksha Manch.
Cuncolim
AAP's CM candidate Elvis Gomes is nominated from this South Goa constituency. It is currently held by BJP's Rajan Naik.
Cumbarjua
This picturesque constituency in central Goa has been on fire after sitting Congress MLA Pandurang Madkaikar joined the BJP, whose workers are disgruntled. So is Union minister Shripad Yesso Naik, whose son Siddesh was aspiring for a ticket.
Mandrem
CM Laxmikant Parsekar represents this seat in North Goa.