From 'shehzada' to 'packet': Modi's best monikers are reserved for the Congress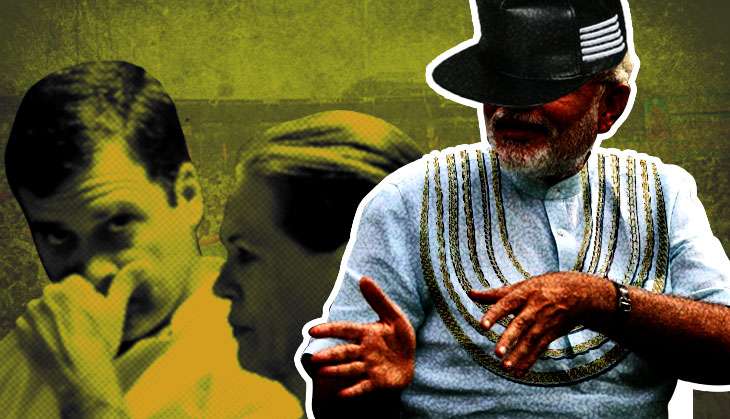 Prime Minister Narendra Modi was at his theatrical best on 22 December in Varanasi. He didn't just slam Opposition leaders for opposing the demonetisation move, he also took personal potshots at some of them, mocking former prime minister Manmohan Singh, former finance minister P Chidambaram and Congress vice-president Rahul Gandhi.
Modi did not name Gandhi but his references made the target of his attack quite clear. He referred to a "young leader" of the opposition who has just started giving speeches, and also copied a particular gesture used by Gandhi often.
Also read - A game of one-upmanship: Modi and Akhilesh try to outdo one another in Varanasi
Modi also called Gandhi a "packet", one where you can't tell what's inside it, in 2009. Now we know clearly, he added.
But Modi's penchant for using colourful expressions for opposition leaders isn't new. Here are five other such monikers used by him over the years:
1. Shehzada
Modi has often referred to Gandhi as "shehzada". In an electoral speech delivered in Chhattisgarh in November 2013, he urged Congress president Sonia Gandhi to pass on her mantle: "Let the shehzada take over. And let's see then if he can deliver round-the-clock electricity to Chhattisgarh".
2. Madame
It is Modi's preferred moniker for Sonia Gandhi and he has used it repeatedly. He did it in the above mentioned speech too, as well as in a speech in poll-bound Kerala in May 2016. "Madam Soniaji, aap ki yeh himmat? You are spreading lies... about the helicopter deal," he said.
3. Miyaan
In December 2012, when Modi was chief minister of Gujarat, he addressed Ahmed Patel, Sonia Gandhi's political secretary, as 'Miyaan'. "Ahmed Miyaan Patel wants to be the chief minister. He is trying hard and there may be a conspiracy," Modi said about Patel at an election rally.
4. Jijaji
Modi's choicest expressions are reserved for the Congress party's first family and those close to them. He and other leaders from his party are fond of also referring to Rahul Gandhi's brother-in-law Robert Vadra as "jijaji". "You heard about 2G, now hear about jijaji. Do we have to leave this country in their hands?", Modi said in an election rally in Chhattisgarh in April 2014.
5. 50-crore-rupee girlfriend
In 2012, Modi had addressed late Sunanda Pushkar, who was then in a relationship with union minister Shashi Tharoor, as "50-crore-rupee girlfriend". Allegations had surfaced against Tharoor that he had negotiated "sweat equity" for Pushkar for the Kochi IPL team in 2010. "Wah kya girlfriend hai. Apne kabhi dekha hai 50 crore ka girlfriend?", Modi had said in a rally in Himachal Pradesh.
Colleagues in arms
Modi also appears to have rubbed off some of this talent on to his closest confidante, BJP chief Amit Shah.
Shah's contribution in this area was for the person who had been spared such an attack by Modi - Manmohan Singh - and Shah had dubbed him Mauni Baba. "The Congress has not yet decided its leader and prime ministerial candidate for the next year's Lok Sabha elections. Will it be Mouni Baba or Rahul Baba?" Shah said in a rally in West Bengal in November 2013.
Edited by Aleesha Matharu
More in Catch - Not just Indira, here are 6 times Modi blamed others to defend himself
Thank you BJP for showing us that MPs will now call all Muslims terrorists & nobody will flinch