Fresh innings: Samajwadi Party convention held minus Mulayam and Shivpal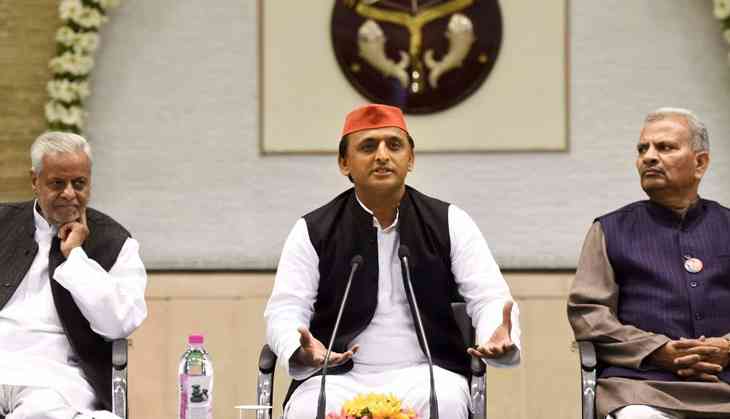 (Arvind Yadav/Hindustan Times/Getty Images)
That Mulayam Singh Yadav and Shivpal Yadav no longer play an important role in the Samajwadi Party, which the former founded in 1992, became all the more clear Saturday when the party's state convention in Lucknow was held without both leaders.
The two were not invited because they are "not primary members of the party" anymore, but as per past practice, they could have been invited as special invitees.
All the same, Akhilesh ensured that Mulayam was not a forgotten topic at the convention as he spoke of how he has his father's blessings to run the party, which he would do with his father's guidance.
"Samajwadi Party has been nurtured by Netaji and many of his colleagues. Many times people ask questions. To them I have only this to say: 'Netaji will remain my father and if his blessings too remain with us then we will take the party to newer heights'," he told the SP workers.
Indirectly attacking Shivpal, he asked Mulayam to be cautious of many fake Samajwadis. These fake Samajwadis conspired to stall the Samajwadi movement and even succeeded once in preventing us from coming to power. But now all party members were aware and their nefarious plans won't succeed again."
In January, Akhilesh and Ram Gopal Yadav had upstaged Mulayam to take control of the party. The patriarch was appointed the party's patron.
Upstaged
The convention was scheduled to pass political and economic resolutions, but those details are yet to be made public as the event was largely ignored by local TV networks, of which Akhilesh was once a darling as it was overshadowed by Prime Minister Narendra Modi's visit to Varanasi.
Many saw in Akhilesh's decision a tit for tat as his father did not extend him or Ram Gopal an invite for the Lohia Trust meeting on Wednesday.
At that meeting, Ram Gopal was removed from the post of secretary of Lohia Trust and Shivpal was appointed in his place.
Azam Khan, who had been invited by Mulayam, abstained from the Lohia Trust meeting and chose to attend Akhilesh's party convention instead.
Azam Khan clarified that Mulayam should not have any misgivings over his presence at the convention. "I have come here only to tell (Akhilesh) that he should strengthen the legacy of Rafeequlmulk. Be the strength of Hindu, Muslim, Sikhs and Christians." Azam addresses Mulayam as Rafeequlmulk.
If the convention had Mulayam's blessings and if Azam was there to advise Akhilesh on taking Netaji's legacy forward then the SP patriarch's scheduled press conference on 25 September may turn out to be a damp squib.
Shivpal is expected to launch a new party, also with "Mulayam's blessings". All eyes would now be on Vikramaditya Marg to see if Mulayam would leave his brother in the lurch once again.
Also significant at the convention was the demand by some workers to expel Shivpal from the party. If Mulayam refuses to back Shivpal, his expulsion would only be a matter of time.
More so, Ram Gopal asked the party workers to beware of bhagwa dharees (saffron donning) as even Raavan had been wearing bhagwa when he abducted Sita. Azam Khan warned Muslims of marginalisation as he urged them to unite or else face the fate of Rohingyas.
The convention also saw Naresh Uttam being appointed state president for a second term.