Forget Naidu. Parties will seek our support in 2019: Midhun Reddy of YSR Congress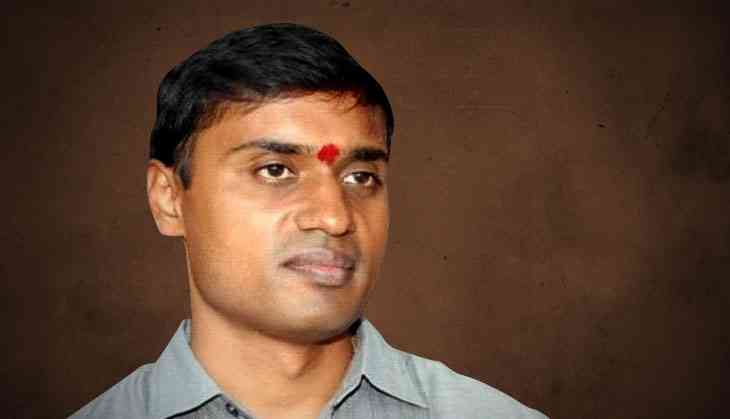 (Arya Sharma / Catch News)
The political circle was still not done analysing the election results in the Tipura, Nagaland and Meghalaya when Andhra Pradesh Chief Minister N Chandrababu Naidu dropped a bomb by withdrawing the two Telugu Desam Party ministers from the Centre. The focus quickly shifted to the demand for special status for the southern status, which was split in 2014 to form Telangana.
The split had been a highly imotive issue that was demonstrated by the way the Congress was decimated in elections then. While Naidu's TDP, allied with the Bharatiya Janata Party, made a killing at the hustings, Jaganmohan Reddy's Yuvajana Shramika Ryuthu Congress Party kept its share of the pie with six of the state's 25 Lok Sabha seats. It also emerged as the chief Opposition party in the state Assembly despite a slew of corruption cases against Reddy, the son of former chief minister YSR Reddy.
On hindsight, his decision to split from the Congress paid off and now the party is back in focus with political turmoil reemerging in the state. Catch spoke to Midhun reddy, a prominent parliamentarian from YSRCP over Naidu's deicison, special status and what lies ahead. Edited excerpts:
Q: The TDP has pulled its ministers from the Centre over special status to Andhra Pradesh but continues to support the NDA at the Centre. Your reaction?
A: It is a classic case of posturing in the wake of the upcoming Assembly elections in the state. Since the TDP has gone back on all its promises, it just want to blame the BJP and quit the alliance.
Chandrababu Naidu is trying to drag this till the end because he is scared he might get into trouble being with the NDA. He is under tremendous pressure back home. The YSRCP has been mobilising support over 'special category status' for the last four years.
Now, Naidu has realised that people have understood that he isn't serious about it. Earlier, he would say that the special package was good and if you would talk about special status he would threaten to jail you.
Since public pressure mounted on him, he made a U-turn. All educated people are inclined towards special status. Now he wants to put the blame on the BJP so that only it suffers from the anti-incumbency.
Anyway, what difference does it make if two junior ministers resign? Only if they resign as members of Parliament and go for byelections, it would pressure the government.
Take the case of Rajasthan: just after the BJP lost the by-polls, it announced loan waiver. Would it have done so if it would have won with a huge margin?
Do you think the special status tag is more important than a well-thought out compensation package?
Everybody, including the finance minister, has been misguiding us. See, the Andhra Pradesh Re-organisation Act, passed in the house, is different from the special category status.
This package they are talking about is part of the Act. Two things were promised. They are just picking up things from the Act and saying this is the package.
Currently, the state is in such a financial mess considering that the debt on Andhra Pradesh since Independence stood at Rs 90,000 crore and in these 3.5 years it has increased by Rs 1.3 lakh crore. If it goes on like this then we will have even more debt considering we still don't have a state Capital.
So debt increased this substantially post-2014?
Yes. All revenue that united Andhra generated was from in and around Hyderabad. People fancied Hyderabad so much that they didn't develop other cities. All development was concentrated there. So, when the state split, Telangana became a surplus state while Andhra suffered.
Why would anyone come to a state which has no infrastructure?
There is no state capital; if you go there (Amaravati), there is just a board and large swathes of empty land. Why would anyone come there to invest or live? In four years nothing happened. they gave Rs 2,500 crore for the capital, the chief minister did nothng except displaying graphics.
Look at the Bengaluru Vidhan Sabha; it was built in just three years. Naidu has wasted four years. He took land from farmers without paying them a penny and called it 'land-pooling'. These farmers are in distress now because as they can't farm. It's a mega scam: all the land surrounding the capital belongs to Naidu and his party men.
Considering you campaigned for special status for years, did Naidu outsmart you by asking his ministers to resign?
We have already declared that on 6 April our Parliamentarins will resign and seek re-election on the issue of special status vs special package. Then Naidu will know.
Why should his ministers resign? He wants to put pressure, but will the resignation of only two ministers make any difference?
We also said "Let's all fight together. Let us put politics apart and ask all 25 MPs to resign."
Just imagine that there were by-elections and the BJP got a drubbing – it woul be disastrous for its 2019 plans.
The support we are getting for infrastructure development is not enough. We might need a similar package next year. Then again we will have to go go beg whosoever is in power. If we get special status, industries will come and we won't have to beg each year.
There are speculations about Jagan Reddy siding with the NDA in the event of Naidu walking out. How do you react?
Why should we run after them? We have clearly said any party that supports our demand would get our support. Let Mamta didi come or let Left Front form the government and we will support them if they help us with special category status. We are not bothered with national politics. We are interested only in the special status.
We will not enter any pre-poll alliance, but support any party who can take our agenda forward.
Does that mean that you will support Congress too if they are in a position to form government?
Only if they are in that situation. but it is unlikely.
Since Reddy faces several criminal cases would he have much bargaining power?
At her peak Sonia Gandhi offered Reddy a central berth and asked him to not leave the Congress. He still did and hence the cases. Reddy knew he would be harassed. It's just vindictive politics.
It is almost like arresting Rajeev Gandhi for allegations against Rajiv Gandhi in the Bofors case.
In most of the cases, the court has adjudged that the officers, ministers and industrialists named were not involved. How is it that then only Reddy was in the wrong? He never signed anything, but was jailed.
Look at Naidu: his voice is on record, trying to buy one of our legislators. All channels aired it where he could be heard asking the MLA to "be free in asking what you want". That was three years ago, but nothing happened. How is the chief minister above law?
This is also a reason why he is not quitting the NDA – there are lots of corruption cases against him.
Why do you think is the BJP not relenting to the demand for special status?
Probably, because it thinks that in the number game, Andhra is negligible.
Also, if they give us the status, Karnataka, Tamil Nadu and Odisha might get upset lots of industries will shift to Andhra if there are benefits. Our huge coastline makes us conducive for business.
But, none of these states have BJP governments.
But these are poll-bound states it wants to win. In Tamil Nadu it doesn't have much of a stake but they are a strongest Opposition in Odisha and Karnataka. Even in West Bengal it is giving a tough run to the Trinamool Congress.
So, what is the way forward for YSRCP?
We want to win at least 20 of Andhra's 25 Lok Sabha seats to be in a position to bargain. If you look at the 2014 elections, the BJP with the Modi wave, the TDP and actor Pawan Kalyan were all there; still their vote share was just 1.2% more than ours. The difference of all votes polled was only about 5 lakh. They have gone back one every promise and we want to exploit that.
What happens after 6 April? Will by-elections be eminent?
Our tenure ends on 4 June, 2019. That' 15 months away. For more than a year's time frame, the Election Commission has to announce by-polls.
Do you think you have lost the perception battle to Naidu? Everyone at the national level thinks he took the lead in demanding special status?
We have been raising this issue for long. But with only six Mps, it was not projected well enough at the national level. But we have won the perception battle in the state.
Wouldn't it have been better had Reddy remained with the Congress?
Well, he wouldn't have been arrested. But electorally, we would have sunk with the Congress. People are still angry with the party for splitting the state.
How do you look at the 2019 elections?
We will play a key role at the Center, considering the BJP will not be as strong as it is. I don't think it will have an absolute majority.
We will certainly play a role. People will come to Hyderabad for us instead of we having to come to Delhi.