Finally coming of age? Rahul sure has a new swag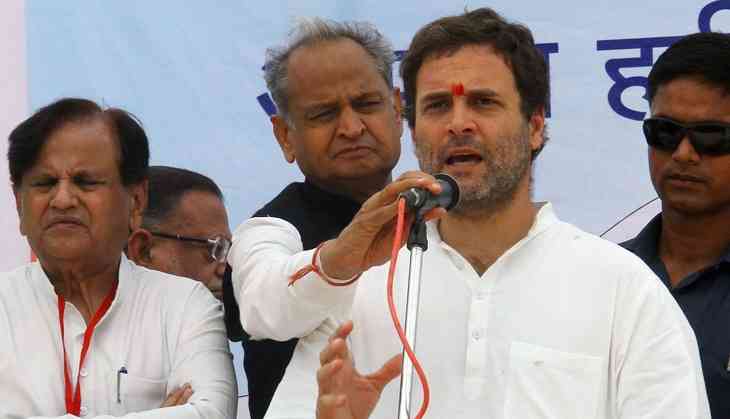 The question has generated curiosity, wonder, dismay, frustration, eventually ridicule for almost over a decade now: 'When will Rahul Gandhi be ready?' – ready to take the full-fledged plunge, to lead his party and then to take on the charismatic Narendra Modi.
Now, for the first time, the Congress vice-president has started to look like a formidable opponent to the seemingly invincible duo of Modi and Amit Shah. That too on their home turf. Rahul visited several places in poll-bound Gujarat around Dussehra. And he is already back for a second round.
Earlier, the Gandhi scion looked confident when he spoke to university students in the United States. His Gujarat trips indicate that was not a flash in the pan. Unlike the Rahul of yore, he doesn't keep himself limited to party officials anymore. More importantly, an observer pointed out, he now listens a lot more.
If on the one hand he met Hardik Patel, who has redefined Patidar politics, on the other he scooped up the 'Vikas gando thayo chhe' trend to take potshots at the 'Gujarat model'. While he did the customary rounds of temples, he also met various aggrieved communities including those displaced by the Sardar Sarovar 'Narmada' project.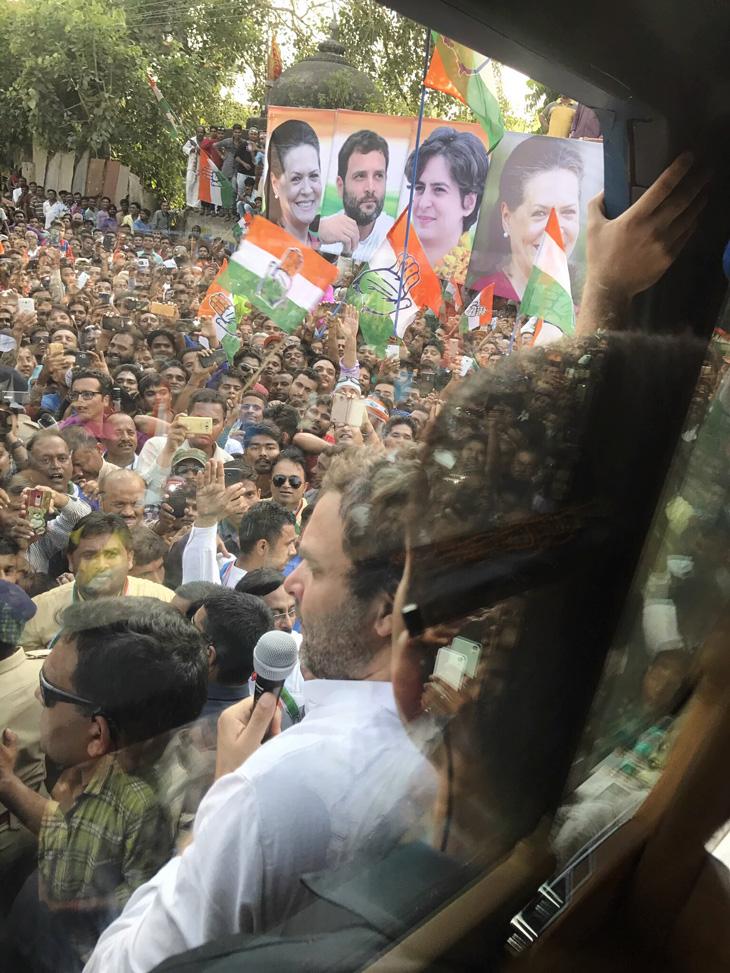 Patrika
The new found mojo reflects in the way Rahul tries to hold conversations with his audience, particularly in poll-bound Gujarat. And his campaign has struck a chord with the people, which seems to have rattled the BJP brass which has gone on an overdrive to ridicule him. Apart from questioning the Congress party's contribution to India's development since Independence, the BJP has consistently thrown in personal attacks.
But the new Rahul refuses to be brow-beaten by cheap remarks about his family or intellect. To the extent that at one of his public meetings in the state he expressed gratitude towards the BJP for drilling sense into him: "I want to thank the BJP because our defeat in the 2014 elections was the greatest thing that happened to me. They beat me and abused me so much that it opened my eyes."
Remarks like his saying that he never wishes to finish the BJP off since it is an expression of the people of India, reflect a degree of maturity in Rahul. On the other hand, when BJP leaders like Siddharth Nath Singh are disparaging and make comments like "Rahul needs to get out of his diapers" only indicate that the saffron party is incapable of engaging in serious political debate.
Even Rahul's harshest critics have been surprised with the new avatar's conduct, demeanour and confidence that has infused a fresh energy into his party cadres. "The way he is holding election campaign meetings in Gujarat or the way he interacts with people is a revelation," said a young Congress leader who is part of the party's election campaign committee in Gujarat.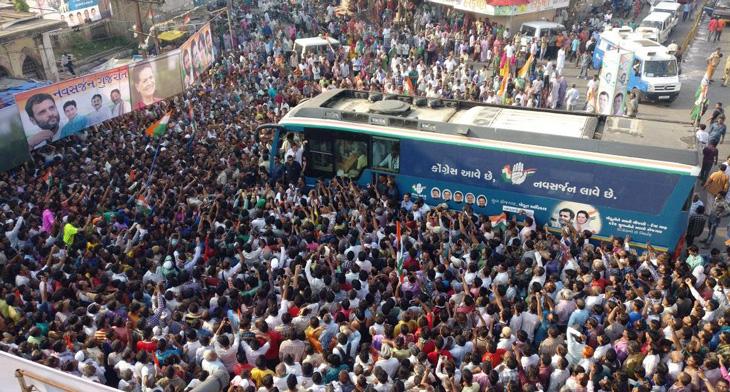 Patrika
The way he has gone about attacking Modi over the issue of the meteoric rise in revenue of a firm owned by Jay, Amit Shah's son, has gone viral. "Amit Shahji's son's company started earning profits after 2014. I don't know whether it was Start Up India or Make in India," he commented wryly.
Modi once referred to himself as the gatekeeper of India. Latching onto that, at one meeting Rahul asked why was the 'Chowkidaar' silent when there was a theft? The crowd just laps it up.
That's a long way from even the Assembly elections earlier this year when Rahul would fiddle with microphones on the dais – speaking, but not really connecting with the masses, something Modi did successfully.
Have you heard of Start up India? Have you heard about the icon of start up India #JayShah?: Rahul Gandhi in Gujarat pic.twitter.com/InVgqW21P0

— ANI (@ANI) October 10, 2017
For the first time, @OfficeOfRG thoroughly impreses me :) https://t.co/TwaWO1uhK6

— Vineeth Jose (@vineethjose) October 10, 2017
Amazing transition from Beti Bachao to Beta Bachao

जय शाह-'जादा' खा गयाhttps://t.co/LjB7VJtkQB

— Office of RG (@OfficeOfRG) October 10, 2017
Markedly different from his previous election rallies, his meetings now resemble town-halls where public engagement is the key. That has certainly worked for Rahul, who is tipped to take over as Congress president from mother Sonia soon.
That the BJP is taking the swag seriously was evident when it deployed a dozen Union ministers to deflate his speech at University of California. It was evident on Friday again when top BJP leaders lauched a diatribe at the Gandhi pocketborough, Amethi. The list included party President Shah, Uttar Pradesh Chief Minister Adityanath and Union minister Smriti Irani. The jibes included something as predictable as Rahul wearing "Italian sunglasses".
Somewhere social media has also played a part: from being a victim Rahul has transformed into someone with greater acceptability. He may still widely trail Modi but between July and September, his Twitter following increased by 10 lakhs.
A new Congress social media team led by Divya Spandana must have delivered, but again the overhaul was Rahul's decision.
Away from the virtual world, he is also working on choosing his own team in states and even the Congress Working Committee. Several state units have already resolved to let him chose their leaders. Once Rahul and his new team takes over, the Congress is expected to launch an all-out war against the Modi regime's shoddy handling of the economy.
Edited by Joyjeet Das