Fault lines exposed: Congress, NCP rapidly losing ground in Maharashtra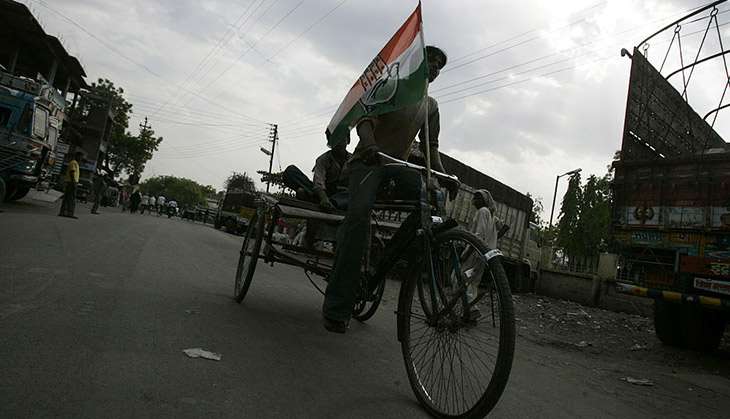 Photo by Prasad Gori/Hindustan Times via Getty Images
Once widely accepted by the urban and rural voters alike, the grand old party Congress is rapidly losing ground in Maharashtra.
If the outcome of the recently conducted Municipal Council and Nagar Panchayat elections is anything to go by, the Congress, that once ruled the state at all levels, has slipped to the third spot with Bharatiya Janata Party (BJP) in first and Shiv Sena in second place.
The party's loss in the civic polls has brought several other serious problems with it. The defeat has exposed the fault lines in the Congress that has been ruling Maharashtra for most of the time since the formation of the state.
Similarly, the Nationalist Congress Party (NCP), which Sharad Pawar formed after parting ways with the Congress over the issue of Sonia Gandhi's foreign origin when she desired to become prime minister, too has started feeling the tremors as the unrest among its leaders has come to the fore, and how!
A former Member of Parliament allegedly opened fire at party spokesperson and his supporters during a cadre meeting at Chembur two days back.
Losing out
Many Congress stalwarts such as Radhakrishna Vikhe Patil faced humiliating defeat on their home turf. Though a few leaders like Narayan Rane and Balasaheb Thorat managed to retain their hold, majority of the party leaders have lost miserably.
The defeat has given voice to many unhappy souls in the party. Despite victory in his home turf, Rane has fired salvo at party leadership, while Thorat and Patil have questioned each other's loyalty to party.
The humiliating defeat of leaders who were uncrowned kings of their respective districts has exposed the fault lines in the Congress. The unrest is brewing across the party leadership and cadre, which is now a serious cause of concern.
"My candidates won just because of our hard work in the constituency. Party leadership had no role in the victory in my district. The leadership failed to act on time and campaign with all its might, due to which we could not retain number one position in the state," said Rane.
But, he is not the only one who was vocal against party leadership. His colleague and former revenue minister of Mahasrashtra Balasaheb Thorat, too has locked horned with Leader of Opposition in state Assembly and senior party leader Radhakrishna Vikhe Patil.
Both Thorat and Vikhe Patil hail from Ahmednagar district. While Thorat retained his strong hold in Sangamner taluka, Vikhe Patil bit the dust in his Shirdi taluka of the district.
After the results were announced and picture was clear, like Rane, Thorat also launched a fiery attack on Vikhe Patil for his poor performance leading to massive loss to the party.
"Vikhe Patil is known to have good relationships with BJP leaders. And because of that he did not put up fight and gave his constituency to the BJP on a platter. It is high time that Vikhe Patil decided about his loyalties," Thorat said.