False certificate: the soup thickens for BJP & Smriti Irani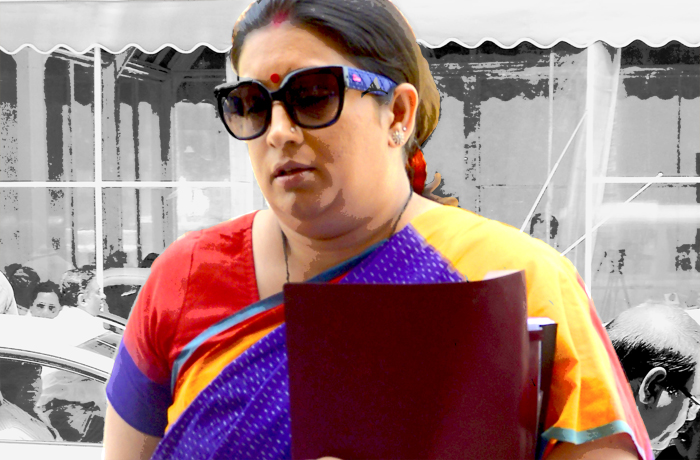 The cases
A Delhi Court has taken cognisance of a complaint against Union HRD Minister Smriti Irani.
She is accused of listing different educational qualifications in three affidavits since 2004.
This now allows for Irani to be summoned by the court. She could be tried as an accused.
AAP member and Delhi law minister Jitender Tomar had to quit after it was alleged that he had faked his qualifications. He is currently in jail.
The difference
AK Manan of the Bar Council of Delhi, who filed both cases against Tomar and Irani, says the latter\'s offence is comparatively minor.
Tomar has been booked under the IPC for cheating, forgery and criminal conspiracy.
Future tense
The court will now listen to the evidence against Irani on 28 August; it may also summon her.
If the judgment is in her favour, the BJP could come out all guns blazing against the AAP.
If the court finds her guilty, it could take the heat off some other AAP MLAs whose affidavits are also under the scanner.
A Delhi court on Wednesday took cognizance of a complaint against Union Minister for Human Resource Development Smriti Irani, for allegedly misrepresenting facts in her election affidavits.
This paves the way for Irani to be summoned by the court as an accused and eventually face trial for submitting false educational qualifications in her affidavits.
This couldn't have come at a worse time for the BJP, which is already fighting allegations of corruption against ministers Sushma Swaraj and Vasundhara Raje.
Delhi itself has been a bitter battle zone between Aam Admi Party and the BJP.
With this development, the BJP has lost any advantage it had over AAP, ever since former Law minister of Delhi Jitender Singh Tomar was accused of furnishing false educational affidavit and forging his degrees.
This is because since Tomar's arrest on 9 June, three of BJP's senior leaders - Maharashtra's education minister Vinod Tawde, Ram Shankar Katheria and Smriti Irani have been accused of faking their degrees.
Among the three, the stakes are highest for Irani, who is the senior-most and, ironically, the minister responsible for education in the country.
The Delhi court hearing has now fixed 28 August to hear evidence against Irani, and on that day it is likely to decide whether Irani be made an accused or not.
As things stand Irani is not much better placed that Tomar, the final verdict on whom is still pending.
The background
At first, it would have seemed curious that BJP didn't come out all guns blazing against Arvind Kejriwal in the Jitender Tomar fake degree case. In the past, the party has demanded the Delhi chief minister's resignation on lesser issues.
In April this year, the BJP had brought out hundreds of its supporters to protest outside Kejriwal's house regarding a road rage incident. Water cannons had to be used by the police to control the protestors. Yet, this time around, no such thing has happened.
The reason could be that the party realises there's a time-bomb ticking for its central government too. If Irani is found guilty of violating Representation of the People Act, she can be imprisoned for six months, have to pay a fine, or suffer both.
She is alleged to have lied on oath about her educational qualifications and falsified some other facts while filing her nomination papers for contesting elections. She has done this not once, but three times.
If Irani is guilty of violating Representation of the People Act, she can get six months in jail, a fine, or both
There are some similarities between the case of Tomar and that of Irani.
They also have a common bete noire - A K Manan, chairman of the Bar Council of Delhi (BCD). It was Manan who had filed a complaint against Tomar for lying to the Bar Council, based on which Tomar was later arrested. And it is Manan again, as counsel for freelance write Ahmer Khan, who is fighting the legal case against Irani.
Different degrees of culpability
Manan says Irani has filed three election affidavits since 2004 and has mentioned different educational qualifications in all three.
"In her affidavit for the April 2004 Lok Sabha election, she claimed to have completed her BA in 1996 from Delhi University (School of Correspondence). In another affidavit on July 11, 2011, for contesting the Rajya Sabha election from Gujarat, she mentioned her highest educational qualification as B. Com. Part-I from the School of Correspondence, Delhi University. And, in the affidavit filed for nomination for the 16 April 2014 Lok Sabha poll from Amethi in Uttar Pradesh, she claimed that she completed B. Com. Part-I from School of Open Learning, Delhi University," he points out.
Manan is building a case against Irani by invoking Section 125A of the Representation of the People Act. The Act provides for punishing a candidate for failing to furnish information, providing false information and for concealing information during the process of nomination.
If Irani is convicted on any of these three counts, she can attract a maximum sentence of six months' imprisonment, or a fine, or both. The court has reserved its order for 24 June.
"It is a matter for concern. that a person who is to steer and guide the future of the country herself appears to have made false statements in a statutorily prescribed affidavit, thereby rendering herself to prosecution," the complaint against Irani states.
While AAP has now distanced itself from Tomar, it has nevertheless accused the BJP-led central government of following double standards - one for Irani and another for Tomar.
"Are there two sets of laws in this country? How come the law doesn't apply to Smriti Irani or Ram Shankar Katheria (another BJP leader accused of forging documents) but is used with gusto against Delhi's law minister? Modi can take all the cases against ours MLAs and hand them over to a fast track court and jail those who are found guilty. But what about his ministers?" asks AAP leader Sanjay Singh.
BJP's Delhi unit chief Satish Upadhyay, on the other hand, claims his party has never been defensive on the Irani issue. "We have never been on the back foot on this count. It is our duty to keep the pressure on AAP whenever they make a mistake and we will continue to do so," he declares.
Tomar in bigger trouble
While both Tomar and Irani are accused of providing false educational qualification details, Tomar's offense is more severe, explains Manan.
"As far as Tomar's case is concerned, he has forged documents, filed fictitious documents and a false affidavit before the Bar Council, for which he is paying a price. Smriti Irani, on the other hand, has just filed false affidavits," he explains.
This explains why Tomar has been charged under several provisions of the Indian Penal Code - Sections 420 (cheating), 467 (forgery), 468 (forgery with purpose of cheating) and 120 (B) (criminal conspiracy). The accusation against Irani is far less severe.
Larger ramifications
Irani and her party members are possibly waiting with trepidation for Delhi trial court's next hearing on the matter. If the court finds her guilty, it would be a major embarrassment for the party. The quantum of her sentence is another issue altogether.
The future of several AAP MLAs, who are accused of filing false affidavits, may also be affected by the outcome of Irani's case.
A judgment in Irani's favour could see more AAP MLAs being put under the police scanner with a thorough evaluation of their election affidavits filed. Conversely, a decision against Irani could make the protest and outcry against these AAP MLAs fizzle out.
The story was updated on 24 June.