Even before taking over, Rahul Gandhi is turning around the way Congress works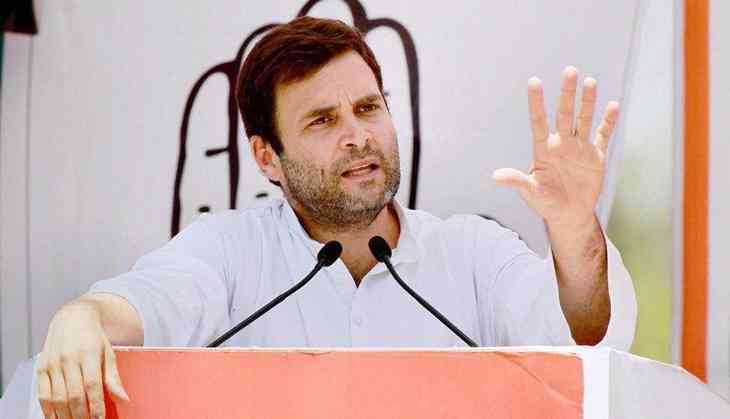 With Congress expected to elect its next President by 15 October, Rahul Gandhi's elevation as party president is a foregone conclusion. The party vice president would replace his 71-year-old mother Sonia Gandhi who has been the president for the last 19 years. Many leaders are expecting major changes in the party's strategies with Rahul at helm of affairs.
However, recent incidents suggest that Rahul has already taken complete control of the party and is no longer shy of taking some bold decisions. Certain organisational decisions and political strategies reflect a clear departure from party's previous decision making process which lacked clarity and even far-sightedness.
The very obvious proof of Rahul's decisive imprint on Congress reflected in how the party managed to quell the Bihar rebellion which was threatening to create a split in the state unit. The timely sacking of Bihar state unit chief Ashok Choudhary, which left him completely powerless, is being praised by senior party leaders in the state.
With Choudhary out, senior party leaders have ruled out any defections from the party for the time being. "It was a bold decision which had considerable risks but Rahul gave a patient hearing to state leaders who asked him to go ahead with the move. This is new to Congress which depended primarily on a few leaders to make any decisions. Rahul held a one on one meeting with each legislator separately which helped him make the decision," said a senior Congress leader from Patna.
Even the decision to appoint Kaukab Quadri as acting president till the organisational elections throw up a clear winner is being applauded by the state leadership. "The high command has been proactive on this matter and made serious efforts to reach out to each and every leader in the state to gauge the mood. These series of conversations, which were missing for some time, has yet again rekindled the hope of Congress being ready to take on political challenges and chart its revival in the state," said the leader.
Interestingly, soon after the news reports of rebellion in its ranks surfaced, the party high command sent Jyotiraditya Scindia and JP Agarwal to Patna to hold discussions with all stakeholders. Moreover, the state general secretary in-charge CP Joshi was not part of this team which is a testimony of how the party wanted outsiders in state politics to present a neutral view on the state of affairs.
The grand old party adopted a similar strategy in Odisha where factionalism was intensifying over the restructuring of the state unit. Instead of sending general secretary in-charge BK Hariprasad, the party sent Gaurav Gogoi, Jitendra Singh and Tamrdhwaj Sahu as observers to the state last month to get a sense of the feud in the state unit. These observers suggested complete overhauling of the state unit.
Earlier, Congress had suffered extensively in several states because of the incompetence and favourtism of certain general secretaries who put up their interests first instead of the party. Accused of not sharing the correct political assessment these general secretaries reported to the party high command with glossed up feedback.
The entire north-east region was the worst sufferer of this neglect. The region was left to the wisdom of Puducherry chief minister V Narayanswamy who let rebel factions grow in strength in these states eventually leading to BJP poaching Congress legislators and even forming governments with their support.
Another masterstroke of this proactive approach from the party high command was to finally implement the one man one post policy wherein several general secretaries had to let go off of multiple states and were given only one state to focus upon. Be it Digvijaya Singh, Mohan Prakash, BK Hariprasad, among others, all these senior leaders had to let go off additional charges.
This meant that several new faces were given responsibility of other states which has been welcomed by the state level workers who had been repeatedly raising concerns over general secretaries being over burdened with too many states.
Even Congress' political strategy in Gujarat is beginning to pay dividends which reflected after the party let senior leader Shankersinh Vaghela quit the party along with his supporters. Well aware that Vaghela's exit would create a leadership vacuum in the state right before the Assembly polls, Congress after speaking to other stakeholders decided to take the risk of going to elections without its most prominent face.
Instead of making Gujarat Assembly elections centered around a personality, the grand old party came up with quirky social media campaign which has become quite popular in the state. Later, party drafted a well-planned campaign with Rahul which has received a phenomenal response especially with Patidars, small and medium traders and farmers.
These are encouraging signs for the party which finally looks to be getting ready to take on BJP which has come under severe criticism over its handling of the economy which is in doldrums. And the way, the party has been taking bold decisions, it seems it is on the right path and will certainly improve its electoral performances in the coming months.