Ensuring Congress' win in Punjab will be Prashant Kishor's toughest assignment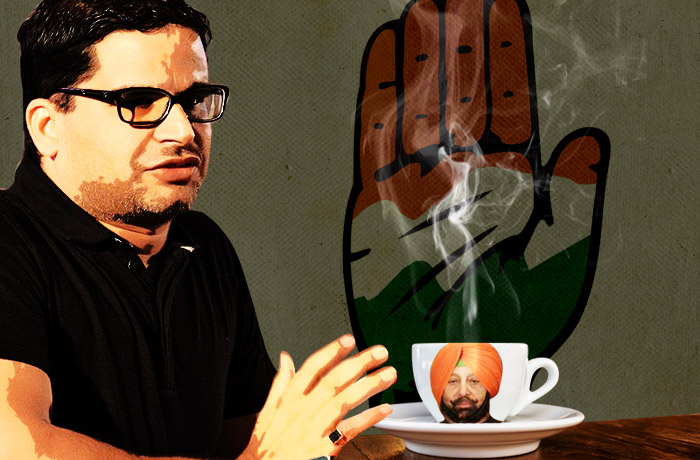 Kishor effect in Punjab
Kishor has introduced forms of campaign that were unheard of in Punjab earlier
The most prominent programme is called \'Coffee with Captain\'
The Congress is also planning to launch a door-to-door campaign to reach out to the voters
The obstacles
The Congress culture, where party meetings often end in complete pandemonium
Infighting and factionalism within the Congress
Placating dissidents within the party
After ensuring election victories for Narendra Modi and Nitish Kumar, out designing a poll strategy for the Congress in Punjab and Uttar Pradesh is proving to be Prashant Kishor's toughest assignment.
In Punjab, which goes to polls early next year, Kishor is burdened with the enormous task of ensuring victory for the Congress. The party was swept out of power in the state a decade ago. And Kishor is slowly coming to terms with the Congress culture of infighting and internal factions.
Replicating his well-tested campaign templates, Kishor has introduced forms of campaign that were unheard of in Punjab earlier, including investing in targeting the youth on the internet and social media.
Kishor has introduced campaign techniques unheard in Punjab. But many feel they are a replica of the campaigns devised for Modi
The most prominent programme is called 'Coffee with Captain'. It aims to bring Punjab Congress president Captain Amarinder Singh among the youth over a cup of coffee. Youngsters are encouraged to ask questions. And it works especially for Amarinder, who never evades a question and has a reputation of tiring out those who question him.
Another initiative that has caught the fancy of internet-savvy Punjabis is the Facebook page named 'Punjab da Captain', which has been getting a reasonably good response. The initiative also had its share of criticism for reportedly offering shopping coupons to those answering a quiz on Amarinder.
Also read: AAP on a roll in Punjab but don't write off Congress and Akalis
The Congress is also planning to launch a door-to-door campaign to reach out to voters. This campaign is again being attributed to Kishor. Amarinder announced the campaign at an interaction with party workers at Sultanpur Lodhi in Kapurthala district.
Old campaigns re-branded?
Kishor is an expert at personality centric campaigns and his strategy revolves around presenting that person as the solution to all the problems of the electorate. This has worked in case of Modi and Kumar. And Kishor is using the same strategy for the Congress in Punjab by projecting Amarinder Singh as the panacea to Punjab's problems.
But there are many who feel that the campaigns such as 'Coffee with Captain' are nothing but a replica of 'Chai pe Charcha' campaign that Kishor had devised for Modi ahead of the 2014 Lok Sabha election. They point out that Kishor must come up with more innovative ideas instead of replicating the old ones.
Kishor is also getting a first hand experience of the Congress culture. He has been witnessing Amarinder's interactions with local-level Congress leaders, which often end in complete pandemonium. He reportedly left one of the meetings midway in Majha area of the state.
Also read: Punjab's Dalits are fighting for land rights, and they are winning
"His task here is different from what it was in the case of Modi and Nitish. With Modi and Nitish , there was hardly any opposition from within the party ranks. It was political opponents from other parties that needed to be tackled. But in the Punjab Congress fire fighting has to begin at home. Kishor has to first put the Congress' house in order before taking on the Shiromani Akali Dal (SAD) and the Aam Aadmi Party (AAP)," said a senior journalist who has been keeping a close watch on the development in the Congress.
"The Congress meetings are nothing but an opportunity for local leaders and ticket aspirants to show their strength. This often leads to unruly scenes at the local levels," said Ujagar Singh, a political commentator from Patiala.
Kishor has been witnessing Congress meetings, which often end in pandemonium. He left one such meeting midway in Majha
He was also skeptical about programmes such as Coffee with Captain: "They are trying to target the youth that has been drawn towards AAP. The programme is good for publicity but what remains to be seen is whether it can get the Congress the votes. In any case what was the point of having one of the programmes at Chandigarh that does not vote in Punjab polls. I feel that it is the ticket distribution that will matter the most both for the Congress as well as AAP," said.
Also read: Campaign season: how AAP is trying to win over Punjab's voters
Kishor has also been tasked to placate a dissidents within the party. He stepped in when former Punjab Assembly Speaker and senior Congress leader, Bir Devinder was suspended from the party after he attacked Amarinder in a newspaper.
Devinder had accused Amarinder of being incommunicado and said that the party was in a state of disarray.
"Unfortunately, the signal has gone out, across the spectrum, as if the Congress now lacks vision, talent, unity and strength... I am of the firm view that though the situation is abysmal, it is not yet beyond redemption. If addressed correctly, the Congress could still be salvaged and geared up to take on the other two stakeholders in Punjab. Destiny would never forgive us if we are unable to liberate Punjab from the Machiavellian manipulations of the present political dispensation. It's a warning bell and wake-up call of 'the time' for the providence of the Congress party," Devinder wrote.
Also read: Congress in doldrums in Punjab: will it manage to ride out the bumpy road?
Kishor reportedly placated Devinder by assuring him more responsibility in the party affairs. He is also expected to do the same with another one of Amarinder's critics Jagmeet Brar who has repeatedly attacked Amarinder.
Observers say Kishor will face such situations at more frequently as the state inches towards the polls. There is also heartburn brewing amongst those who used to manage Amarinder's before Kishor was called in.
Kishor's campaigns have also come under attack from the SAD. Deputy Chief Minister Sukhbir Badal said that only Congress, which has been rejected twice by masses in Punjab, needs such strategies.
More from Punjab in Catch:
Testing the waters: can Badal's belligerence over #SYLcanal save him in '17
Mayawati and Arvind Kejriwal hit the ground in Punjab's Dalit heartland
#Punjab2017: will keeping Sehajdharis out of SGPC help the Akalis?