Draw the parallels: How today's nationalists follow Hitler & Mussolini's playbook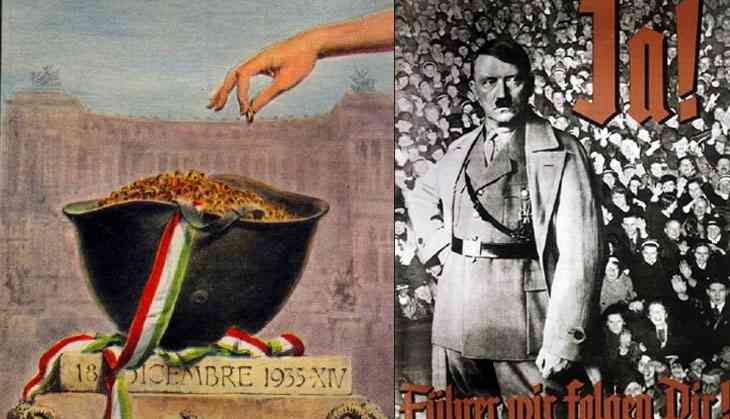 As hyper nationalism begins to reach a fever pitch in many corners of the world, a look back at where such notions have led can be more than just an eye opening experience.

A series of tweets on Twitter from the handle of 'Mustapha Mond', named after a character in Aldous Huxley's Brave New World, gives us a glance into a past hyper nationalistic world where compliance, duty and absolute cooperation with the state was a must.

For those pushing such nationalist agendas, the primary tool of choice to disseminate the message to trigger the masses has always been propaganda. And never was propaganda as insidious as it was during the two Worlds Wars.

Mond's tweets underline how fascist and totalitarian regimes tend to make constant use of patriotic mottos, slogans, symbols, songs and other paraphernalia to drive patriotic frenzy.

In a world which looks to be teetering to the right, one where walls are going up instead of being broken down - the rise of the Hindutva brigade in Narendra Modi's India, Donald Trump's victory in the US, Reccep Tayyip Erdogan's strangling of democracy in Turkey, Rodrigo Duterte's trigger happy rule in the Philippines, and even Brexit are such examples - these tweets come at a pertinent time.

And as 'Mond' says himself, "feel free to draw parallels".
1.This series will showcase some common propaganda messaging used by totalitarian/fascist regimes from Germany, Spain and Italy.

— Mustapha Mond (@PM_Travel_Tours) March 21, 2017
2. Translation: "Yes! Leader, we follow you!"
(Feel free to draw parallels)#Fascism
Actual pamphlets - historians can validate. pic.twitter.com/sf2oZe2fzi

— Mustapha Mond (@PM_Travel_Tours) March 21, 2017
3. Translation: "Fulfilment of this work requires your compliance".
(Feel free to draw parallels)#Fascism#Spain pic.twitter.com/cRXogOQRg9

— Mustapha Mond (@PM_Travel_Tours) March 21, 2017
4. Dec 18, 1935, millions of Italians wl ship their wedding rings to help the war effort; receive in return an iron ring bearing the date.." pic.twitter.com/Ofl0dx3aQi

— Mustapha Mond (@PM_Travel_Tours) March 21, 2017
5. "Health,child protection,fighting poverty,aiding travelers, community, helping mothers"#Germany#Propaganda#Fascism
Draw the parallels. pic.twitter.com/odfTGMqyfg

— Mustapha Mond (@PM_Travel_Tours) March 21, 2017
6. "Crusade: Spain is the spiritual guidance of the world".#Fascism#Propaganda
Pick emotionally touchy issues.
Draw the parallels. pic.twitter.com/5SN9nOFoqs

— Mustapha Mond (@PM_Travel_Tours) March 21, 2017
7. Translation: "Defend him"#Italy#Propaganda#Fascism
Yes, appeal to emotive issues. Children are good. pic.twitter.com/6Y9hHeKbRF

— Mustapha Mond (@PM_Travel_Tours) March 21, 2017
8. "One people, one Reich, One Fuhrer"#Germany#Propaganda
You do see the parallels, right?
A cult figure who will save you ALL! pic.twitter.com/vEP2FL9jsm

— Mustapha Mond (@PM_Travel_Tours) March 21, 2017
9. Translation: "Spain Revived".#Propaganda#Fascism

You still can't draw the parallels? Oh you poor poor darlings! pic.twitter.com/ykkr2zHxP5

— Mustapha Mond (@PM_Travel_Tours) March 21, 2017
10."Black Brigades. Ready yesterday, today, tomorrow.Fighting for the honor of Italy"#Italy#Fascism#Propaganda pic.twitter.com/HUdgy6FfD6

— Mustapha Mond (@PM_Travel_Tours) March 21, 2017
11. Translation: "The guarantee of German military strength".#Fascism#Propaganda
Will attach chains on fascism from earlier now. pic.twitter.com/cCVOtZu4fI

— Mustapha Mond (@PM_Travel_Tours) March 21, 2017
18. Cute. NOT.#Fascism pic.twitter.com/qoM7FMF3d1

— Mustapha Mond (@PM_Travel_Tours) March 24, 2017
20. More on propaganda by #fascists.
Read. And draw your own parallels.https://t.co/j2mALFdlsk pic.twitter.com/QRyR5CiZz8

— Mustapha Mond (@PM_Travel_Tours) April 6, 2017
19. Shudder!!!!!!!!!!!!!!!!!!!!!!!
Both possible and probable. You never know really!https://t.co/zEiYzrO2ni#Fascism

— Mustapha Mond (@PM_Travel_Tours) March 28, 2017