Despite flak from courts, why is BJP bent on rewarding tainted police officers in Gujarat?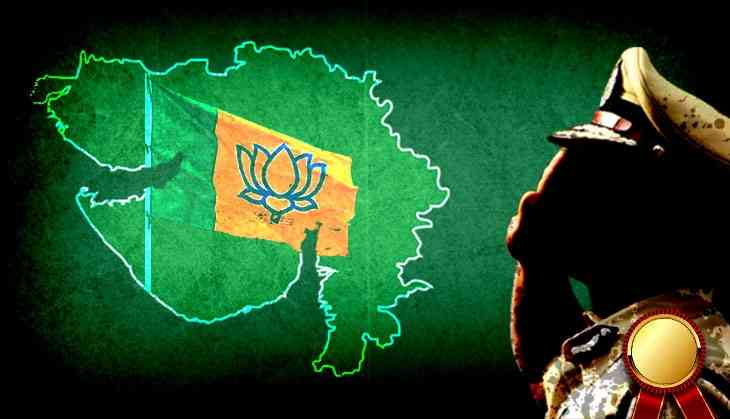 What does the Bharatiya Janata Party (BJP) want to convey by awarding high-profile appointments to tainted Gujarat police officers and politicians accused of crimes like fake encounters?
The question becomes important after two senior but tainted police officers in Gujarat had to resign after Supreme Court questioned their re-appointment. This is not the only case.
The general perception is that despite drawing flak at various levels – right up to the level of the apex court – the BJP has continued with its practice of reaping political dividend.
NK Amin and TA Barot resigned on Thursday after giving an undertaking in SC to demit their posts. They had been posted as Superintendent of Police (SP) at Tapi and Deputy Superintendent of Police (DSP) Railways respectively, post retirement. Both Amin and Barot are accused in the encounters of Sohrabuddin Sheikh and Ishrat Jahan.
Amin, who was allegedly involved in disposing the body of Sohrabuddin Sheikh's wife Kausarbi in 2005 had retired from his post as SP in August 2016 but was re-appointed as SP of Mahisagar district in Gujarat for a period of one year.
Barot was re-appointed as DSP (Railways) at Vadodara for one year, following his retirement.
The move came following a PIL filed by another retired Gujarat IPS officer Rahul Sharma who had challenged their appointments while pointing out that they had serious charges against them.
Not the only ones
Earlier in April this year, it was PP Pandey, who had to step down as Director General of Police (DGP) in Gujarat after this was 'allowed', apparently to avoid an adverse decision from the SC regarding his appointment that had been opposed by former DGP JF Ribeiro.
Ribeiro had contested that an officer out on bail in the Ishrat Jahan fake encounter case could not be appointed to the highest police post in the state.
Pandey was heading the Ahmedabad crime branch when Ishrat along with Javed Shaikh, alias Pranesh Pillai, Amjadali Akbarali Rana and Zeeshan Johar were killed in a police encounter on the outskirts of Ahmedabad on 15 June 2004.
Disturbing trend?
It is alleged that the Gujarat government has tried to 'reward' various police officers who have been facing charges in cases of fake encounters. Some of them got plum postings after getting discharged from the case concerned, while some got promotions before getting discharged.
Sources said that Balakrishna Chaubey had been promoted as a Deputy Superintendent of Police in 2015 while his bail, allowing him to enter Gujarat, was modified only in 2016.
Sources further said that the Gujarat government, while deviating from the norm of giving routine promotions to serving officials facing charges only after their names are cleared in the respective cases, gave these promotions to the likes of Chaubey, NV Chauhan, GL Singhal and Vipul Aggarwal while they still faced the charges.
They also pointed out to the unprecedented case of Barot getting a re-appointment after a break of four years since he had retired while he was in jail.
Sources also pointed out that the IPS officer from Rajasthan, Dinesh MN, who was also an accused in the Sohrabuddin fake encounter case was promoted by the Rajasthan government to the post of Deputy Inspector General and thereafter Inspector General with effect from 9 May 2014. And this was after he had served seven years in jail in connection with the case and was released on bail four days before being reinstated. It was only earlier this month that he was discharged from the case along with another former senior Gujarat police officer DG Vanzara.
In his case, it has been reported that the promotions came because, despite the passage of time, the case was not moving forward.
Innocent until proven guilty
The reports from 2014 quote officials saying that it is accepted in governance that if charges are not framed against any particular officer, he is deemed to be innocent. Also, there is a standard procedure that after three years of suspension, the status of any officer's service is reviewed.
In this review, it was found that the charges against the said officer were yet to be proved. The promotion in his case was long overdue and had hence been affected as a routine procedure.
Those among the top Gujarat police officers who got promotions immediately after being discharged from the courts include present DGP Geeta Johri along with senior officers Abhay Chudasma and Rajkumar Pandiyan.
It is being underlined that this practice of promoting 'tainted' people facing is not only confined to the police department. The biggest example being quoted is that of the BJP president Amit Shah.
"He was declared the BJP's national president in July 2014 while he was discharged from the Sohrabuddin fake encounter case in December 2014," pointed out a senior media person in Ahmedabad.
An interesting aspect that is being stated in the context of the Amin, Barot and Pandey stepping down is that in all these cases, the Gujarat government got them to step down before the Supreme Court could pass an order or strictures in the case.
"This is something that they (the BJP) fear because a formal order with stringent directions can prevent them from repeating this thing and could have other damning ramifications as well. This would put an end to this 'scam' of appointing and reappointing tainted bureaucrats and police officers," pointed out a senior legal correspondent in Ahmedabad.
Rahul Sharma, upon whose PIL Amin and Barot had to step down, feels that there are two aspects related to promotions and re-appointments of tainted police officials. "One is that of corruption where the officials are looking to make up for the money spent in fighting their cases. The second is that they may be having some evidence that can nail their political bosses and this acts as blackmailing tactics," he said.
On the issue of the officials stepping down before a formal apex court order is passed, Sharma feels that beyond a point the courts do not want to embarrass the government and hence they give a warning signal while providing an avenue for an honourable exit.
He also pointed out that formal orders only prolong things as this would mean the government going in for review plea and other legal recourse available.
Advocate Shamshad Pathan, who was initially involved in the Sohrabuddin fake encounter case, feels that by re-appointing and promoting tainted officials and politicians the BJP wants to give out strong political message about its supremacy.
"The message is clear that you can target minorities, kill them in cold blood and even get mobs to lynch them without fear. You will not only be protected but also promoted. In fact, lynching is the new form of fake encounters where you are not answerable to any human rights organisation. You can just get away with a dual face where on one side you say that this should not be done and on the other, you justify saying that the mobs are not under your control," he said.
"This is a part of a deliberate design where enemies are created by the state and a fear is instilled among the masses that you are not safe and secure if we are not there," Shamshad further pointed.
Edited by Jhinuk Sen