Dear Modiji, why should everyone get to say 'Bharat Mata ki Jai'?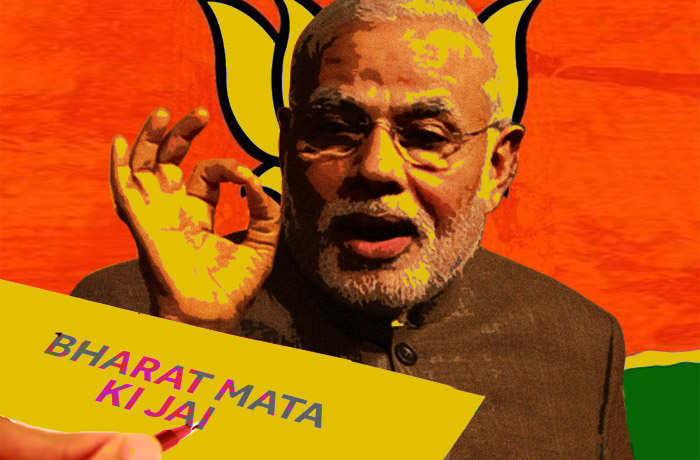 Dear Narendra Modi Ji,
Bharat Mata Ki Jai!
First of all, heartiest congratulations on being conferred the - King Abdulaziz Sash - Saudi Arabia's highest civilian honor. I am sure your visit to the kingdom will encourage King Salman bin Abdulaziz to do something about the appalling state of human rights of civilians there (termed to be among the worst in the world).
I write to compliment you on the steadfast process being made on the nationalism front, it's remarkable that people have forgotten about punishing corruption, black money, development etc and are only talking about Bharat Mata!
I was pleased to hear Mr Devendra Fadnavis on television, making a virtual announcement - that those who refuse to chant 'Bharat Mata ki Jai' would have no right to live in India. To my dismay, however, he backtracked later in the evening! What sort of a dithering CM you have there? I am sure if you would have made that announcement - you would have never gone back on your word!
However, I am optimistic that the likes of Baba Ramdev will ensure that that this slogan becomes a constitutional mandate very soon. This threat to cut off heads of non-believers is in the right direction. I really think that to prove one's 'Indian-ness' and patriotism - a passport AND a chant should ideally be furnished. (Ideally 'Bharat Mata Ki Jai', should be taken as a biometric voice sample while registration of an Aadhar Card! It's really simple. No chant? No card!)
Modi Ji, such a 'chant law' would be unique in the world and therefore requires unique safeguards. Not only is this about who says 'Bharat Mata Ki Jai' - it's also about who cannot say it! Now this may appear to be outlandish, but let me explain.
First, you should bar the 20 million plus Indian diaspora settled all over the world from chanting 'Bharat Mata Ki Jai'. You see these guys are like those uncultured boys who ditch a nice middle-class girl for a rich hottie - yet they keep coming back to the first love for a romp now and then - because it feels oh-so-good!
I know this seems a bit tough, but it's been two years that you have been telling these blighters to come back and rebuild India, Make in India, invest in India, but nothing's happened.
'Bharat Mata Ki Jai' is a chant for patriotism - what sort of patriot leaves his motherland - never to return? Does a patriot wait 'generations' for the right time to return to India? A true son of the soil battles the odds, the corruption, the red tape, the bureaucracy, the communal strife, the poverty - to stay in India.
Also Sir, don't let them lull you into believing that they send a lot of remittances to boost the economy. India is no one's keep that it can be kept happy by throwing money at it - and the remittance is for their families and not Bharat Mata's development.
Second, I was really hurt to see our nationalistic slogan being hurled left, right and centre during the India vs West Indies match. As we notched up an impressive total - cries of 'Bhart Mata Ki Jai' rent the air. However, when West Indies started to crush us, those same voices became racist abuses.
Sir, as a man who believes in taking firm action against those indulging in abuse / hate speeches / slander, please ban the use of our slogan from cricket matches. Because at this rate, the dignity and honor of Bharat Mata comes under threat when we lose a match.
Finally, Modi Ji, I hope you agree that 'Bharat Mata Ki Jai' cannot become an election tool. Nationalism and patriotism go beyond mere political parties and elections. Bharat Mata shouldn't be besmirched for such lowly purposes of garnering votes. A man of your spotless reputation and integrity should surely write to the election commission asking for a change in the model code of conduct to this effect.
I am sure that with your voluntary action, all political parties would be forced to never use nationalistic jingoism as a vote garnering tool, after all who wants to parade Bharat Mata with a begging bowl in front of millions of voters - let her remain an indelible part of our Indian hearts.
I hope you see some merit in the points above. I am aware of your busy travel schedule, but if you could tweet an acknowledgment of this mail - I should ever be so grateful.
Yours Truly,
A true Bhakt and a soldier of Gaurav Bharat