Darbhanga responds to BJP: No Mr Modi, we aren't a terror hub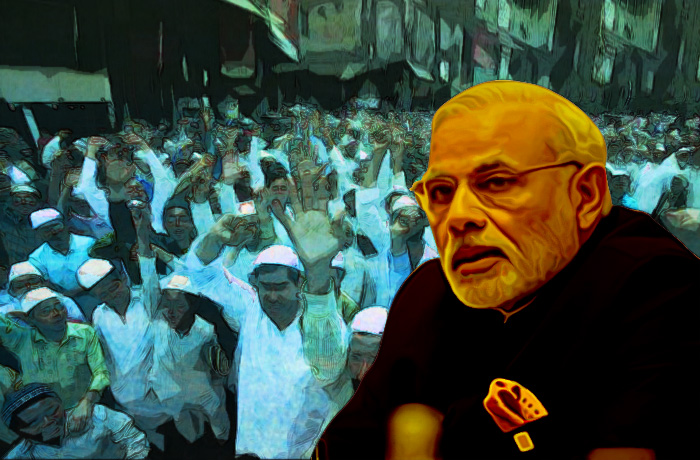 On 29 October, the BJP issued an advertisement in every major Hindi newspaper in Bihar, alleging that places like Darbhanga, Madhubani, Champaran and Purnea were hubs of terror. The party termed these areas as "dens of the ISI, Lashkar-e-Tayyeba and Indian Mujahideen".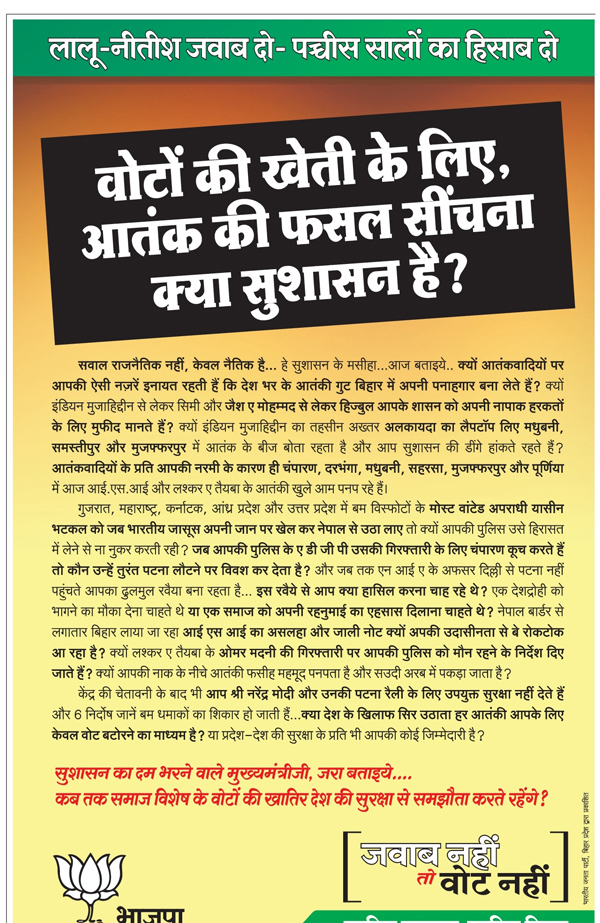 Catch spoke to many people in Darbhanga about the BJP advertisement. What came across was an unequivocal rejection of the BJP's allegations. This was the response across caste and religious lines. Even many BJP supporters condemned the advertisement.
Many of the people considered this as an insult to Darbhanga and its people. Here are some of the responses.
Name: Lallan Rai
Occupation: Newspaper vendor
Response: "The BJP is completely wrong to tarnish Darbhanga's name in this manner. If a few terrorists passed through here, how is it the city's fault? If Darbhanga indeed had been a hub of terrorists, how come there are no attacks here?
"Thousands of people come to Darbhanga everyday, how are we to point out who is a terrorist and who isn't? It is the places these terrorists come from and where they carry out the attacks that are to blame. Darbhanga is not a terror hub."
Name: Mohammad Asif
Occupation: Owner of a mobile accessories store
Response: "It is very unfortunate that a national party like the BJP has made this allegation. They are maligning an entire city and an entire community. Even if a few youngsters were caught doesn't mean that Darbhanga has become a hub of terrorism.
"We have been living in peace for so many years. I would urge the BJP not to spoil the harmony here. Narendra Modi should withdraw these allegations immediately."
Name: Danish
Occupation: Student
Response: "This advertisement only proves one thing: that the BJP has gone completely mad. Look at what Modi is up to, he is going to every constituency to campaign for the BJP. Does the Prime Minister have nothing better to do? Even Amit Shah said that if the mahagathbandhan wins, people will burst fire-crackers in Pakistan. This clearly shows that the BJP leaders have lost their mental balance."
Name: Kalpana Jha
Occupation: Student
Response: "Such advertisements are unnecessary. And singling out cities just because a few terrorists were arrested here is wrong. Darbhanga is a city with a rich history and culture. It doesn't deserve to be maligned in this way. I hope parties desist from such politics."
Name: Naushad
Occupation: Cook
Response: "This advertisement is nothing but a way to make people into budbak (fools). Fortunately, the people of Bihar aren't foolish. They will not fall for such cheap and divisive tactics. We trust each other."
Name: Lallan Kumar Mishra
Occupation: Garment shop owner
Response: "I completely disapprove of this advertisement. They (the BJP) are trying to create hatred and suspicion between people. This is wrong. They should speak about real issues such as roads, schools, jobs and so on. It is very sad that instead of doing something for the people, they are wasting lakhs of rupees on advertisements that fuel hatred. It is shameful."
Name: Gopal Sah
Occupation: Tea shop owner
Response: "I am a BJP supporter. But I disagree with what they have said in this advertisement. There is so much more they can say during elections. This is negative politics and they should desist from it.
"The problem is that Modiji is speaking more than necessary. A Prime Minister doesn't need to get down to this level. I will still vote for the BJP. But this advertisement has disappointed me."
Name: Phool Singh
Occupation: Paan shop owner
Response: "I am voting for the BJP. I am sure they will win this election. But there was no need for them to issue such advertisements. Real victory belongs to those who remain righteous in battle. Isn't that what the Bhagavad Gita says?"
Name: Shekhar
Occupation: Travel agent
Response: "Yes, a few boys were arrested here. But aren't suspected terrorists arrested in Delhi, Mumbai and Bangalore as well? No one calls these cities hubs of terror. So why single out Darbhanga? Thieves are arrested everywhere, so does that make every city a den of thieves?"