#DadriLynching: why Akhilesh Yadav needs to take the blame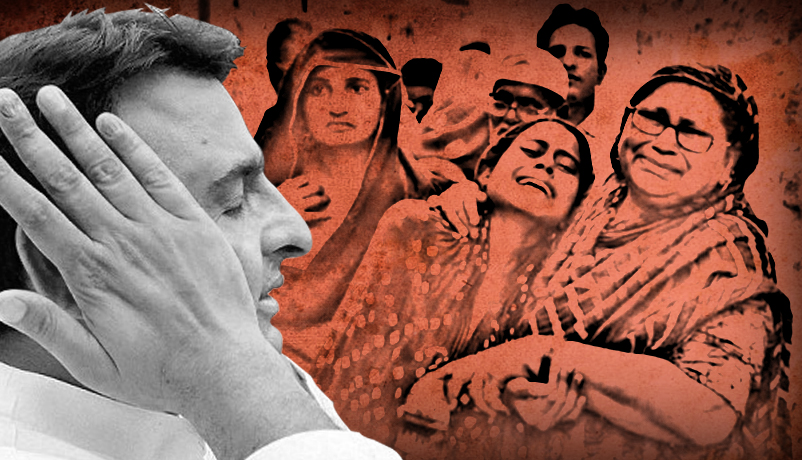 Missing in action
BJP has been facing flak for the murder of Mohammad Akhlaq. But SP has escaped the blame
UP CM Akhilesh Yadav is as much to blame for failing to maintain law and order
Many politicians visited Akhlaq\'s family, but the CM hasn\'t so far
Dismal track record
Communal violence has increased in Akhilesh\'s tenure
UP witnessed the highest number of communal incidents in the country for the past 4 years
566 communal incidents have taken place in UP since 2012. 152 people have died
More in the story
How Muzaffarnagar has become a benchmark for communal forces in UP
High profile netas have been racing with each other to visit the family of 50-year-old Mohammad Akhlaq, who was lynched to death on 28 September in Uttar Pradesh's Bisahra village. First it was Union Minister for Tourism and Culture Mahesh Sharma, who made the ridiculous assertion that the murder was "an accident".
The next high profile visitor was AIMIM supremo Asaduddin Owaisi, who termed it a "pre-planned conspiracy". Then on 3 October, Bisahra played host to Delhi Chief Minister Arvind Kejriwal and Congress Vice-President Rahul Gandhi in quick succession.
But one politician has been missing in action throughout - Uttar Pradesh Chief Minister Akhilesh Yadav. This is despite the fact that it is his responsibility to maintain law and order in the state.
So where has Akhilesh been for all these days?
The day the country woke up to the story of the lynching, he was meeting the CEO of an organisation that promotes trade ties between India and the US. The next day, he met a delegation from a university that had a proposal for a transport system on the Gomti river. The day after that, he met a group of women entrepreneurs from a tribal community conveying his best wishes for their educational tour.
Three days passed before the CM showed that the incident had entered his mindspace. But by then his administration had already goofed up. Among the initial actions of the police after the incident was to send meat from Akhlaq's house for forensic examination. As if the administration was signalling that if tests proved it to be cow-meat, the mob-lynching would be justified.
Akhilesh government's failures
The Bisahara lynching is the latest addition to a long list of incidents where the Uttar Pradesh government under Akhilesh Yadav has been found to be critically inefficient in combating communalism and maintaining law and order. According to data from the Union Home Ministry, Uttar Pradesh has been witnessing the highest number of communal incidents for the past four years now.
In 2012, the year in which Akhilesh became CM, UP saw 118 communal incidents, in which 39 people were killed and 500 were injured. The numbers went up the next year, with 247 incidents that left 77 dead and 360 injured.
This record includes the Muzaffarnagar riots of 2013 whose impact was felt not just in the number of deaths but in the deep sense of mistrust that lingers in the minds of the over 50,000 people who were displaced from their homes.
Over 150 people have died in communal incidents since Akhilesh took over. He has a lot to answer for
In 2014, the incidents came down but only to 2012 levels, with 133 incidents, 26 deaths and 374 injured. This year, at least 68 incidents had taken place till June, in which 10 lives were lost and 224 people were injured. That's a total of 566 incidents and 152 deaths in the last three and a half years.
This is a shameful record for any government and the UP government is escaping public scrutiny over it.
Akhilesh must be asked why is his government not being able to douse these communal flare ups? These are not secret conspiracies hatched by unknown individuals in the now volatile countryside of UP.
The instigation for these incidents have been very public acts, involving clarion calls from loudspeakers and inflammable speeches in Mahapanchayats. Even if we consider that UP police doesn't have intelligence-gathering capabilities, the evidence against those responsible is floating on YouTube. The ways in which communal passions are roused are well-documented now. Why then is it difficult to book the guilty, pre-empt such incidents and act in time to prevent them?
'Muzaffarnagar' as a benchmark
Four days before Akhlaq was lynched, on the day of Eid, his son who is now battling for his life in a hospital, had been reportedly taunted by some boys from the village. They allegedly called him a Pakistani and said a Pakistani living in this village will not be tolerated. The incidents of Muzaffarnagar will be repeated here, they ominously threatened.
'Muzaffarnagar' has become a benchmark in Uttar Pradesh, not just in its vitiated politics but in its common discourse. There is a very real danger that.
Bisahara too will become a similar benchmark. This is something the state government cannot remain ignorant of. In not being able to protect lives and ensure the rule of law, Akhilesh is fast squandering the mandate that he got. He has little time to make amends as UP goes to polls in 2017.