Cross-currents: how 4 key players are reading the #BiharPolls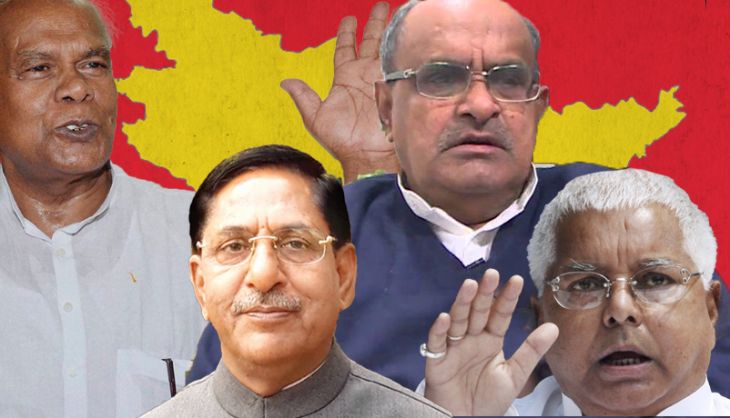 As the Bihar election nears the business end, political parties are trying every trick in the book to woo voters. We caught up with four key players, all political stalwarts in their own right, to get their reading of the electoral currents.
And we let them do the talking.
Here's what they had to say:
"We are heading towards a complete majority. Narendra Modi's BJP is going to be wiped out from Bihar."
"However, this is not our final front. We will take the battle to the central government after winning the state. Our aim is to dislodge Modi from the prime minister's chair. All of his commanders who are active in Bihar will fail to withstand the wave in favour of the Grand Alliance."
"It is despicable that Modi is running away from the issues that elevated him to power at the center. He has insulted every woman of Bihar by making objectionable comments about my daughter."
"Modi has criticised my behavior towards a mike operator. But Biharis are my own people. He must answer how many people he has employed in campaigning. They are importing even mike and loud speaker operators from Gujarat."
"The prime minister and the BJP are raising a hue and cry over quotas. Former RSS chief Golwalkar has said in his book that reservation must be scrapped and no Dalit should be allowed inside Kashi Vishwanath temple. People of Bihar will be convinced that Modi doesn't plan to take away their reservations if he burns Golwalkar's book Bunch of Thoughts."
"He is fanning communalism by talking about reservation based on religion. Lalu is their only target in Bihar election but people will give a befitting reply to them."
02
Jitan Ram Manjhi, HAM Supremo
"There is a wave of change in Bihar. The public is going to show its power. The Grand Alliance won't be able to go far with the help of tantra-mantra. We are all set to win a two-thirds majority."
"The NDA government in Bihar will expedite development as the Center is also governed by the same alliance. The leaders so far have cared only for their own development or that of their families, be it Nitish Kumar or Lalu-Rabri."
"Bihar is reeling under a scarcity of basic facilities. Nitish says Lalu is a serpent and he is sandalwood, but still they are friends. Their alliance smacks of vested interest."
[twittable]Nand Kishore: Grand Alliance leaders disrespected PM's gesture of giving financial aid to Bihar[/twittable]
"I cannot forget the way Nitish insulted me. The whole nation saw how I was treated just because I was a Dalit. Nitish was infuriated when I started doing developmental work as chief minister. He abused me and reinstated himself as the chief minister after discrediting me in front of the MLAs."
"Bihar can never develop under JD(U)-RJD-Congress rule. It needs the NDA for rapid progress. The Grand Alliance leaders are not even ashamed at the pathetic condition of rural areas of Bihar. Just look at the plight of 20 lakh families dependent on the milk business."
"The regions of Nalanda and Kosi remain underdeveloped despite the fact that Nitish hails from Nalanda. Actually, he has surrendered before Lalu, who is only interested in the political future of his children."
03
Nand Kishore Yadav, BJP's Leader of Opposition
"People will not forgive Nitish Kumar for deceiving them. He had asked for their votes in alliance with us, but then he sidelined us for the sake of power. We will get at least 150 seats."
"The leaders of the Grand Alliance have disrespected the prime minister's gesture of giving financial package to Bihar. There are more than 3 lakh vacancies in Bihar. Teachers are not being recruited."
"Nitish had promised a separate commission for industrialists but he did not do so as the business community did not vote for him in the general election."
"The Grand Alliance has many ringmasters. Each one of them is pulling the alliance towards him. They are not willing to share stage with each other. There are chinks in the alliance even before the election is over."
[twittable]KC Tyagi: The way BJP is using black money here is shameful. They got Rs 70 crore from Gujarat[/twittable]
"They are trying to divert attention from development issues by raising the reservation bogey. I have never resorted to the politics of deception in my life. The Modi government wants to alleviate poverty in the state but the Grand Alliance wants to keep the status quo."
"People of Bihar deserve self respect. But Lalu and Nitish are fooling them by dividing them along caste lines. The people are not going to tolerate this divisive politics any longer."
04
KC Tyagi, JD(U) General Secretary
"This election is proving to be a nightmare for the BJP. The people are going to take revenge on Modi and the BJP for betraying the promises made during the Lok Sabha election."
"I am surprised that the prime minister is continuously lying about reservation. His government has announced end of reservation for Group D, C and B non-gazetted posts. It clearly means the beginning of the end of reservation. It is, in effect, the implementation of Mohan Bhagwat's demand of reviewing the reservation policy."
"The prime minister will have to answer to the voters on this. His government is on the back foot on this issue because it is planning to do away with quotas for SCs, STs and OBCs."
"The BJP has brought Rs 70 crore illegal money for this election from Gujarat. The way the BJP has pumped black money into the campaign is shameful. The party is least bothered about the circumstances of Bihar."
"Nitish Kumar has understood the pain of Bihar. That is why even political opponents acknowledge his achievements. The situation of farmers is deteriorating in Bihar as well as across India. The condition of sugarcane farmers is also not hidden from anybody."