Crony capitalism: how industrialists are sacrificed at the altar of politics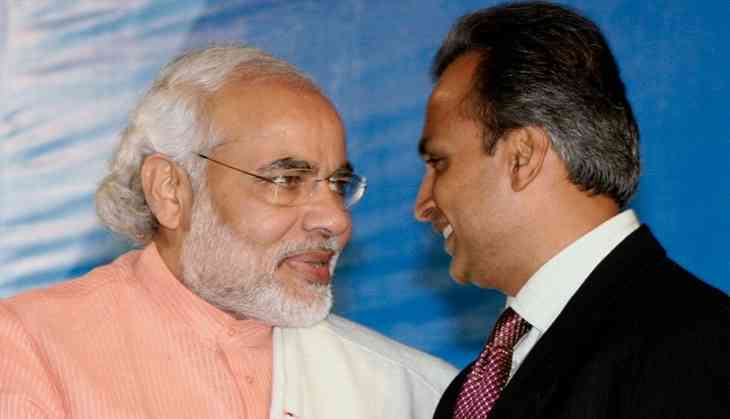 (Shailesh Raval/The India Today Group/Getty Images)
On Thursday, Congress Vice-President Rahul Gandhi launched a salvo against Prime Minister Narendra Modi for promoting crony capitalism by favouring industrialist Anil Ambani's interests at the cost of state-owned Hindustan Aeronautics Limited in the purchase of 36 Rafale fighter planes.
A few days ago, Gandhi's party held a press conference where it alleged that that Modi government shielded the Adani group in a Rs 50,0000 crore over-invoicing scam.
Modi ji - nice touch removing the suit. What about the loot?https://t.co/4rGsBtNJ2D

— Office of RG (@OfficeOfRG) November 16, 2017
Who knows, in the run up to the 2019 Loksabha elections, how many more industrialists will become the collateral damage in the ongoing war between country's two largest political parties.
It is important to remember that what Gandhi is doing to Modi in his election campaign is not new. Modi himself came to power by alleging that the Congress promoted crony capitalism between 2004 and 2014 in allocating natural resources of the country (read 2G scam, KG basin scam, gas pricing policy, coal scam). Delhi's current Chief Minister Arvind Kejriwal too owes his meteoric rise in politics to his allegations against India's richest individual - Mukesh Ambani.
In the past few years, quite a few businessmen have either been jailed or have faced serious allegations that may land them in jails in future.
On the other hand, we rarely see politicians reaching the doorsteps of a prison. Those who do are rarely from the two mainstream political parties.
The lesson here
While politics is glamorous and thrilling, it is fraught with dangers and is too risky for industrialists to have a long-term affair with.
Over the past few years a number of industrialists who tried to make it big in politics by either entering the parliament or by being open about their political allegiance have had to bite the dust. Naveen Jindal, Vijay Mallya and Subrata Roy Sahara are some of the names who became the talk of the town in a country where crony capitalism became a centrepoint of political debates.
When India decided to become a liberal economy in 1990s, the idea was to make Indian markets open for all and expect disruption every few years by new players. It was envisaged as an end of license raj ushering in an era of raw talent making it big on the back of sheer hard work and a little bit of luck.
Unfortunately, the way liberalisation panned out over the years was a modified style of the license raj. Big corporate houses began to use their clout to influence government policies to ensure no new players are able to enter their sector. Those sectors that gave birth to new players also became a monopoly of those Indian companies that had the first mover's advantage. All this was achieved with the help of politicians and political parties. So long as India was a bastion of one party or alliance, the business class was safe and achieved massive expansion of their empires.
But from late 90s on, the political situation in India has been changing continuously. It has become difficult to predict which party will come to power in next elections. So a Gautam Adani may not have any reason to fear the allegations levied by against him by the Congress party today, but the situation may change by 2019, leaving one of the biggest industrial groups in India at the mercy of a new incumbent.
Political parties have always depended on industrial houses to raise funds in a democracy. But that can be done by remaining aloof from any political ideology and party. Each serious player in the political theatre of world's largest democracy can get some amount of funding depending on its chances to come to power. This strategy does not require antagonising any political party or offering personal jets to a particular candidate for political rallies.
The life of a business house and its business interests span much longer than the life of a politician in power. A project won with the help of a politician usually gets completed on the arrival of a rival politician.
This is why it is important for all industrial houses of the country to stay away from the thrill of politics and rather demand a system that gives a fair chance to all in a free market economy. What has happened in the Indian economy post liberalisation is anything but a fair competition. A few industrial houses have been given precedence over others. This is why we see the same industrial houses dominating all the big margin economic sectors.
However, this dominance due to proximity with political parties has begun to show its side effects. If the businessmen of India do not understand the importance of minding their own business, politicians (for their own survival) would not mind destroying their businesses.