Congress still faces an uphill task in Arunachal. Here's why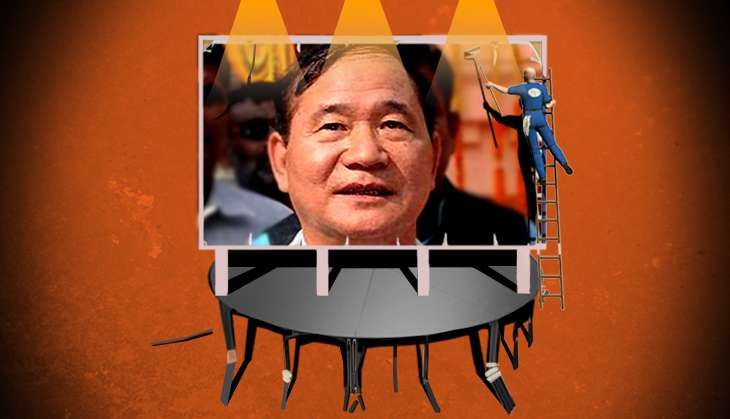 What\'s happened so far
SC judgement restored Nabam Tuki as Arunachal CM
However, problems for Congress are far from over
What are the problems?
Congress does not have the numbers in Assembly
A floor test could take place in State Assembly on 16 July
More in the story
Can the Congress shift odds in its favour?
What are the opponents doing?
The Supreme Court judgment on the Governor's actions in Arunachal Pradesh may have restored Nabam Tuki as chief minister, but the Congress's troubles in the state are from over.
A floor test could take place in the State Assembly on 16 July. Central to the power games, that have already begun in Itanagar, are numbers in the Assembly, and Tuki doesn't have the required support.
Take a look at the numbers first -
- Arunachal Pradesh assembly's strength is of 60 members
- Of these, the SC order has brought back 58 MLAs
- 2 MLAs had resigned earlier and their seats have since been declared vacant
- Congress has 15
- People's Party of Arunachal (PPA) has 30, including Kalikho Pul, the leader of Congress-dissidents
- BJP has 11
- 2 are independent
There is another way to look at the numbers in the Assembly.
Since the Supreme Court's verdict has ordered status quo ante (as things were) as on 15 December, the Assembly will ideally go back to its effective strength of only 46 members.
That is because the then Speaker had disqualified 11 MLAs and two MLAs had resigned.
Also Read: Reinstated by SC as Arunachal CM, Tuki seems clueless about future
Even if these numbers prevail, Congress still won't have majority on its own and will be short of at least nine MLAs.
In such a scenario, Congress has no option but to win back as many dissident MLAs as possible. This can happen only through two ways -
1. By offering posts in the government or party to the rebel MLAs to wean them away from PPA.
2. By removing Tuki and appointing somebody else as CM who is acceptable to the largest number of the dissident MLAs.
It's Tuki vs Pul, essentially
Some media reports have already discussed the possibility that Tuki could be asked to step down.
Tuki, in turn, is said to be "open" to that idea, but will not accept Pul and 2-3 others as his replacement.
Pul and the 29 others who have formed the PPA will be automatically considered part of the Congress's fold in observance of the SC's order.
Also Read: Timeline: How SC threw the rule book at BJP in Arunachal govt case
What will be important to watch out is whether these 30 MLAs would accept reverting to that position.
The indication from the BJP-camp so far suggests that this will be resisted. Some other media reports have quoted BJP sources saying that this a strange verdict by which a party that is in majority is being kept out of power.
Pul parades over 40 MLAs
Pul held a press conference in Guwahati on 14 July and claimed to have the majority, parading at least 41 MLAs before the media.
Kalikho Pul,Ex CM Arunachal addressing a press conference.41 MLA's has showed support 2 him. @rammadhavbjp @AmitShah pic.twitter.com/9nlbijav5e

— Himanta Biswa Sarma (@himantabiswa) July 14, 2016
The Congress's strategy is not clear as of now. General Secretary in charge of the North Eastern states CP Joshi told Catch that he will be able to comment on the developments only after speaking with Tuki, who has reached Itanagar today (Thursday).
Meanwhile, sources told Catch that the 30 MLAs of PPA are holed up in a hotel in the Assam capital, to thwart Congress's attempts at reaching out to them.
These MLAs, including Pul, had gone to Guwahati to attend the launch of the BJP's North East Democratic Alliance.
Talks in progress
A senior Congress functionary from the state informed Catch about ongoing negotiations with the rebels, including Pul, and that efforts are being made to reach out to them.
Even Tuki and his supporters are constantly in touch with various factions and are expecting some sort of a breakthrough. Senior leaders from the state are not even ruling out the possibility of replacing Tuki with a consensus candidate.
"We want the Congress to be back in power at any cost and no one knows it better than Tuki. The party is bigger than chief ministers and these are small issues that can easily be sorted out," he said.
Moreover, to take stock of the situation, the party has called for a Congress Legislature Party meeting before the floor test which will help the party determine whether they have the numbers to prove majority.
"Those who will abstain are not likely to support us though we will keep reaching out to them," said the party functionary.
He, however, cautioned the rebels of disciplinary action if they vote against the party during the floor test.
"We will issue a whip before the floor test and if they defy it, the speaker would disqualify them. This would certainly lead to the assembly being put under suspended animation. In such a scenario, fresh elections are the only way out and we are confident of winning the elections," he said.
Also Read: Despite SC Arunachal setback, BJP pushes ahead with grand Northeast plan
Also Read: After Uttarakhand, Arunachal verdict damages BJP and Modi
Also Read: Arunachal govt in trouble: 22 Cong MLAs align with BJP, party blames Centre
Also Read: All you need to know about the Arunachal crisis that's haunting the Parliament