Congress MLAs create trouble for Amarinder by refusing to give up VIP culture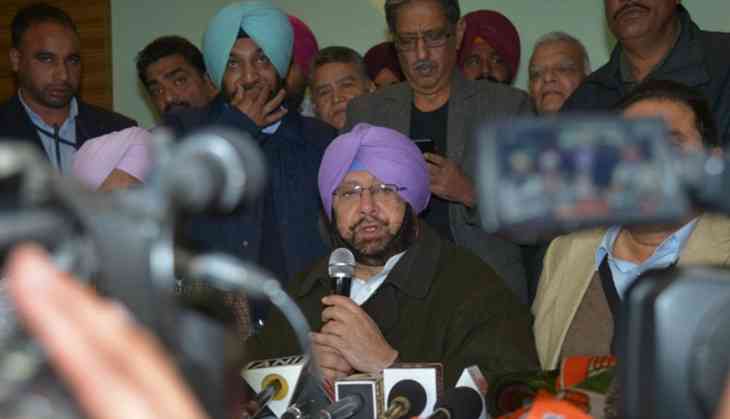 The Congress government led by Captain Amarinder Singh may have been in office for barely a month, but the Chief Minister of Punjab already has trouble at hand.
Instances of MLAs resorting to high-handedness and ministers shooting their mouths off are being reported regularly, and have become a constant source of embarrassment to Amarinder.
The fact that the troublemakers are none other than the ministers and elected MLAs of his own party doesn't help the situation in any way.
Worse, this has led to questions as to whether this new regime is any better than the one that has just been booted out by the masses - the Shiromani Akali Dal (SAD)-BJP combine.
Unruly behaviour
In the latest incident, Charanjit Singh Dhillon, the president of the Truck Operators' Union at Gidderbaha and Jaspreet Singh Bhalaiana, a 'personal assistant' of local Congress MLA Amarinder Singh Raja Warring, along with 15 others, allegedly assaulted a journalist with a leading Punjabi daily and vandalised his office following a news report.
The journalist, Shivraj Raju, has alleged that Charanjit and his aides barged into his shop-cum-office near Bharu Chowk and beat him. He alleges they also forced him to drink urine and alcohol and took videos. Raju is currently at Civil Hospital in Bathinda, with injuries on his chest, abdomen, neck and back.
Indulging in VIP culture
This came just two days after a video where the Congress MLA from Khadoor Sahib, Ramanjit Singh Sikki, threatens Punjab police to be ready to face the music in case his men get annoyed.
In the video, Sikki is seen addressing a Deputy Superintendent of Police (DSP) at Goindwal Satpal Singh saying, "DSP sahib, tell your SHOs that none of my men should return disappointed from the police stations... [or] it will be the police that will face the music before the real culprits."
Before Sikki, Congress minister Sadhu Singh Dharamsot threatened a school principal in Nabha with suspension for putting his name third on the inauguration stone.
Dharamsot had gone to inaugurate a new academic block of Nabha Government Senior Secondary School, the initiative for which was taken by two former students in memory of their mother – which is why their names took precedence on the inaugural plaque.
Later, that very day, Amarinder ordered that putting names of politicians on inaugural plaques and foundation stones be banned.
Sources say that the two ex-students were the chief guests at the event while Dharamsot was only a special guest, something that was mentioned on the invitation card itself. His behaviour irked many present at the event. "The principal appears to be a very docile lady. Had it been someone else, she would have dragged him to the National Commission for Women or its state counterpart," said an observer.
Dharamsot was earlier in the news for his controversial suggestion of naming the Punjabi University at Patiala after the tallest Akali leader Gurcharan Singh Tohra. His suggestion has so far not received any takers.
Symbols of power
Another minister who has been in news for the wrong reasons has been irrigation and power minister Rana Gurjit Singh. Having earlier said that power tariff was imminent as the government cannot ignore the Punjab State Electricity Regulatory Commission (PSERC) recommendations, he had to release a statement saying there is no question of going back on the Congress poll promise of providing affordable power.
He made another statement on the use of choppers that courted controversy. This came amid Amarinder's stand on cutting down wasteful expenditure and doing away with VIP culture. Last week, after two senior Congress leaders used a helicopter to fly to Talwandi Sabo to attend the state-level Baisakhi function, Rana Gurjit came out saying that it was not a reflection of VIP culture, but a necessity these days. He compared the use of chopper to that of air conditioners, which according to him too were a luxury a decade back.
In fact, many MLAs are critical of the decision on removal of red beacon lights atop ministerial and MLA vehicles. Rana Gurjit was the first to aire his views on the move, but later retracted his words. Sources say that most of the MLAs are not satisfied with the move as flaunting power through such symbols like beacons and gunmen has been the norm in Punjab for quite a while.
Grabbing the opportunity
The opposition has been quick to grab the opportunity provided by the conduct of the newly elected MLAs and have trained their guns on the government.
Former deputy chief minister and SAD president Sukhbir Singh Badal, while referring to the assault on the scribes in Gidderbaha, has come out saying that it is unfortunate that now even the media has been taken into the ambit of vendetta politics unleashed by Congress elements in Punjab. He attacked the police for the delay in the arrest of the accused. He said the Congress elements are freely assaulting anyone who opposes them, including the media.
The opposition Aam Aadmi Party (AAP) too has come out saying that the Congress is engulfed with "power hangover" within 30 days of coming into power.
AAP's state convener Gurpreet Singh Waraich said, "After remaining out of power for 10 years, Congress is suffering with indigestion of power and time is ripe that Amarinder should chain his goonda elements well before people take law in their own hands to teach them a lesson."
He also spoke of how there are reports that another Congress MLA, Sangat Singh Giljian, threatened a journalist in Hoshiarpur district on 15 April.
Amarinder's dilemma
Having been put on the back foot, Amarinder has warned government officials and party colleagues not to interfere in administrative and police functioning, while sending out a strong message to all departments against succumbing to any political pressure in their working.
Taking serious note of the alleged assault on the journalist, he has directed the concerned officials to treat the case totally on merit, without allowing political compulsions, if any, to obstruct the course of justice.
In a categorical warning, Amarinder has made it clear that officials acting at the behest of political masters, as they had been doing under the Akali regime, would face stringent action if they did not immediately mend their ways.
He has asserted that his government will adopt a zero-tolerance approach in all cases of overt or subtle political interference in administrative or police functioning.