Congress goes into a huddle after Assembly poll debacle. CWC meet soon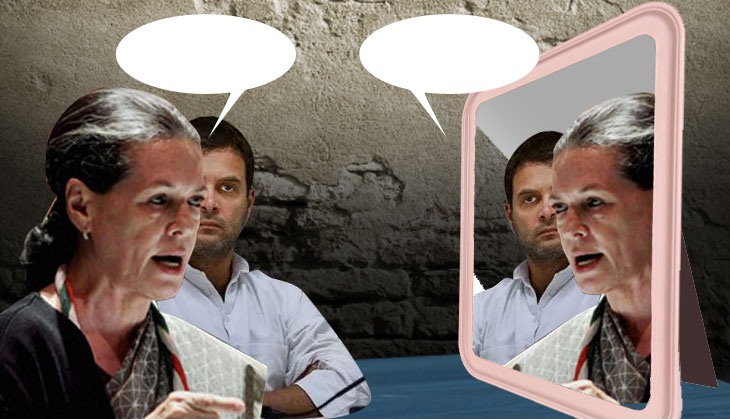 For Congress, the writing is on the wall. Faring poorly in the 2016 assembly elections, the party's future doesn't look promising when it goes to polls in other states in 2017. Except for Uttarakhand, the party is not expected to make any significant gain in states like Punjab, UP, Goa and Himachal Pradesh - the other states which go to the polls in 2017. Despite the party bringing in poll strategist Prashant Kishor to revive its fortunes, it is unlikely to become a force to reckon with.
Amidst all this gloom, the party is contemplating on holding a Congress Working Committee (CWC) meeting to dissect and analyse the results of the recently held elections. During the course of the meeting, a final stamp on Rahul Gandhi's elevation as Congress president is expected.
Read: How Gogoi's ego clash with Himanta Biswa Sarma cost Congress the state of Assam
The highest decision making body in the party, the CWC is headed by Congress President Sonia Gandhi who has reportedly sought time from other senior leaders to fix a date for the same. A senior Congress leader said that the meeting is expected to be held in the last week of the month. He added, "The meeting will pave way for the organisational reshuffle that has been long overdue. In fact, ever since the 2014 poll debacle, there have been only talks of a reshuffle. It is time that we do the surgery as suggested by Digvijaya Singh."
Digvijaya stirs a row
Singh's comments had created a furore in the party forcing PC Chacko to claim that there are multiple forums within the party to raise such issues. He warned others from raising such issues at public forums and said, "All suggestions by the senior leaders for the improvement of the party's functioning and its style of functioning are welcome. All of us have opportunity to attend the Congress Working Committee. Now, the post-election scenario, we will be having our CWC very soon. Shri Digvijay Singh ji and all of us, we all have the opportunity to attend the highest forum of the party and there everybody is free to express their opinion."
It is being said that the CWC meeting will also decide on the date and venue for the next AICC session which was last held in Delhi in 2014.
Read more- Congress in crisis: Grand Old Party, same old problems
In the past, party leaders on various occasions have vented their frustration on non-performing office bearers who they believe should be shown the door. "Let's face it. We need new faces with new ideas to be given important positions. Someone has to be held responsible for party's performance in these polls. More so, accountability also has to be fixed for those responsible for what happened in Uttarakhand, Arunachal Pradesh, Himachal Pradesh and other states where dissidence had been brewing for quite some time. We just can't be burying our heads in sand whenever there is a crisis," said a senior Congress leader.
Amidst all the criticism, several senior leaders have come out in support of the central leadership and ridiculed the charges of the party facing an existential crisis. They are citing the recent poll results and how Congress won 139 seats across five states while BJP managed only 65. Even in terms of vote share the party fared much better than its rival. As expected, Rahul has been shielded from all the blame despite the party not winning a single state election since 2014 on its own. In fact, it has lost 10 states since then while BJP has been able to wrest control of six states raising questions about the Gandhi scion's political strategies and style of functioning which has come under fierce attack.
The daggers are out against Congress vice president Rahul Gandhi who is being blamed for the mess the grand old party finds itself in. Congress turncoats have launched an offensive against the Gandhi scion for his style of functioning and how he is surrounded by a coterie that has made in totally inaccessible.
BJP's Himanta Biswa Sarma, formerly with Congress, has gone to the extent of calling Rahul "very arrogant" who believes in a "servant-master relationship which is disgusting". "Either he has to change, or the Congress has to change him," he told NDTV. Sarma's exit from the party is being called out as the reason for Congress' rout in Assam.
Another dissident, Vijay Bahuguna, who recently joined BJP, claimed that he tried meeting the Congress vice president for two years and was never given a chance to put his point across. He claimed that after waiting for so long, he along with eight others rebelled which led to two month long political crisis which was sorted only after the courts intervened.
Even Arunachal chief minister Kalikho Pul said that he waited for 13 months to meet Rahul Gandhi to apprise him about the growing dissatisfaction among state party leaders. He was only given time when they rebelled, but it was too late. Pul formed the government with support from BJP.
Meanwhile, all eyes are set on the next CWC meet when party leaders would congregate to discuss and suggest some drastic steps to rejuvenate the party. They hope that this exercise too doesn't become as meaningless as the Antony Committee report which blamed no one for the 2014 debacle.
Edited by Aditya Menon
More in Catch:
Devil in the deep blue sea? Navy wife-swap victim recounts horrors
BJP's claim of a Congress-mukt Bharat is nothing but another jumla
How to lose friends and control opinion, Chinese govt style