Congress CM face in UP : Sheila throws her hat in the ring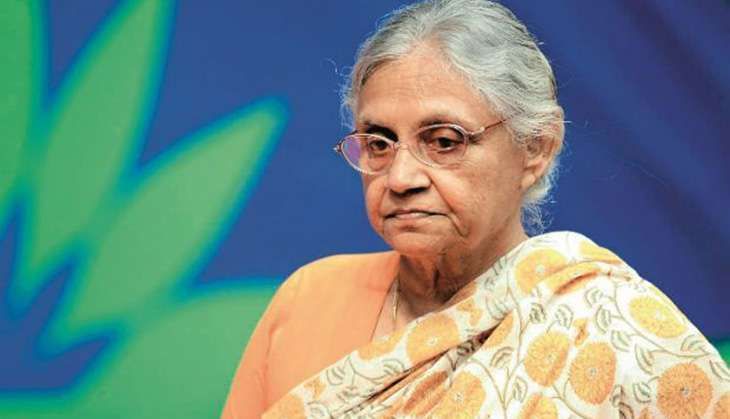 The suspense over who will be Congress' UP chief ministerial candidate continues with former Delhi chief minister Sheila Dikshit throwing of her hat in the ring. She said that she is a daughter in law of UP and would take on any role that the party decides for her.
Meanwhile, adding to the speculations, general secretary in-charge of UP, Ghulam Nabi Azad has confirmed that the former Delhi CM will have a key role to play in the Uttar Pradesh assembly elections, but did not specify of what it would be. "She can also campaign. She will definitely work in UP but in what capacity is for the party to decide," he said. He had earlier said that the party will announce a face before the state goes to polls in 2017.
Also read:5 reasons why the Congress is in a shambles in Uttar Pradesh
While addressing a media gathering at the Indian Women Press Corps in Delhi, Dikshit said that she was born in Punjab, studied in Delhi and was married in UP. When asked whether she had any other credentials except for being a Brahmin face who enjoys great chemistry with Gandhis, the former Delhi chief minister said, "Should I tell you about my other qualities? I am a UP bahu and that credential is good enough."
She further added, "I have not yet taken charge of UP. There is a general secretary in-charge and a PCC president. I don't know what role I would play but whatever I am asked to do, I shall do it." However, while speaking to NDTV, she did say that neither Sonia nor Rahul Gandhi have asked her to be the CM of UP. Earlier, she told media, "If the party wants, I will do it like any other foot soldier. Though there is less time but let the party decide. Let us see how roles are assigned."
On Priyanka's role in the UP elections campaign, Dikshit added that if she decides to campaign in UP, she would be a "great asset" and will be "welcomed". "Priyanka has campaigned in UP and if she joins she will be welcomed. She will be a great asset," the former Delhi CM said.
Questions were also raised about whether there should be a retirement age in politics to which the 78-year-old Dikshit said, "There is nothing formal about it. It is not like a government job or any other services. As long as you can serve the people, there is no retirement age in politics'"
Prashant Kishor's backing
Ever since Congress gave election strategist Prashant Kishor the responsibility of heralding party's election campaign, he has been pushing for a Brahmin face and is said to have suggested Dikshit's name. He had earlier suggested that Rahul Gandhi should be projected as the chief ministerial candidate and when the idea was shot down.
Also read: Congress strategist Prashant Kishor faces heat after secret 'Brahmin meeting' in Uttar Pradesh
He then suggested Priyanka's name which again was not accepted. Later, Kishor asked for a Brahmin candidate to woo this particular section that constitutes 10% of the state population. "It is he who suggested Dikshit's name considering that she is a known face and is married to a UP brahmin. Her father in law, Uma Shankar Dikshit was a respected Congressman and a Union minister and that could work in her favour," said a Congress leader.
However, Dikshit played down Kishor's role in the whole process and claimed that his role is of an advisor and whether to take his advice or not is the "party's prerogative". "Who to send and where to send is party's decision. He doesn't have any say beyond making these suggestions," she added.
When asked about the dipping fortunes of the Congress party as witnessed in the recent assembly elections, she said that losses happen in politics and there is no need to feel depressed. "We keep working on and you just can't wish the Congress away."
Dikshit recently had a meeting with Congress president and sources say it was conveyed to her that she will have a major role to play in the state assembly elections. When asked to divulge the details of the meeting, the former Delhi CM refused to comment.
High level meeting
In another development, the Congress top leadership met at 10 Janpath and during the course of the meeting discussions were held on how media is portraying the Priyanka's election campaign outside of Gandhi bastions as "brother vs sister".
It was decided that such reports should immediately be put to rest after which Ghulam Nabi Azad spoke to media and said, "If someone is saying that Priyanka Gandhi will be the Campaign Committee Chairman in UP, it is false".
"If she (Priyanka Gandhi) wants to come in during the elections to campaign, that is different," he added.