Congress boycotts RJD dharna on noteban: trouble for Bihar grand alliance?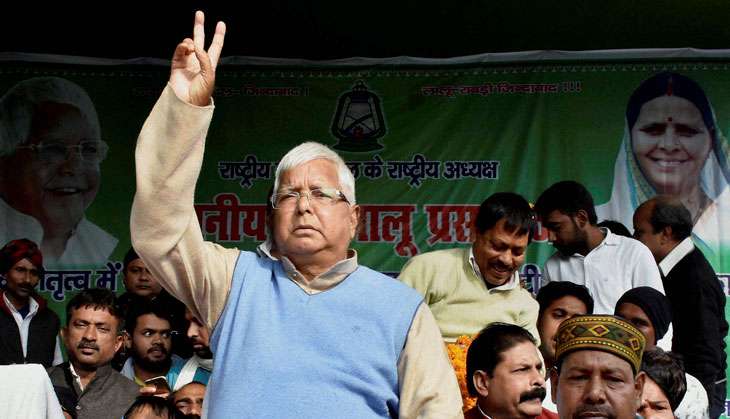 RJD supremo Lalu Prasad's 'grand' protest against demonetisation in Patna was a strange affair. Although the former chief minister's followers and supporters attended the event in large numbers, conspicuous by their absence were his two sons.
As scions of the family that controls the party, both Tej Pratap Yadav and his younger brother Tejashwi Yadav ought to have been present. However, they were not seen at the protest and the reason could be the same that prevented the Congress party too from joining in.
At the protest, Lalu lashed out at Prime Minister Narendra Modi over demonetisation and urged the people to throw the latter out of power.
"Modi hatao, desh bachao (Remove Modi to save the country)" was his slogan at the event. He declared that Modi cheated the country by promising action against black money but eventually destroying the country's economy. Lalu also said that PM was working like an autocrat and his decisions were dangerous for the country in many ways.
Noting that farmers, labourers and women had been especially hit hard, Lalu announced that he will soon take out a rally against demonetisation and 10 political parties will be invited for the same. He did not give out the name of these parties.
State-specific dynamics
Observers have been left wondering why RJD's alliance partners in Bihar, JD(U) and Congress, skipped the event. The bigger surprise, possibly, was regarding Congress, especially since Lalu had sent an emissary to the Congress-led press conference by eight opposition parties in New Delhi, just a day ago.
JD(U) attended neither of the two events, but why would Congress not reciprocate Lalu's show of solidarity?
An RJD source told Catch that they were perplexed. The source said Lalu's frustration with his allies' boycott was evident at the protest, when he declared that nobody should make the mistake of assuming that he was alone.
However, a Congress source threw some light on the issue. The source said that at the national level, RJD, Congress and all other parties opposing demonetisation unequivocally were united in their protest. However, in Bihar, things were different, because of certain local dynamics.
Bihar Congress Chief Ashok Chowdhary as well as Lalu's sons are cabinet ministers in the Bihar government. The source hinted that Chowdhary may have taken the decision to stay away from RJD's protest under JD(U)'s pressure.
Chief Minister Nitish Kumar, who is also JD(U) president, was among the earliest supporters of demonetisation and still continues to support it. Even after a little revision, the party's latest statement was that they will review their stand only after the completion of the 50-day deadline declared by the PM.
In such circumstances, the source indicated, Chowdhary may have received feelers from Kumar that by attending RJD's protest, he may jeopardise his position in the cabinet.
If this is true, then this confirms what observers have been speculating for quite some time now - that Nitish Kumar is once again moving closer to the BJP. Why else would he prevail upon an alliance partner to not join a key protest against the BJP? He can't do much about Lalu since RJD is the bigger alliance partner, but then Lalu's sons did not attend their father's event either.
Is the Grand Alliance breaking up?
Not likely, as of now. Both source were cautious of sending this message out and took pains to assert that the differences over demonetisation will not impact the alliance in Bihar. But if differences between JD(U) and other opposition parties over ties with the BJP keep increasing, for how long will this show of unity hold?