Congress bows to Sikh anger: Kamal Nath resigns as Punjab in-charge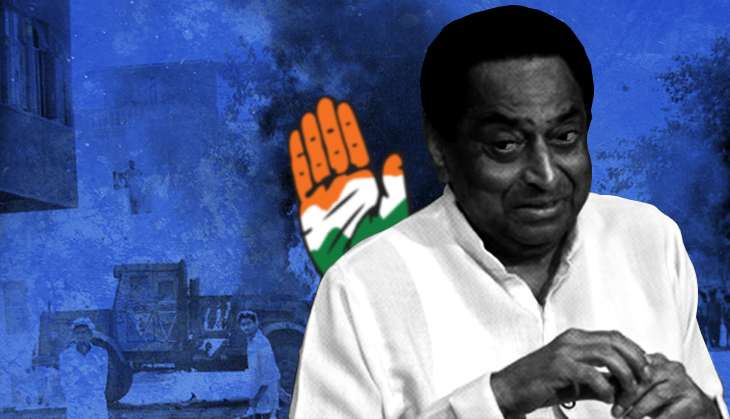 The appointment
Kamal Nath has resigned as Congress in-charge for Punjab
His appointment had given ammunition to Congress\' rivals
His name is often associated with the 1984 anti-Sikh riots, though there are no charges against him
More in the story
Why did Congress backtrack?
Did internal opposition have a role to play?
Kamal Nath on Wednesday evening resigned as the Congress party's in-charge for Punjab, following criticism from within the party and outside. Party president Sonia Gandhi accepted his resignation soon after receiving his letter.
Nath in his letter said, "I have been hurt by the developments of the past few days wherein an unnecessary controversy has been created around the tragic 1984 riots in New Delhi. Till 2005 not a single public statement, complaint or FIR was ever made against me and the first time my name was ever mentioned in any forum was 21 years after 1984. The Nanavati Commission set up by the NDA government after proper investigation fully absolved me. Even during a subsequent motion to discuss the Commission report in parliament, none of the Akali-BJP Mps including Sukhbir Singh Badal mentioned my name. This canard is therefore nothing but a cheap political ploy to gain traction ahead of the elections."
Also read - Rahul sets Cong poll agenda in Punjab, opponents lay into Kamal Nath
He went on to say, " I am a practitioner of Nehruvian politics and maligning of the Congress party using false accusations is unacceptable to me. I wish the party to focus on the upcoming assembly elections and highlight the issues of misgovernance, misery of the farmers and youth, breakdown of law and order and rampant drug trade that caused untold misery to the people of Punjab."
Congress sources reveal that Nath was appointed on the advice of Prashant Kishor who has been hired as a strategist by the party for the Punjab and Uttar Pradesh Assembly elections. "The decision to relieve Nath as the Punjab in-charge was taken by Sonia Gandhi. Even though there are no charges against Kamal Nath, she didn't want the Sikh community to be offended in any way," a party insider revealed, recollecting how Sonia apologised in 1998 for the anti-Sikh riots.
However, it is believed that Nath, a senior party leader and parliamentarian, will be rehabilitated in the Congress' impending organisational reshuffle.
This is perhaps for the first time that the Congress party has taken such a 'corrective' after gauging the political signals emanating from an unpopular decision.
Opposition within
The general perception among political observers and even some of the party insiders is that Nath's appointment was 'avoidable' because it was bound to stoke the controversy on 1984 anti-Sikh riots.
Although no charges were proven against him, Nath's name is often associated with the riots along with individuals like Jagdish Tytler.
Former minister and party leader MS Gill said that Nath's appointment was like "rubbing salt on the wounds (of the 1984 riot victims)".
The events of 1984 - such as Operation Blue Star and the anti-Sikh riots - have become major issues in the upcoming elections in Punjab.
"What was the need at this point of time to make him the party in-charge? They could easily have found someone else in the party. Now when the party campaign is picking up, comes this appointment. Instead of promoting our campaigns we get buckled in defending this appointment," said a party insider.
"If at all they wanted to appoint a new in-charge, they could have made Ghulam Nabi Azad as the in-charge for Punjab and Nath for Uttar Pradesh.," said another insider who has closely worked with the party in Punjab in the past.
"But why do you have to give a stick to the Akalis and the Aam Aadmi Party (AAP) to thrash you? This is the time when you have launched new campaigns to go hyper local and establish one to one contact with the electorate. The Punjab unit chief Captain Amarinder Singh has undertaken the initiative to visit all the 117 constituencies. Can't you understand that your Opposition will leave no opportunity to hit you on this issue and your energies will be spent giving explanations," said a party insider.
Amarinder had come out in strong defence of Nath's appointment and has launched a counter attack on Punjab chief minister Parkash Singh Badal and AAP leadership for playing cheap politics in blaming Nath for something he had no role in.
Nath supposedly shares a good rapport with Amarinder. Both of them are incidentally, products of the same school - the Doon school.
"Public perception should be based on truth and not the myth," Amarinder had said while underlining that the Congress is not going to be cowed down by the 'fake and fictitious' allegations against its leaders by people like AAP leaders Arvind Kejriwal and HS Phoolka or Badal when they had been exonerated by judges like Justice Rangnath Mishra and Justice GT Nanavati.
"Will Phoolka, Badal and Kejriwal decide who is guilty and who is not? We won't let them sit on judgment like that on the eve of elections," Amarinder said.
He said that Nath's name was deliberately dragged by HS Phoolka into controversy in 2006, but he was exonerated by the Justice Nanavati Commission constituted by the BJP led NDA government to probe the anti-Sikh riots. Even Justice Rangnath Mishra Commission made no mention of Nath's alleged involvement in the riots.
He said that the none of the victims he had met between 1-4 November, 1984 had named Nath while the victims had named HKL Bhagat, Dharam Dass Shastri, Lalit Maken, Arjan Dass and Sajjan Kumar.
Amarinder said that Phoolka had produced two witnesses Mukhtiar Singh and Ajaib Singh before the Nanavati Commission in 2006, 22 years after the riots. This is besides journalist Sanjay Suri, who presented himself before the Nanavati Commission. But the versions of Mukhtiar Sigh and Ajaib Singh contradicted with that of Suri and this exonerated Nath.
Referring to Badal's criticism of Nath, the Congress president said,"Till now, never did Badal, or any Akali leader, doubt Nath's credentials. Rather he always enjoyed a bonhomie with him and also defended him and now suddenly he has woken up to the charges that he was involved in anti-Sikh riots". He added that Badal was a frequent visitor to Nath's office when the latter was a Union minister and even circulated the photographs in support of his contention.
Amarinder has welcomed the decision of the Special Investigation Team (SIT) set up by the Narendra Modi government to re-open 75 cases of 1984 riots and has sought that the remaining 37 cases should also be re-opened so that the involvement of RSS workers in the riots also comes to light.
However, Nath's resignation can be seen as a bit of a loss of face for Amarinder, who defended him tooth and nail.
Akalis and AAP on the offensive
The Akalis attacked the Congress on Nath's appointment. The president of Delhi Sikh Gurudwara Management Committee (DSGMC) Manjit Singh GK reiterated that Nath was responsible for the attack on Gurdwara Rakabganj Sahib in Delhi and his clarification given to the media is insufficient.
"The Congress mentality of opposing Sikhs has still not changed. In 1984 after genocide of the Sikhs Rajiv Gandhi disturbed peace and managed to win 416 seats in the general elections and in the same manner keeping assembly elections of 2017 in mind, the Congress party wants to disturb peace in Punjab," he said.
Shiromani Akali Dal (SAD) leader Dr Daljit Cheema hit at Congress vice president Rahul Gandhi saying,"I can understand that your father Rajiv Gandhi encouraged the 1984 anti- Sikh genocide with his utterances and even protected the perpetrators. But you should not have followed his footsteps by appointing a 1984 accused - Kamal Nath as the party in-charge of Punjab. It is clear you have no love lost for Punjabis or their sentiments so please stop shedding crocodile tears over drugs in Punjab."
SAD's ally BJP also joined the chorus against Nath. Former Punjab unit president Kamal Sharma sought cancellation of his appointment. He said, "Leaving all issues aside, Rahul should clarify how can a riot accused be the state in-charge of the Congress party."
Phoolka hit out at both Amarinder and Badal on the issue. Attacking Amarinder for giving Nath a clean chit, he said that Nath had been unable to explain his presence at Gurudwara Rakabganj before the Nanavati commission. "What was his purpose to go there when there was a curfew and orders against unlawful assembly ? The affidavit filed by a Gurudwara staff member Mukhtiar Singh spells out how Nath was giving directions to the mob," he said.
Phoolka has planned a protest outside the All India Congress Committee headquarters in Delhi on Thursday.
Phoolka said "I don't know why and how the hired Poll Strategist of Congress Prashant Kishor enabled appointment of Kamal Nath as in-charge of Punjab? But giving a clean chit to Nath by Amarinder is a cruel joke with the Sikhs. We sacrificed everything to ensure justice for Sikhs, but Captain (Amarinder) is trying to save the culprits of Sikhs to ensure his chair." Phoolka said
He also related that how SAD leader GK had backtracked from filing a case against Nath and others in 2010 on behalf of DSGMC and also showed a picture of Badal at Nath's place giving him a bouquet.
"Badal has never spoken against him. I challenge him to get the case of Rakabganj re-opened by the SIT as he is a member of the ruling alliance at the Centre and proceed to file a charge sheet against Nath in the next two months," Phoolka said.
With Nath having resigned, both AAP and Akalis are claiming victory. But the Congress might have succeeded in burying the issue before it caused any harm.
More in Catch - Politics over 1984 intensifies in Punjab, AAP leads the way
Old wine in older bottles: Congress picks Nath and Azad to helm Punjab, UP polls