Congress and AAP are keen to tie up with Awaaz-e-Punjab despite flip-flops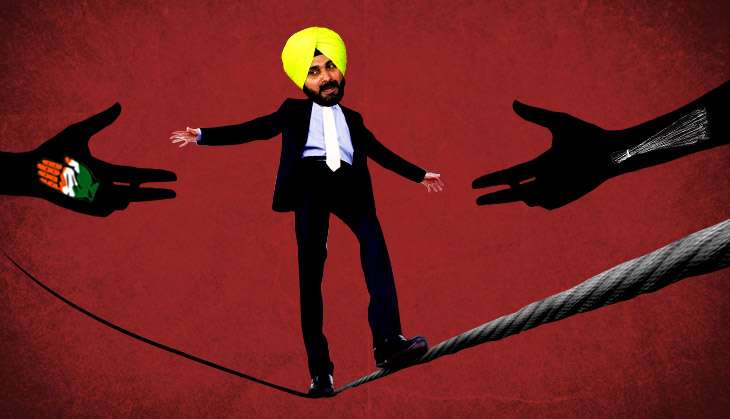 In the whirlpool of Punjab politics, it is the political forum Awaaz-e-Punjab that is keeping parties on tenterhooks with continuing flip-flops.
After having said that the forum is not going to become a political party, its leaders have given signals over recent days that they are open to an alliance either with the Congress or with the Aam Aadmi Party (AAP).
Also read - Fourth front in Punjab? Political forums everywhere but nothing concrete
What continues to intrigue voters is the fact that following the scathing attacks which Awaaz-e-Punjab leaders - Navjot Singh Sidhu, Pargat Singh and the Bains brothers (Balwinder Singh and Simarjit Singh) - made on Punjab Congress president Captain Amarinder Singh and AAP's national convener Arvind Kejriwal, is why the two parties are keen of entering into some kind of electoral arrangement with the forum.
Contradictory voices
Over the past week, there have been multiple contradictory voices emerging the Awaaz-E-Punjab leadership. At one point, they had completely ruled out any truck with the Congress saying that the party continues to play a friendly match with the ruling Shiromani Akali Dal (SAD). This has been followed with a change in stance - the leaders now say that they will not ally with a Congress that is led by Captain Amarinder Singh.
The demand is absurd considering that the entire Congress campaign has been built around Amarinder, who has been at the helm of all party programmes and campaigns this year.
There were also reports about the forum keeping its options open for an alliance with AAP. These reports got further credence when senior AAP Leader HS Phoolka said in an apparent reference to Sidhu's attack on Kejriwal that confrontation should be avoided.
To add to the confusion, Phoolka's comments were run down by AAP's state co-incharge Jarnail Singh who said that AAP has not approached Awaaz-E-Punjab but the party would see if the latter approaches them. At the same time he said, "There is no scope of a fourth front in the state."
Now once again, there are reports saying that the Awaaz-e-Punjab is warming up to the Congress. These reports also suggest that Sidhu is in touch with the Congress vice-president Rahul Gandhi.
A clash of personalities
Congress leaders in the state have now adopted a wait and watch policy.
Interestingly, Amarinder had gone to the extent of calling Awaaz-e-Punjab a 'tonga party' that has two people in the front and two at the back. He had pointed out that floating a new party with less than six months to go for polls was not feasible in any way. AAP had also welcomed the decision of Sidhu not to float a political party.
However, there is a segment in both the Congress and AAP that feels that Sidhu's entry would result in a clash of personalities. Given his popular image, some believe that top party leaders would not be comfortable working with him.
Akalis pipe up
While all this has been going on, the Akalis have found an opportunity to take pot shots at both AAP and the Congress for their keenness to have an arrangement with Sidhu and his associates.
SAD president Sukhbir Badal has pooh-poohed Awaaz-e-Punjab saying that Sidhu has only indulged in flip-flops instead of taking a firm stand on any issue. He the people would only vote for development and progress in which SAD-BJP combine has a clear edge.
It is SAD secretary Dr Daljit Singh Cheema who has been most vocal. He said that the people of the state are totally confused over the different stands being taken by opposition parties and groups. "It is ironic to note that on side Amarinder dubs the self styled Awaaz E Punjab as a 'Tonga Party' and on the other hand the leaders of the so called 'Tonga Party' are talking of forging an unprincipled alliance with the same Congress party, " he said.
To ally or not to ally
There are several reasons why sections in both the Congress and AAP are still keen to have an understanding with Awaaz-e-Punjab leaders.
The first is the individual clout and image of its leaders. Sidhu and Pargat are among very few politicians in the state who have a clean image. Both are sportsmen and are known to take a stand for their constituencies and electorate.
Sidhu's face off with the Akalis had started before the last Lok Sabha polls when he criticised them for ignoring the demands pertaining to the development of his constituency of Amritsar.
Similarly, Pargat's relations with the Akalis also deteriorated on two counts. The first one was his not being given an opportunity to develop sports in the state and the second was his very strong opposition to establishment of a solid waste plant in his constituency. Both of them are seen as upright politicians.
The Bains brothers are also popular for their pro-people approach and for getting work done for the common people. It was this approach that had catapulted them from local politics to becoming independent MLAs after they fell out with the Akalis, particularity with Sukhbir Badal.
The second reason why Awaaz-e-Punjab leaders are being sought is that they are capable of winning their seats independently.
Then comes the Sidhu factor. Despite his not having stand on any political issue facing Punjab, he is a crowd puller given his gift of glib. Any party which will accommodate him would be assured of successful rallies as Sidhu is sure to get massive attendance of listeners.
Then there is the core issue of Awaaz-e-Punjab's claims of putting Punjab and Punjabiyat first. It is an issue that has caught the fancy of the masses and both the Congress and AAP are also harping on it.
More in Catch - Sidhu's future in Punjab politics is ambiguous after his reverse sweep
With AAP in disarray, Congress pushes Punjab campaign to top gear