Congratulations Nitish Kumar! But here's what we'll be watching you for.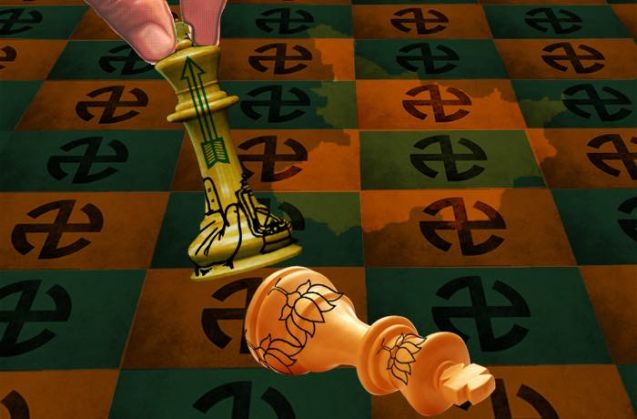 The people of Bihar have spoken in favour of retaining their Chief Minister. Eighteen months after being drubbed by the BJP in the 2014 Lok Sabha polls, JD(U) leader Nitish Kumar is all set to be sworn in as the 24th chief minister of Bihar. This will be his fourth term in the hot seat.
After nearly four hours of counting, trends have given the grand alliance a clear lead over the NDA. The BJP has conceded defeat.
BJP vice-president Mukhtar Abbas Naqvi said, "Every election is a learning curve for all political parties. We'll accept whatever the final result is."
BJP general secretary Ram Madhav said, "We will respect whatever is the mandate of the people."
Another general secretary, P Murlidhar Rao, said, "We congratulate Nitish Kumar on his win, we will introspect on our defeat."
The gamble that worked
Nitish was despondent following the Lok Sabha result in 2014 and, if he becomes CM again, he would have made a remarkable comeback. This was a tough battle for him and he deployed a solid combination of weapons and strategies, including cold arithmetic, to win.
The riskiest punt that he took also appears to have paid off. A large number of analysts were skeptical, even condemnatory, of his decision to ally with Lalu Prasad.
That risk only seems to have benefitted him, as there has been an incredible transfer of votes between the JD(U) and Lalu's RJD. Without that, this result may not have been possible.
The strategy that didn't
The BJP-led rainbow coalition's hopes of garnering support from upper-castes, lower-castes and backward classes seems to have came a cropper. The open display of Hindu majoritarianism that the BJP decided to go for in campaigning for the third phase onwards has backfired. Attempts to polarise Hindu voters in the name of the cow and Muslim appeasement, too, seem to have failed.
The BJP had itself escalated the significance of these elections, with Prime Minister Narendra Modi leading the charge and arm-wrestling Nitish and Lalu. The unfavourable result is all set to have massive implications for the party, already reeling under the impact of the pounding received at the hands of Aam Aadmi Party in Delhi in February.
It will be worth watching if BJP decides to do some soul-searching and course-correction for electoral contests in the near future.
What Nitish needs to correct
However, Nitish isn't blameless either. He has made many mistakes in his 10-year-tenure, but for now, the electorate seems to have ignored them. However, these may come back to haunt him when he takes charge again. Here is a lowdown on the five top concerns the new Nitish government will be monitored for:
Another theme used by Nitish's opponents to attack him was his inability to do much for job-creation.
Unemployment in the age group of 15 to 29 years is at 17.5%, as compared to the national average of 13%. Migration from Bihar to other states in search of better opportunities is still commonplace.
Catch's ground reports from the state also revealed anecdotal experiences of several Nitish supporters, who hold the lack of well-paying jobs in the state as the only grudge against him.
Bihar has only six colleges for every one lakh people in the age group 18-23 years, as against the all-India average of 25. A large number of young Biharis move out of the state every year to pursue higher education.
Of those who stay back, only 13.1% enroll in higher education, as against 20.4% across India. At school level, rural Bihar's performance is less than satisfactory. Private schools are mushrooming fast to cover the gap left by the public school system. There are few schools and, in the ones that do exist, the process of recruitment of teachers is a shambles.
People in 81% households in rural Bihar have to defecate in the open. Catch witnessed first-hand that women were forced to relieve themselves on the roadside after dark. They did not have toilets back home and could not relieve themselves in the paddy fields as the crop was ripe and there was water in the freshly irrigated fields, where snakes, insects and small animals could also be present.
Every time a vehicle passed by, with the headlights threatening to violate their privacy, they would get up and form a huddle.
In 2013-14, Bihar had a target of building over 12 lakh toilets. But only a little more than 10% of those were built. The simultaneous change in attitude towards open defecation is an uphill task.
Huge billboards hung in capital Patna during the electoral campaign, showing Nitish promising tap water to every household. He seemed to have realised that the abundance of water in Bihar was a misconception which hid a grim reality - only 3% of Bihar's nearly two crore households use tap water from treated sources.
This has left large number of households vulnerable to water-borne diseases. It is high time things changed.