Combative yet self-critical Rahul Gandhi takes on Modi in Berkeley. BJP rattled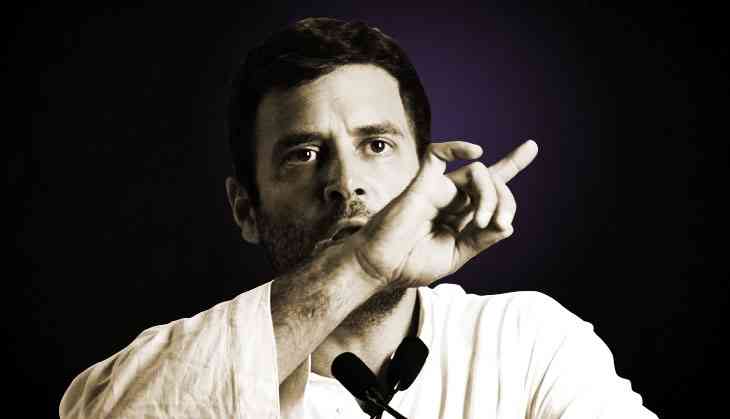 Congress Vice President Rahul Gandhi unleashed stinging attacks on the Narendra Modi led-BJP government during the first leg of his two week visit to the US. Speaking at the University of California, Berkeley, the Gandhi scion lambasted the Modi government for letting violence, anger and the politics of polarisation raise their ugly head which he said, is making millions feel that they have no future in the country.
The BJP seemed rattled by Rahul's attacks as several leaders - from BJP president Amit Shah attacked the Congress Vice-President, Union Minister Smriti Irani held a press conference to reply to his speech, various BJP spokespersons took digs at him and the party's supporters trended the hashtag #IndiaRejectsRahul on Twitter.
Referring to the spate in killings of liberals, Dalits and Muslims across India, Gandhi accused the BJP government for letting violence become mainstream. Gandhi said that only non-violence is the only idea that can take humanity forward. "I lost my father and grandmother to violence, if I don't understand violence then who will?" he asked.
Speaking at the "India at 70: Reflections on the Path Forward" conclave, Gandhi maintained, "The politics of polarisation is very dangerous. Hatred, anger and violence can destroy us. Liberal journalists are being shot. People are being lynched, Dalits are being killed over suspicions of carrying beef, Muslims are killed over suspicions of eating beef, all this is new in India," he said during his speech.
Moreover, what stood out in his speech was his acceptance to be a product of dynastic politics which he called a "problem" while reminding everyone that this is the way most of the country runs. He cited several examples of dynastic succession not only in politics but also in Bollywood and business, and how he alone should not be targeted.
"It's a problem in all political parties in India. Most of the country runs like this, so don't go after me, Akhilesh Yadav a dynast, Mr Stalin a dynast, Mr Dhumal's son a dynast, so don't just go after me...Even Mr. Abhishek Bachchan is a dynast, also Mr Ambani, that's what happens in India," the Congress vice president said.
It was in this context that somebody in the audience asked whether he would take the reins of the party to take on BJP in 2019, Gandhi said he was ready for it but did add that organisational elections would decide his fate. "I am absolutely ready for that, but our party works according to organisational elections," he added.
Interestingly, he did indulge in some criticism of his own party when asked about the reasons for Congress' dismal performance in 2014 Lok Sabha elections. He pointed how arrogance had crept in the party around 2012 which made them out of touch with the people and eventually contributed to their poor poll performance.
It is in this context that he pointed that the party needs rebuilding and a vision to move forward. While pointing at schemes like MGNREGA and GST, Rahul said BJP is doing what Congress had proposed previously. "The core architecture of the BJP schemes is ours."
In fact, Rahul raising this issue of disconnect with the masses is crucial considering how Congress workers have often accused the high command for entirely depending on senior regional leaders for feedback while ignoring the voices from the grassroots level. Rahul did bring this up briefly when he said how most of his work involves sitting in a room listening to people and how conversation is the key to inner party democracy.
As expected, the Gandhi scion dedicated a large section of his speech taking jibes at Narendra Modi whom he accused of taking unilateral decisions. He said that even some BJP leaders complained to him about the PM's unilateral ways. Citing the demonetisation exercise as one such example, Rahul said that no one including the Cabinet, Parliament or even chief economic advisor was consulted before the decision.
Claiming that the note-ban exercise had a negative impact on growth, Rahul stated, "Decisions like demonetisation which remove 86% of cash from circulation were done unilaterally, without asking the chief economic advisor or the Cabinet or even Parliament, it imposed a devastating cost. It cost us two percent loss in GDP."
In fact, both Rahul and his party have been routinely raising the demonetisation issue from multiple platforms and recently former Prime Minister Manmohan Singh had told the Parliament about the negative impact of the note-ban exercise. Even former RBI Governor has recently been openly speaking against the decision that led to more than 100 people dying while trying to exchange their old notes.
Continuing to target the prime minister on his unilateral decisions, Gandhi said that Congress does not function like this and cited Kashmir's example to bring forth his argument. He pointed how for nine years he worked behind the scenes with senior leaders like Singh, former finance minister P Chidambaram, Jairam Ramesh, among others, to find ways to bring peace to the troubled Valley.
"When we (UPA) started, terrorism was rampant in Kashmir, when we finished there was peace, we had broken the back of terrorism," he stressed while claiming that he hugged Singh and told him "it was one of the biggest achievements" of the government.
Without mincing any words, Gandhi accused the prime minister of opening up space for terrorists in Kashmir and how the violence flared up ever since BJP formed the government with PDP.
Accusing the Prime Minister for "destroying PDP", the Congress vice president showered praises on the Mehbooba Mufti-led party and said how it was instrumental in bringing youth into politics. "...but the day PM Modi made alliance with PDP, he destroyed them," he stated while adding that after the alliance, he was told that most PDP people joined militancy.
Meanwhile, in a rare gesture, Rahul did compliment the Prime Minister for his oratory skills and conceded that Mr Modi is a much better communicator than him. He also showered praises on initiatives like Swachh Bharat and Make in India. "He knows how to give a message to three-four different groups in a crowd, so his messaging ability is very effective and subtle," said Rahul.
But the compliment didn't last long and Rahul took a subtle dig at the prime minister saying that he gets a sense that the latter doesn't converse with the people he works with. Rahul went on to add that he had been told of this by other parliamentarians.
When asked about repeated accusations of him being a reluctant politician, Rahul smartly turned the tables and accused a tremendous BJP machine, led by the prime minister, of spreading rumours and abuse about him. "Realise that there is a BJP machine. 1,000 guys sitting on computers spreading rumors about me. The operation is run by the gentleman who is running our country," he alleged.
Rattled by the accusations against the prime minister and the positive response the speech received, BJP decided to field Union minister Smriti Irani to respond and she tried to undo the damage. Irani labelled Rahul a "failed dynast" and lashed out at him for belittling the prime minister on an international stage.
Irani's attack was no match to the accusations levelled by Rahul who seems to have delivered one of his finest speeches in recent times. In fact, even some of his closest advisors have conceded how he is no match to Modi's oratory prowess but this speech should offer them hope and solace.