Chandrababu's son in Andhra cabinet: can Lokesh handle the pressure?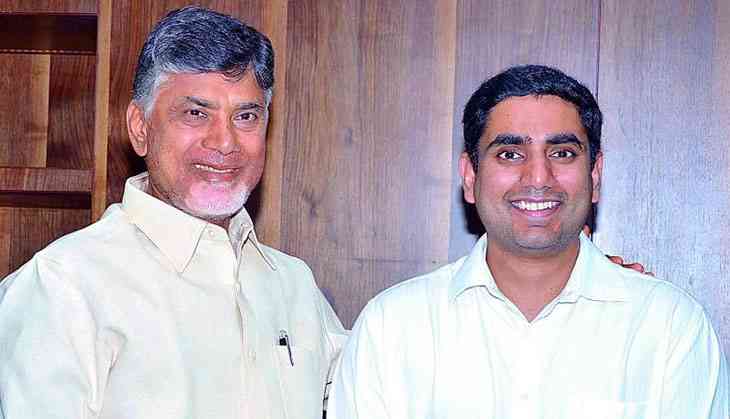 Dissent is brewing in the Telugu Desam Party, ever since Andhra Pradesh Chief Minister N Chandrababu Naidu dropped five ministers and added 11 to his cabinet on 2 April, including his only son, Nara Lokesh Naidu.
But, surprisingly, the dissent is not about dynastic politics. Party cadres as well as the leadership seem to be fine with it, and no leader seems to have the courage to question the scion being thrust upon the party. What some of them are mighty miffed about is missing out in the cabinet expansion.
Lokesh is a third generation politician from NT Rama Rao's clan. NTR's sons-in-law Daggubati Venkateswara Rao and Chandrababu Naidu, sons Harikrishna and Balakrishna (also Lokesh's father-in-law) and daughter Daggubati Purandeshwari have all been politicians.
Lokesh was brought into the legislature by having him elected to the legislative council. Now, he will carry a learner's permit to lead the departments entrusted to him. That he will get a permanent licence to power is, however, a foregone conclusion.
He was the cynosure at the swearing-in ceremony; the aura of being Chandrababu's progeny seemed to be shining around his head like a halo. Handling that would be a greater burden than the departments he has been given.
All in the family
Though India adopted democracy at independence, it could not do away with the politics of heredity.
Prime Minister Jawaharlal Nehru's daughter was Prime Minister Indira Gandhi, whose son Rajiv Gandhi took over as Prime Minister after she was assassinated.
In the states, too, dynasties have reigned supreme. Jammu and Kashmir had Sheikh Abdullah-Farooq Abdullah-Omar Abdullah and Mufti Mohammed Sayeed-Mehbooba Mufti as chief ministers, Maharashtra had SB Chavan-Ashok Chavan, Haryana had Devi Lal-Om Prakash Chautala, Karnataka had HD Deve Gowda and HD Kumaraswamy, Uttar Pradesh had Mulayam and Akhilesh Yadav – the list is endless.
Across the world, too, it's not a rare phenomenon. If George HW Bush can be the 41st President of the United States, and his son George W can be the 43rd, what's the big deal if Chandrababu has inducted Lokesh into his cabinet?
Actually, the rarer phenomenon is for two generations to be part of the same cabinet. NTR almost always had Venkateswara Rao or Chandrababu in his cabinet, though never both together.
More recently, son Sukhbir Badal was part of the Parkash Singh Badal cabinet in Punjab, while in Telangana, K Chandrasekhar Rao's cabinet features son KT Rama Rao.
Pressure of comparison
While forming the first government of India's 29th state, Telangana, in 2014, KCR inducted son KTR and nephew T Harish Rao into his cabinet.
The Telangana Rashtra Samithi supremo silenced the critics by saying both KTR and Harish participated in the Telangana movement and led from the front. Also, both were multiple-time MLAs by that time. In addition, the competency demonstrated by KTR at work has kept his detractors at bay.
Chandrababu, on the other hand, entrusted responsibilities to Lokesh in the party, and eventually elevated him to the post of national general secretary, whatever that means, for the TDP is not a national party in accordance with the Representation of the People Act, though it boasts of being one.
KTR was given the responsibilities of Information Technology and Panchayati Raj in the Telangana government. However, after the TRS trounced all parties in the Greater Hyderabad Municipal Corporation (GHMC) elections under the guidance of KTR, his father handed over the Municipal Administration and Urban Development portfolios in place of Panchayati Raj.
In the same elections, the TDP was terribly humbled, winning just 1/150 wards. Lokesh, who led the party in the civic polls, was thus ejected out of Telangana.
Exactly a year later, Chandrababu has cleared the decks and inducted Lokesh into his cabinet.
The expectations of people would naturally be very high, as his father talks about performance and benchmarks. By handing the IT department to Lokesh, his doting father has inadvertently created an underlying competition with KTR. However, Lokesh has insisted that KTR is senior, and there is no ballpark comparison between them.
Chandrababu wants to hand-hold his son until he gets to grips with the party and the administration. But KCR did not have to do so, as KTR is adept at handling the nuances of politics and administration.
The question of dissent
Another interesting point in the recent cabinet expansion was that Chandrababu accommodated four MLAs who used to be members of the Opposition YSR Congress, but had switched sides a year ago. Seventeen others had made the same jump, some of whom were left sulking, while in others, it kindled some hope.
Granted, it's nothing extraordinary for people to sulk over not being made ministers, but this time, it was a bit more palpable than usual.
But the TDP has a history of dealing with dissent with an iron fist. Some leaders tried to voice their dissent, only to be snubbed by Chandrababu.
However, in a few cases, the TDP boss used placating and cajoling instead of the iron fist, sending emissaries to those who were dropped from the cabinet, and having a word with those who defied 'party discipline' by airing their displeasure.
Chandrababu has long pursued a policy – 'if you resent, I will reset'. The embers may still be glowing, but he's the boss.