Catch 2017: Trinamool had a mixed bag despite loss of Mukul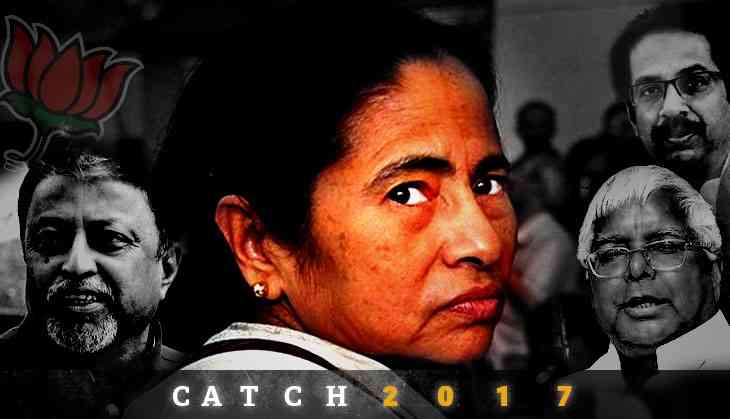 (Arya Sharma / Catch News)
With no major elections to face, Trinamool Congress had a relatively smooth ridein 2017 but not without bumps. The party lost an old warhorse like Mukul Roy to the Bharatiya Janata Party, but managed to hold its own against the saffron party's onslaught.
From the beginning of the year Trinamool was actively involved in formulating a national-level front of regional parties to fight the BJP. While on the one hand, party chief Mamata Banerjee attended the Rashtriya Janata Dal supremo Lalu Prasad Yadav's BJP Bhagao rally to show solidarity, Shiv Sena boss Uddhav Thackery called upon her during her Mumbai visit.
Though nothing concrete came out of such meetings, the West Bengal chief minister managed to reaffirm her anti-BJP stance while keeping options open before the 2019 Lok Sabha Election.
Back home, the party aggressively poached several leaders at the gram panchyat level from the Congress and other parties. It even enlisted senior Congress leader Manas Bhunia and got hold of the Sabang Assembly seat in West Midanpore. Apart from Sabang, its voteshare increased considerably in by-election in too.
At the same time Roy's departure was a jolt. It severely hit Trinamool's ambition to expand footprint to other states, such as Punjab. The party attacked Roy repeatedly and suspended him for six years, but the damage was done.
Undeterred though Banerjee constantly raised its pitch against the BJP and vocally opposed the policies of the Narendra Modi government at the Centre. – be it the linking of Aadhar with essential services or the hasty implementation of the Goods and Services Tax.
She even compared Modi to Mohammed bin Tughlaq without naming him while citing the example of "balanced and impartial" Atal Bihari Vajpayee. He also compared Modi rule with that of Hitler's Germany and said the government couldn't bring back the black money from the Swiss Bank but inconvenienced those with legal income.
In the process, the baton of main Opposition to Trinamool in Bengal has gradually shifted to the BJP from the Communist Party of India (Marxist). This was evident in the way the saffron camp was active during a communalised arson in Basirhat over a social media post.
One area within the state that kept the party on tenterhooks was the northern hills. In June, the Gorkha Janmukti Morcha (GJM) renewed its demanded for a separate Gorkhaland. The hills were shut down for more than a month amid violence. Eventually the Army had to deployed in Darjeeling to restore peace.
Later though Banerjee managed to control the situation, but the potential for volatility continues to exist.
The new year will bring in fresh challenges for the party, with a host of local level polls in the state that may set the tone for the 2019 General Elections.